XWorld Games Partnership with AlchemyPay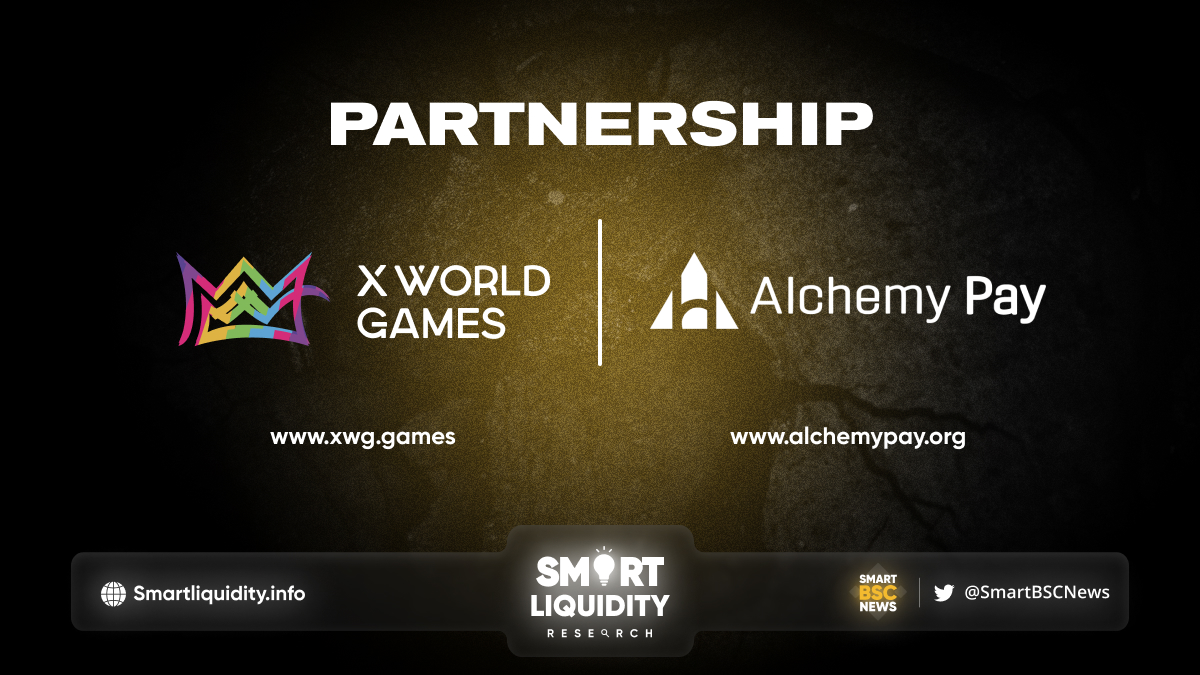 XWorld Games Partnership with AlchemyPay — to offer their native token, $XWG, as a valid payment option to the various retailers partnered with Alchemy Pay.
Through X World Games' existing cryptocurrency offerings and Alchemy Pay's all-in-one payment system, their users will benefit significantly from this new partnership. The X World Games team hopes to utilize Alchemy Pay's fiat payment rails to allow their crypto and web3 services to be accessible through fiat payment methods such as debit and credit cards. They will also be able to offer their native token, $XWG, as a valid payment option to the various retailers partnered with Alchemy Pay. And now announcing XWorld Games Partnership with AlchemyPay.
Partnership
As societies worldwide slowly adopt crypto and web3 practices into their daily operations, it is up to essential partnerships between established blockchain companies like X World Games and revolutionary solution providers such as Alchemy Pay to make this transition as easy as possible.
Alchemy Pay's experience in the traditional finance and fintech payments space has enabled it to gain an edge in areas where its competitors have struggled. With its impressive network of global acquirers and remittance firms, Alchemy Pay now boasts over 300 fiat payment channels worldwide. Over the past 12 months, it has formed strong partnerships and payment integrations with leading blockchain networks such as Polygon, Avalanche, Algorand, and VeChain.
As a result, the industry expects Alchemy Pay to integrate its crypto ramps on a large scale across multiple platforms and DApps in Q3 and Q4 this year. The ramps allow users to maintain custody of their funds while participating in web3 DApps and services.
"We are incredibly excited to begin working with Alchemy Pay through this partnership. We can not wait to present our new offerings to our respective user bases in the near future. — Edwin Liu, Co-Founder of X World Games"
­
About Alchemy Pay
Founded in Singapore in 2018, Alchemy Pay (ACH) is a payment solutions provider that seamlessly connects fiat and crypto economies. For global consumers, merchants, developers, and institutions. It provides online and offline merchants with convenient acceptance of both fiat and crypto. Furthermore, it enables easy onboarding to blockchain ecosystems, and makes web3 services highly accessible. Today, Alchemy Pay is supported in over 70 countries with 300 payment channels. And has touchpoints with more than 2 million merchants through partnerships. With industry leaders such as Binance, Shopify, NIUM, and QFPay. Alchemy Pay's token, ACH, is an ERC20 issued on the Ethereum blockchain.
­
About X World Games
X World Games' vision is to build a diversified gaming ecosystem that connects traditional gamers with the blockchain world. And invite more game developers into the crypto space by creating and providing the underlying blockchain framework.
With its gaming innovation, crypto game – Dream Card, NFT Marketplace and DeFi Pool. X World Games now serves over 2 million registered gamers. Moreover, it has quickly become the fastest-growing crypto gaming platform in the ecosystem.