PembRock Farming Functionality On The Testnet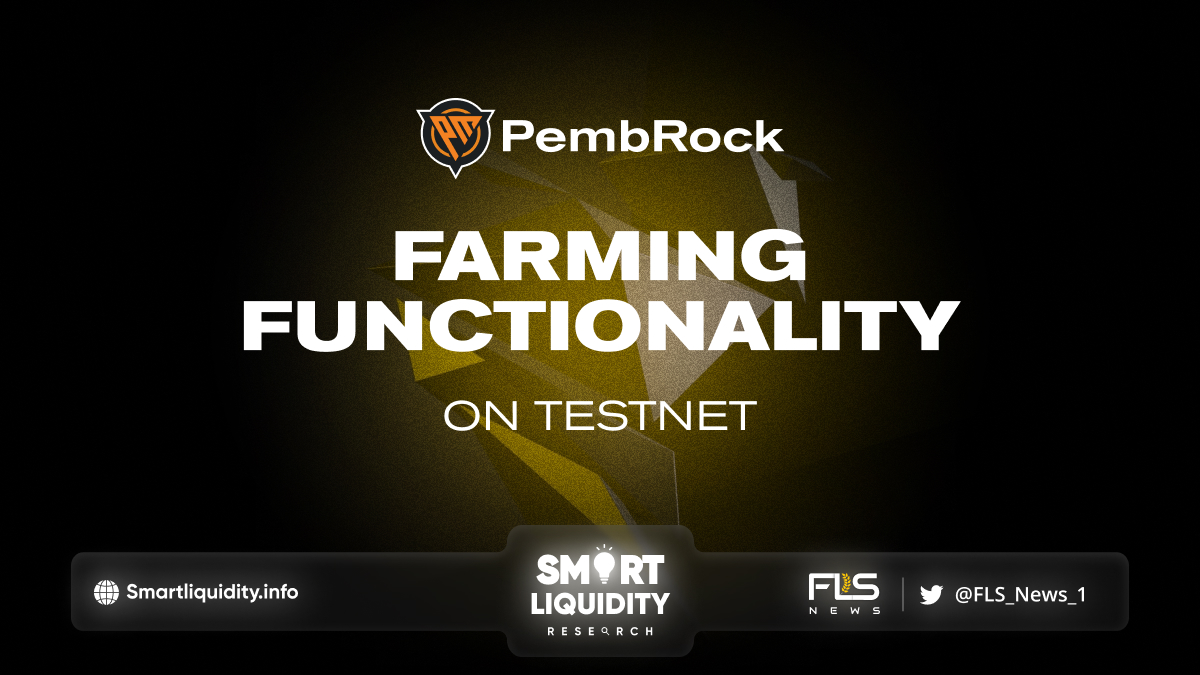 PembRock's

Farming Functionality on the Testnet
PembRock are thrilled to announce adding to the PembRock lending features, they have also launched the farming functionality on the testnet. Make sure to check out both functionalities and stay tuned for the fast-approaching mainnet launch!
How farmers benefit from PembRock Finance
There are two roles on PembRock Finance, lender and yield farmer. Farmers are able to leverage their current holdings to receive great rewards, while lenders provide the funds that make this possible. As yield farmers, users can take advantage of up to 3x leverage, maximizing returns while being able to adjust their positions in response to any changes in the crypto market.
Their platform ensures that your farming position can be up and running in few clicks, with most processes automated. They want to make farming extremely easy, even for those who have never participated in yield farming before.
PembRock's farming functionality — test it out!
The NEAR-based platform makes it as easy as possible to connect and farm with leverage, which sets us apart from other DeFi platforms that require many steps through confusing interfaces to be able to lock up tokens.
Follow these few easy steps and check out PembRock's farming functionality on the testnet:
Step 1. Create a NEAR testnet wallet at this address. In case you have previously connected a testnet NEAR wallet to the PembRock testnet, make sure to disconnect and link it again to get the most out of your experience.
Step 2. Once you've set up your wallet, you should automatically be credited with 200 NEAR tokens; in case you need more, you can always go to the NEAR testnet faucet website to get a topup of testnet $NEAR tokens.
Step 3. You'll need to wrap your test NEAR to test wNEAR to explore our farming features. To do that please visit https://testnet.ref.finance/, connect your wallet, and wrap your NEAR by pressing this icon in the top right corner.
Step 4. Open the PembRock Finance testnet app and connect your testnet NEAR wallet by clicking the button in the top right corner.
Step 5. In the Portfolio Overview section, select NEAR and click Farm Pools. Alternatively, you can do this in the Farm section of the app.
Step 6. Please select PEM-wNEAR Farm by clicking Farm.
Step 7. Select wNEAR as the asset you wish to deposit and PEM as the asset you wish to borrow. Then, select the number you wish to use as collateral on the Leverage Slider and select the leverage level (from 1x to 3x).
Click Farm to confirm the transaction.
Step 8. Congrats, you're officially farming on the testnet! You will be able to check your balance by clicking the Farm Position tab.
About PembRock Finance
PembRock Finance is the first leveraged yield farming project on NEAR! Founded by NEAR guild masters and having secured a $75,000 grant from the NEAR Foundation, PembRock will provide new tools to reach a wider usership, attracting more investment and expanding the NEAR ecosystem.