MudAi official collaboration with Polygon Studios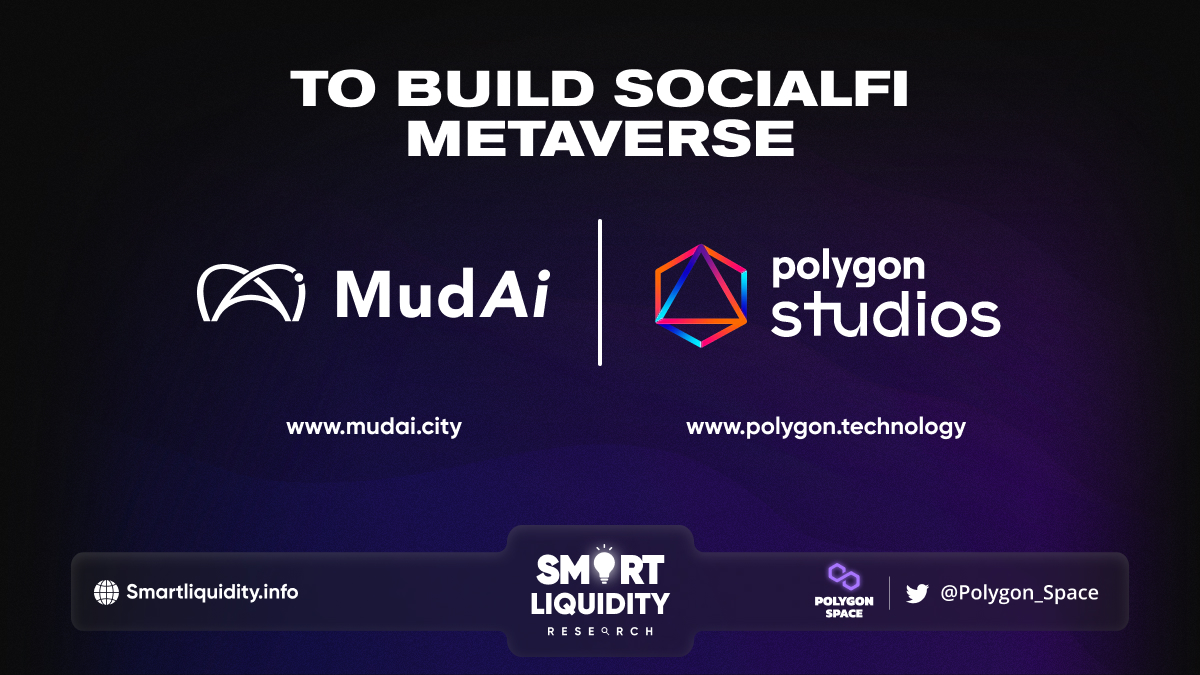 MudAi announces its collaboration with Polygon Studios to build a SocialFi Metaverse on the Polygon Network.
Firstly, MudAi City will be a truly disruptive project, With a rapidly growing community and state-of-the-art graphics, the project has gained substantial momentum since its inception. Mainly due to its unique offerings that set it apart from other Metaverse projects.
Unlike the usual Metaverse projects, at MudAi, graphics, architecture, and metaverse design have been crafted to give users a social experience. This allows users to interact as well as visualize high-quality graphics along with the added benefit of process of becoming a Decentralized Autonomous Organization (DAO) that allows individuals, businesses and entities to build their ecosystems. The idea is to develop a straightforward, innovative, high-performance DAO that enables people to establish their economic systems within the MudAi Metaverse.
MudAi Collaboration with Polygon Studios
By building a strong architectural team and teaming up with Mankind Games to build the actual metaverse while preparing for the token launch, MudAi is actually focuses on the tech first. This is a remarkable difference from the many other metaverse projects claiming to build a metaverse but do not have concrete plans other than launching their token and trying to build hype.
Moreover, To assist in the promotion of the MudAi Metaverse, MudAi partners with Polygon Studios, Polygon's NFT, metaverse, and gaming arm. As part of this newly formed partnership, the two projects have agreed to several strategic goals that will help strengthen both parties as well as provide valuable growth to the MudAi project.
Powered by Polygon
To start with, MudAi will be building a metaverse on the Polygon ecosystem. These developments will be closely work on with Polygon Studios which will be providing valuable resources and feedback to the developers at MudAi.
Polygon studio will also be supporting MudAi's marketing. Along with offering support to other projects that would like to be a part of the MudAi Metaverse. That being said, Polygon already has a well-established community and lists prominent projects under its belt which the platform will leverage to MudAi as part of its strategic partnership deal with the project.
As per MudAi's recent updates, the project's Metaverse and NFTs are already in the advanced stages of development. Besides this, MudAi has already begun heavily investing in R&D and Architecture building to ensure a seamless experience for its users.
The unique platform has been steadily gaining momentum and it will be safe to say this new partnership will be a great boost for both parties. Combining Polygon's network and well-established community along with MudAi's unique offerings means that the project has just hit a new benchmark for the rest of the Metaverse projects to follow.
About Polygon Studios
Polygon Studios is the Gaming and NFT arm of Polygon focused on growing the global Blockchain Gaming and NFT industry and bridging the gap between Web 2 and Web 3 through investment, marketing, and developer support. The Polygon Studios ecosystem comprises highly loved games and NFT projects like OpenSea, Upshot, Aavegotchi, Zed Run, Skyweaver by Horizon Games, Decentraland, Megacryptopolis, Neon District, Cometh, and Decentral Games. If you're a game developer, builder, or NFT creator looking to join the Polygon Studios ecosystem, get started here.
About MudAi
MudAi is a Metaverse GameFi & SocialFi Project, governed by DAO protocols and principles. MudAi is being build on UE5.
SOURCE:
MudAi