Orca Whirlpools Rotation #7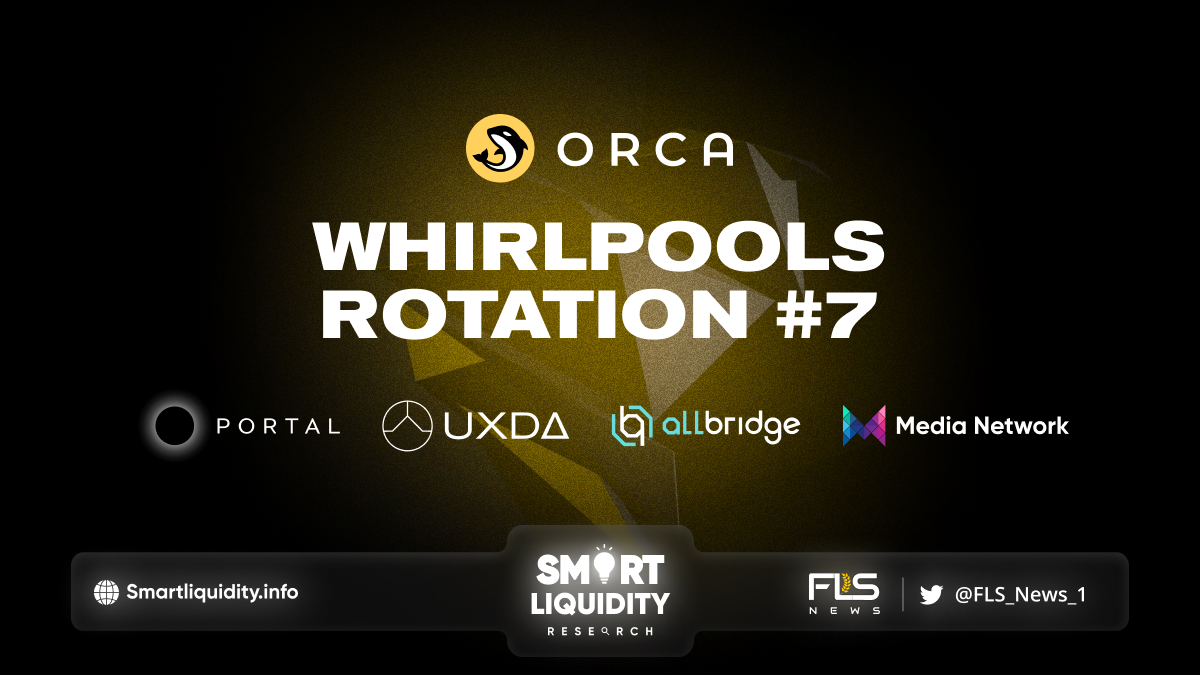 Whirlpools Rotation #7: July 14th — July 18th
The Whirlpools Rotation #7 a wave of new stableswaps and a Double-Dip from Media is washing into the Orca ecosystem.
Whirlpools Rotation #7 🌀
Duration: Thursday July 14th — Thursday July 28th, 2022
Total Rewards: ORCA rewards for this Rotation will be ~35K ORCA per week, with the distribution across their pools detailed below. All Whirlpools and Aquafarms are now open and rewards will begin on July 14th at ~20:00 UTC.
Events: Orca is proudly supporting the the Solana Summer Camp online hackathon, with prizes of up to $50,000 for innovators in the DeFi space. They encourage all podmates who want to build in the ocean of DeFi to participate!
Members of the Orca Strategy team will also be attending the Solana Hacker House in Paris this Rotation. Be sure to drop by and say hello if you're in the area! 👋
Double-Dip pools
Double-Dip Whirlpools offer LPs two different token rewards plus trading fees.
#1 MEDIA/USDC from Media Network
Double-Dip duration: July 14th — December 29th 2022
Media rewards: 2,075 MEDIA per week
Orca rewards: ~500 ORCA per week
#2 ABR/USDC, aFTM/USDC, acCELO/USDC from Allbridge
Double-Dip duration: July 14th — August 11th 2022
Allbridge rewards: 4,600 ABR per week across all pools
Orca rewards: ~1,000 ORCA per week across all pools
Other fresh Whirlpools…
Whirlpools offer market-savvy LPs the opportunity to compete for higher yields
While these Whirlpools receive no additional token rewards, they are highly capital efficient and provide tactical opportunities for Sharks! 🦈
#3 DAI/USDC (bridged by Portal)
#4 UXP/USDC (from UXD Protocol)
Deepsea Insights
With every Rotation, there's always something interesting going on in the Orca ecosystem…
Last Rotation we welcomed the DUST/USDC and DUST/SOL Whirlpools that are running swimmingly for LPs with no rewards except trading fees!
And stablecoin yields from USH/USDC (from Hedge) and USDH/USDC (from Hubble) continue to an interesting pair of pools to explore— but be sure to understand the risks in these stormy market conditions!
About

UXD Protocol
UXD Protocol a fully collateralized decentralized stablecoin backed by delta-neutral position using derivatives.
About MEDIA 
MEDIA the cornerstone and vital artery of the network's economy. It is the medium of exchange between bandwidth providers and anyone renting the CDN service, powering and enabling the long-term ecosystem self-sustainability.
About Allbridge
Allbridge a simple, modern, and reliable way to transfer assets between different networks. It is a bridge between both EVM and non-EVM compatible blockchains, that aims to cover L2 solutions and NFT transfers in the future.
Lastly, Allbridge's mission is to make the blockchain world borderless by providing a tool to freely move assets between various blockchains.
About Orca
Orca the easiest way to exchange cryptocurrency on the Solana blockchain. There, you can exchange tokens with minimal transaction fees and lower latency than any DEX on Ethereum, all while knowing that you're getting a fair price. Additionally, users may provide liquidity to a trading pool to earn a share of trading fees.