Step Into the Metaverse with MUDAI on SYSCOIN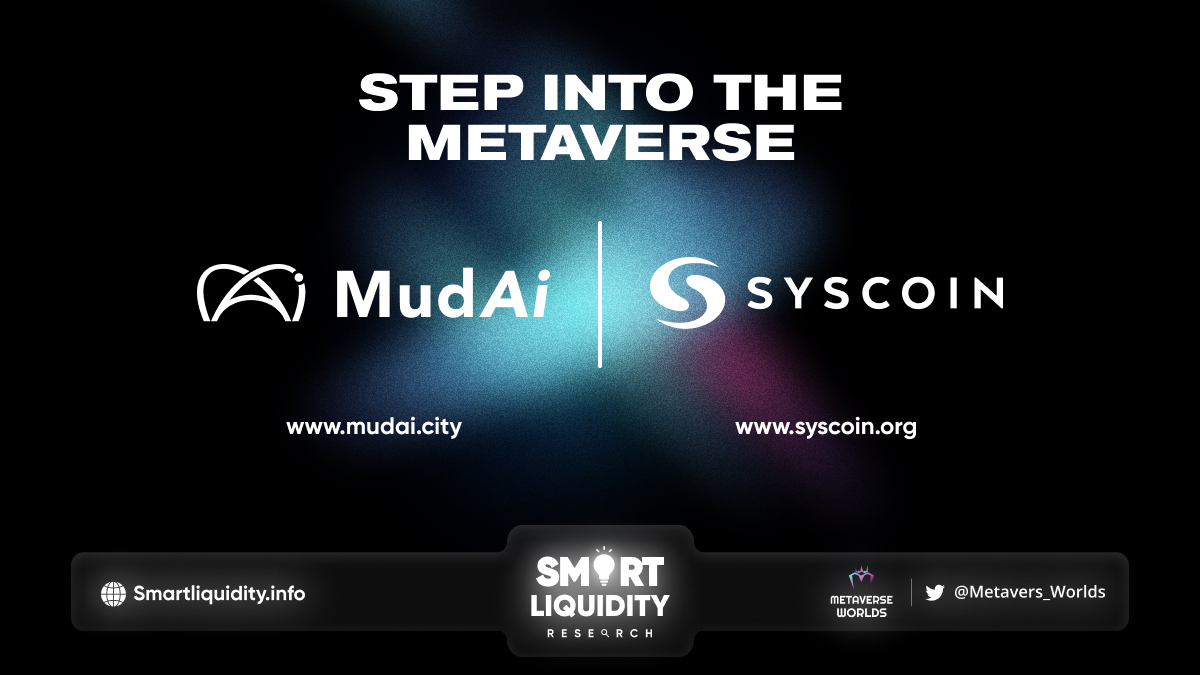 Syscoin is pleased to announce its latest partner, MudAi Metaverse. They will work together to shape the future unfolding right before their eyes. 
Firstly, MudAi is a metaverse project from Japan consisting of talent from across the blockchain and gaming industries, 3D studios, and augmented reality. They are focuses on building a unique metaverse with a strong focus on community. Inhabitants of the MudAi Metaverse are called citizens. Citizenship grants several abilities, such as:
Exploration of their decentralized universe
Founding 'house communities' that operate according to DAO-based rules
Participation in a trading ecosystem that includes GameFi, NFTs, an more
Customization of their own metaverses with MudAi's larger metaverse
To navigate this world, users first create their profiles and their own customizable, exclusive MudAi avatar minted as an NFT. Once complete, they have the opportunity to acquire land, where they can build property to increase value over time. From there, they can build a structure to house their own DAO communities, set up NFT galleries, and much more. MudAi is complete with its own economy which is home to their $MUDAI token. Additionally, MudAi is multichain, and Syscoin is glad to take part. Their partnership will consist of research and development, advisory, and preparing MudAi for its Layer 2 rollup suite, Rollux.
Moreover, Syscoin Rollux can remove scaling hurdles, and provide data availability options including PoDA which arms the network with censorship resistance, and/or Validium for even more scale. All of this, along with our Bitcoin-based gold standard security makes Syscoin uniquely positioned to support their metaverse and token-based economy.
Lastly, MudAi is in early development, Anyone interested in the project is invited to visit their website, mudai.city, and check out their recent appearance in the NEXTYPE/Huobi Tech Metaverse hackathon where they ranked among the winners. Currently MudAi plans to integrate Syscoin in the second half of 2022.
About MudAi
MudAi is a multichain metaverse project that looks to the future when more people will be inhabiting the virtual world. And it is their mission to build a user-friendly metaverse centered around strong communities. And feature games, NFTs, and customizable 3D worlds, all with no coding knowledge required. Their aim is to essentially platform the evolved, decentralized, visually realized next iteration of social media where users can come together to play games, create and trade NFTs, and form their own DAOs.
About Syscoin
Syscoin is a decentralized and open-source project founded in 2014 whose NEVM blockchain combines the best of Bitcoin and Ethereum in a single coordinated modular platform.
Syscoin is ushering in the next step in the evolution of blockchain technology, providing Bitcoin's proven security and Ethereum's Turing-complete programmability elevated to true scalability via Optimistic & ZK-Rollups and other Layer 2 technologies.
SOURCE:
Syscoin