Capx Partners with Spheron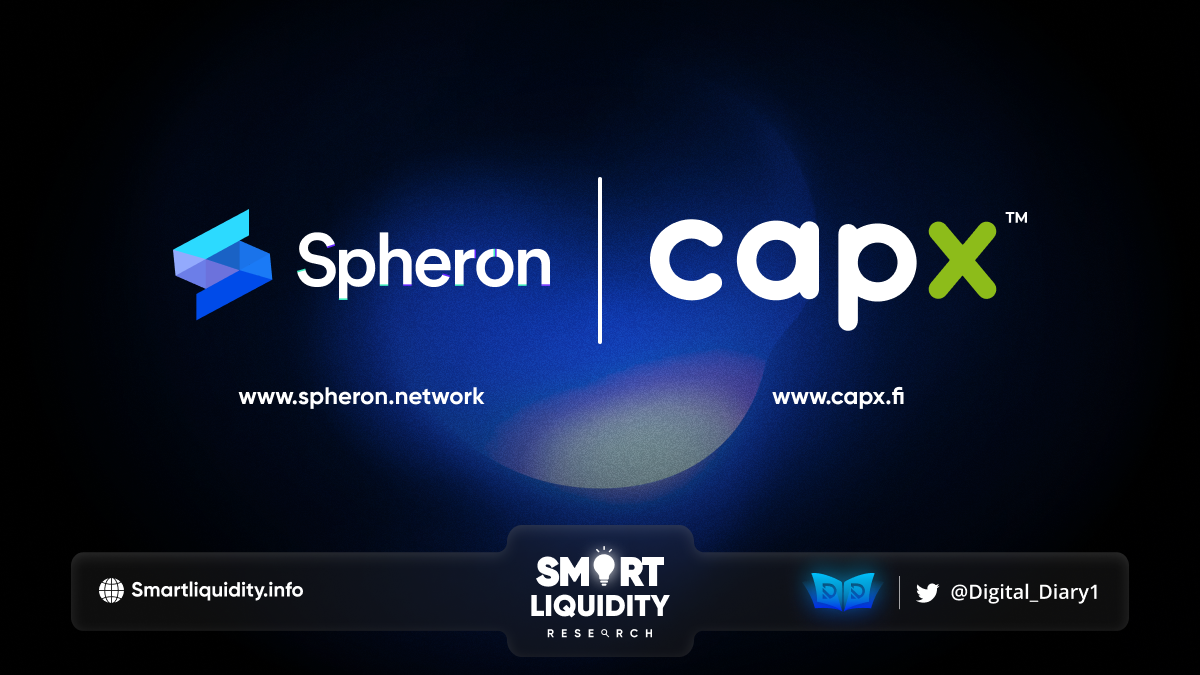 Capx has announced its partnership with Spheron, sharing the vision to build towards a decentralised and a more democratic future. Both the teams at Spheron and Capx would be working in tandem, building and deploying products to achieve the same.
Capx onboards Spheron onto the Capx Ecosystem
The Capx Ecosystem is a suite of products, tools and financial instruments, serving as the Layer Zero Solution to everything token and DeFi. With the onboarding of Spheron onto the Capx Ecosystem, it would ensure the DApps using and building on top of Capx. The complete access to Spheron's decentralised cloud services.
Capx partnership with Spheron would also mean the launch of Capx DApps such as Capx Liquid & Capx Exchange on Spheron's decentralised cloud. They look forward to use more offerings moving forward, such as decentralised compute to create better caching solutions and hence provide enterprise grade experience.
The future is digital, and porting all paper-based financial processes to a digital infrastructure doesn't cut it. One could always use Blockchain technology to make current financial systems more efficient, true disruption can only happen when the entire Financial Industry can be rebuilt from the ground up keeping in mind the values blockchain technology has to offer. — 

Founder Capx
How Spheron Plans to utilise Capx & its Ecosystem?
Spheron Protocol is an all-in-one decentralized platform for automating modern dapps. It is the simplest, fastest, and most affordable way to host and deploy your dapps build. To run on multiple supported transaction layers to any decentralized cloud network of the user's choice. They are designed to provide the best experience for developers building in Web3 or migrating from web2 to web3.
In light of the partnership, Spheron plans to work with Capx and offers to use the suite of products in Capx Ecosystem such as Capx Liquid & Capx Exchange to Spheron Team for Spheron Token's vesting cycle.
The utility of Capx's Wrapped Vesting Tokens (WVTs) will aid Spheron Token's Vesting Cycle. Capx will also offer Spheron a virtual booth for showcasing the project in Capx Carnival. Which is a digital expo in the Capx metaverse.
About Spheron
Spheron makes front-end web deployment easy, effective, and efficient through its blockchain-based platform that takes your web app to the DSNs (Decentralised Storage Networks). Spheron (previously ArGoApp) removes the hurdles of centralization and also censorship through blockchain. Ensuring that your web app is permanently deployed and experiences 99.99% uptime throughout its life.
Website | Twitter 
About Capx
Capx is building an Ecosystem comprising of Tools, Products & Financial Instruments to make the crypto markets more efficient, democratic and accessible.
Furthermore, the Capx Ecosystem serves as the Layer Zero Solution to the whole token lifecycle, right from minting the token. And also building the tokenomics model, to managing token allocations and token distribution. Their Ecosystem revolves around the need for the crypto markets to evolve out of the infrastructural & network-oriented silos and move towards user-centric solutions.
Lastly, the Capx Ecosystem is growing with the Capx Liquid as the infrastructure product facilitating the locking & wrapping of unvested tokens, thereby fueling liquidity in the secondary markets, and Wrapped Vesting Tokens (WVTs) and Community Bonds (CBDs) as the financial instruments. Their Ecosystem also comprises of Capx Exchange. An Omnichain Liquidity Aggregator facilitating the most optimised trades. At the best price across all chains in secondary as well as primary markets. Capx Ecosystem is expanding as they are seeing more products being built on top of it. As well as more chain agnostic projects getting onboarded.
SOURCE: MEDIUM