O3 Interchange Deployed On Metis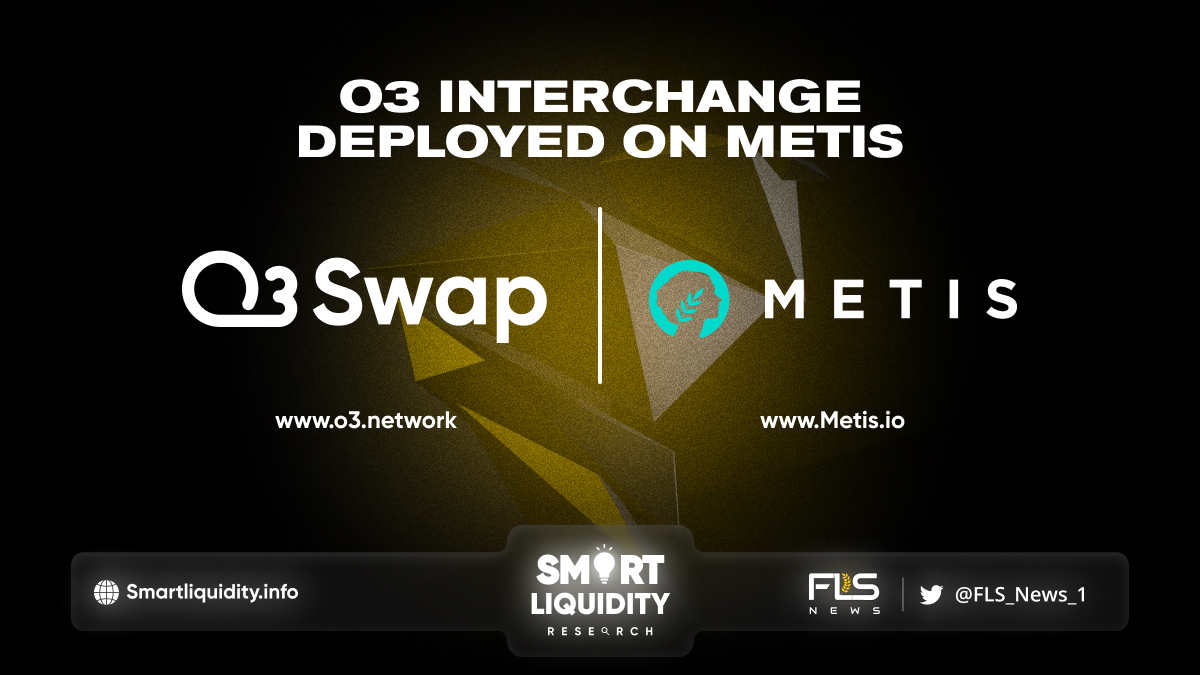 O3 Interchange Deployed on Metis
O3 Interchange Deployed On Metis — Interchange, is going to officially launch the Metis Network starting from July 15th at 4 AM UTC. Meanwhile, the liquidity mining of LP-Metis, LP-WETH, LP-m.USDC, LP-m.USDT, LP-O3 on Metis and LP-Metis on ETH will also start for celebrating the integration. From 15th, you can freely swap assets between Metis and any ecosystem on O3 Interchange to experience the seamless cross-chain!
Get ready to earn the high APR to get $O3 rewards!
Stake LP tokens to Earn $O3
Stake starts at: 7/15 4:00 AM (UTC)
Rewards start at Timestamp: 1657879200 (7/15 10:00 AM UTC)
O3 Contract Address: 0xEe9801669C6138E84bD50dEB500827b776777d28
Metis
LP-Metis Contract Address: 0x9a6e92763D8be353933939d779b1D47AA96457b2
LP-WETH Contract Address: 0x28e9647Cea31210a013Fd3A91278f9F93028d590
LP-m.USDC Contract Address: 0x8236e95c883cC515c47eA223B385A882B83f104d
LP-m.USDT Contract Address: 0x138d04b4d678f0d821250Ac394A6b77980E20aEd
LP-O3 Contract Address: 0x64C40B700a9796906C8FD0b140E09f8d68998A3c
Ethereum
LP-Metis Contract Address: 0x7AA639A2e00245D2aE71faf75d84E68172D31E6E
Guideline to add the liquidity and stake LPs for farming:
Go to https://v2.o3swap.com/hub. Select the pools that you want to deposit. Click on the pool tab to select Metis and click "+".
Input the number of token, or ptoken, or the numbers of both token and ptoken that you want to deposit into the pool. Then click "Deposit" to continue the transaction, and click the "Confirm" button in the pop-up window of your wallet extension or app to submit the transaction.
After the transaction, you will receive an amount of LP tokens representing the liquidity you deposited.
Go to https://v2.o3swap.com/vault, switch to the Metis and find the staking pool corresponding to your LP tokens, then click "Stake".
Input the number of LP tokens, then click "Confirm" to continue the transaction. If it is the first time your wallet or the token you select is used, you need to click on the "Approve" button at the pop-up window. Then click "Confirm" again. The final step is to click confirm in the pop-up window of your wallet extension or app.
About Metis
Metis is an open protocol and the Metis Andromeda network is open to any developer or team that wants to launch a DApp, token, or any other kind of project on our EVM-Equivalent platform. Some of these projects may also choose to incorporate the Metis name into their own. However, Metis does not support or endorse any of these DApps, tokens, or projects, unless specifically indicated by MetisLabs Foundation and its team members.
About 

O3 Swap
O3 Swap is a cross-chain aggregation protocol, allowing users to access multi-chain liquidity sources on one platform.