Hero Lineage's Upcoming Presale on July 20.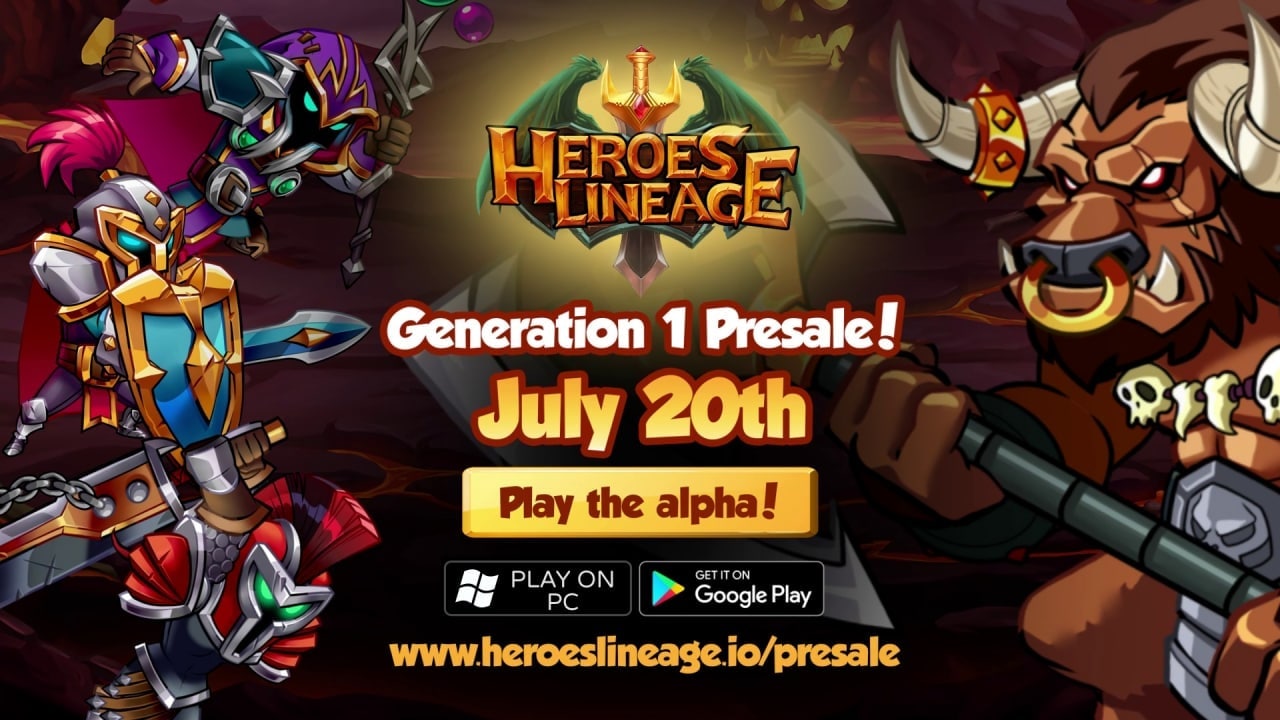 Hero Lineage's upcoming presale will be conducted on 20th July 2022. Heroes Lineage is a medieval fantasy-themed NFT game focused on strategic combat and group multiplayer content.
The Hero Lineage game has an innovative ecosystem where investors with little or no time to play can also participate significantly within the world by purchasing infrastructure (Catacombs and Castles) which generate passive income and which in turn the rest of the players will need to use to progress, benefiting both parties (players and investors).
Furthermore, Hero Lineage's goal is to develop a high-quality videogame where music, graphics, and story are up to the expectations of all its players. They also want to create a world where adventures and fun are the main incentives to play. Accompanying this will be the game's economy, which will allow you to generate goods and obtain assets that you can monetize in the long term as long as you remain active in its community. In addition, they also want to create a quality community that believes in the project and has the same long-term vision that they have.
PLATFORM'S VISION
Hero Lineage's vision is to become a benchmark in the development of video games with Blockchain technology and with the ability to build virtual worlds with their own sustainable economies. These economies will have fun and entertainment as their value base.
They also want those players most committed to their virtual worlds to be able to generate income, emulating the current economic system where as a general rule more time and effort equals more reward, only in this case it would be within a virtual world. All the goods you get within a video game can be used in other video games within its multiverse, thus creating a complex and varied ecosystem capable of attracting all types of audiences to ensure the longevity of these.
In the field of gaming, there are different types of games that have sprung up and promise passive income ostensibly. But the truth is, at first it's beautiful and in the middle, it suddenly disappears. This is one of the aspects that gamers think about before they dive into a game.
"In blockchain gaming, if you want to accumulate and have the income you also need to invest but you also need to keep in mind that you only invest the amount you can release or you can afford to lose."
WELCOME TO THE EMPIRE OF HERO LINEAGE
Heroes Lineage is a fantasy-themed Multiplayer RPG NFT game with a strong focus on strategic combat and group content. The platform also consists of an innovative ecosystem where investors with little or no time can participate in an impactful way by purchasing infrastructures (Catacombs and Castles) that will be used by the vast majority of players and both parties will benefit from this

Furthermore, to play Heroes Lineage, you will need a minimum of 4 Heroes. The game is currently in development so you will need to wait until the first release to be able to play it.
You can get a Hero by purchasing it from a public sale on its website or from another player in the Marketplace. Public sales will be announced in publicly on their social media channels. In the future, new players will be able to get started without any up-front purchase of heroes with the scholarship system.
HEROES LINEAGE UNIQUE FEATURES
Epic 4vs4 Sieges
Play with friends
Create, trade, and make a profit
Presale with only 8000 Heroes available
The game is available to download and compatible with any device
Executive amazing combos
To learn more about the Heroes Lineage game and how it works feel free to watch this trailer video.
BUILD YOUR TEAM OF HEROES
KNIGHT
Knight is a naturally defensive class, but don't let your guard down; they can unleash powerful attacks with their sword and shields. Their armor makes them hard as a rock against physical attacks but a bit weak against magic.
Once a Knight reaches level 20, you can select a subclass specialization:
Paladin — combines physical attacks, holy power, and heals.
Hell Knight — combines physical attacks with dark power and life-steal.
SKILLS
Basic Attack — unleash the basic attack that deals 80% Physical damage
Intercept — raises the shield and stands before an ally, absorbing all the damage
Taunts — taunts the enemy, redirecting their attacks at the caster
Iron Skin (Passive) — reduces all physical damage
HEROES LINEAGE GAMEPLAY
COMBAT — The combat system is turn-based and each turn consists of two phases.
🧿 Action selection: Each player selects the skills to be executed by each of the 4 heroes. You can also not select actions with a hero as a strategy to save mana in the next turn and make a more powerful and elaborate combination of skills.
📀 Combat: All heroes' actions are executed in order. It is also important to keep in mind that the order in which you choose the moves of your heroes, is the same order in which they will be executed during combat. Here comes into play the strategy and knowing how to predict what the opponent is going to do.
Moreover, if the combat takes longer than 8 rounds, the Sudden Death will trigger. Sudden Death removes automatically 25% of each hero's health every round, which makes it impossible to go further round 12.
GAME WORLD — The world of Heroes Lineage will be divided into zones full of challenges and adventures. You will have to progress from the initial zones of the game to the more advanced ones to reach the most advanced content.
🌌 ZONES — In the initial zones you will climb your first levels and the game will teach you the basic mechanics of your heroes. As you progress and move to new cities, you will reach more advanced areas of the game where the missions will give better rewards, but the difficulty will be higher.
💎 CITIES — In each zone, there will be the main city, and there is where you could perform most of your actions
Change the heroes of your main group (4 heroes)

Change the items of your heroes

Access the Missions Board

Enchant your armor and weapons

Buy equipment chests

Deposit/Withdraw tokens from the bank

Transport to the Hunting zones for completing missions
The first time you travel to a new city, you will have to unlock the route with a series of confrontations. Then once you have unlocked that route, you will be able to move to it almost instantly by paying the cost of the transport carriage.
The reward for the quests will be mainly $Tokens and Experience for your heroes. Only the heroes that are in your active group of 4 will receive the experience, so if you want to level up other heroes you have, you will have to rotate them in your team so that they also gain experience during the missions.
COMBAT INTERFACE
This is the pre-alpha interface for combat and will probably change in the near future or in release 1.0.

Map, Zone, as well as City Interface are under development.
HEROES LINEAGE MARKETPLACE
The marketplace is the place where you will be able to trade (buy/sell) all your NFTs. Initially, you will be able to access it through a web browser. Furthermore, the marketplace will have some filters like Class, Subclass, Rarity, or Skills to make your search easier and more efficient. Thanks to Marketplace you will be able to optimize your hero composition and try to get the best synergies for the different game modes in Heroes Lineage.

Progress in the game development, you will also be able to trade:

Weapons
Armors
Jewels

Miscellaneous Objects (scrolls of enchanting, experience potions, etc.)
Item is use by your heroes to improve their combat capabilities, allowing you to reach better zones with higher rewards. Each transaction in the marketplace will have a fee of 5% will use for the further development of the game and the ecosystem.

SCHOLARSHIP
With the scholarship system, you will be able to create groups of 4 heroes. For someone else to play with them without the need for them to make an initial investment.
You will only be able to grant scholarships to complete groups of heroes (4 heroes) that are not in your active group (your 4 heroes in use). The granted person will be able to play with these heroes and perform missions normally. Each time he/she turns in a mission, he/she will receive 60% of the reward which will go to the owner of the scholarship in the form of $Tokens and 40% will go to the scholarship holder in the form of "hero points".
Moreover, by accumulating enough hero points, the scholarship holder will be able to buy his own hero team.
Furthermore, the purpose of the scholarships is not that the scholarship holder can profit from the game without getting involve, but that he/she can create his/her own team of heroes to start playing autonomously and legitimately. When you have enough points, you will be able to unlock/tear your 4 heroes that will be your property and you will be able to start playing normally.
Heroes that are being used in the scholarship system cannot be traded on the Marketplace.
GAME ECONOMY
The Economics part of any NFT game is extremely important. Creating a sustainable economy requires an almost perfect harmony between a series of characteristics and variables such as total supply, emission ratio, as well as burn rate, and reinvestment requirements among others.
However, no matter how many perfect combinations you make of these variables, none of them will result in a sustainable economy if you do not manage to generate trust and reinvestment through an intrinsic value in the game itself.
This is currently the main focus of Heroes Lineage, creating an immersive story that invites you through its graphics, gameplay, as well as music, and story to play and discover new places and challenges.
Heroes Lineage is a P2E NFT game where your assets (NFTs and Tokens) have a market value. Additionally, they will also reward those players who progress in the content and reinvest in their Heroes to reach the best world zones and missions.
Only through gameplay and $Tokens, reinvestment players will be able to reach the best rewards.
HEROES LINEAGE TOKENOMICS
Moreover, $LINE is an ERC-20 token with which you will be able to buy goods within the Heroes Lineage universe. It can also use to vote in the future DAO system for project decisions. Furthermore, it can have access to the different advantages and opportunities that this P2E project will launch throughout its development.
The total supply will be 300,000,000 $LINE tokens, which will be distributed over 3 years progressively and for different purposes.
PROJECT INFO: Heroes Lineage
TICKER: $LINE
CHAIN NETWORK: POLYGON
TOKEN DISTRIBUTION IS AS FOLLOWS
GENERATION ONE HEROES
Game rewards

: 50% (150,000,000)

Team

: 10% (30,000,000)

Liquidity/Listing

: 10% (30,000,000)

Marketing and Community

: 9% (27,000,000)

Company

: 5% (15,000,000)

Advisors

: 2% (6,000,000)

IEO Phase 1

: 3% (9,000,000)

IEO Phase 2

: 3% (9,000,000)

IEO Phase 3

: 4% (12,000,000
Furthermore, the largest amount of tokens, 150 million, reserves as in-game rewards and access by players and community members themselves through gameplay. Additionally, the competitive PvP tournaments, and staking pools among other ways within our ecosystem.
GENERATION ONE HEROES
PRE-ORDER NOW
GEN 1 HERO CHEST
Remaining Chest: 8000/8000 HEROES
Be the first to get a hero and participate in the incredible adventures of Ethernia.
Owners of Heroes purchased in the presale will be able to play the Alpha in July 2022. The Heroes Lineage Alpha will be available to download in Summer 2022.
Heroes of Lineage is now available for download on PlayStore for Android and for PC.
HEROES LINEAGE SOCIAL
Website | Twitter | Discord | Telegram
Presale Page