DeepMine Partnership with GetSetPlay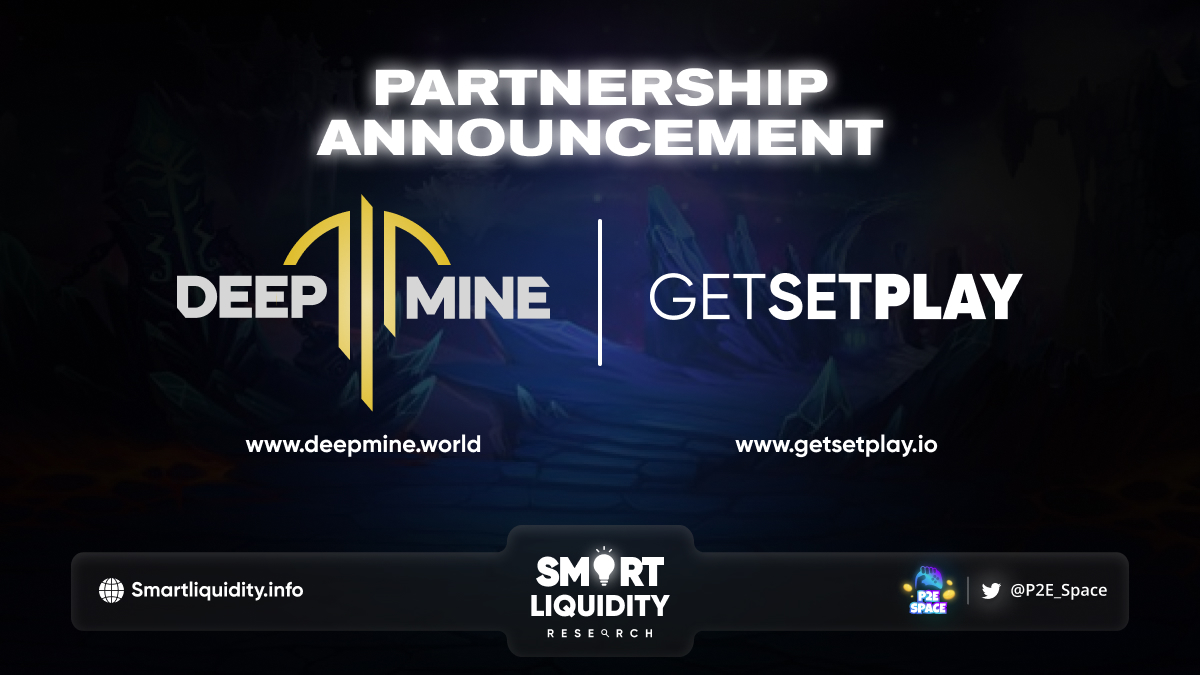 DeepMine partnership with GetSetPlay aims to broaden the platform's network of renowned partners, including leaders in the blockchain gaming and esports industries.
DeepMine streamers and content creators will get full access to the Get Set Play platform.
Unlike YouTube or Twitch viewers, content creators on GSP Stream will be able to live stream their games to a blockchain-focused audience, a perfect demographic that will be far more likely to play the game themselves.
Get Set Play and GSP Stream's amazing features, such as a ground-breaking moderation that uses community elected validators to safeguard all streamers on the network from hate raids and similar attacks, will be available to all DeepMine streamers. This significantly increases the level of safety for DeepMine streamers.
Partnership Highlights
This partnership will be equally beneficial for DeepMine. With Get Set Play, DeepMine and its creators will now receive significant exposure thanks to tailored advertising and promotion to the blockchain gaming community.
In addition to priority advertising, being allowed to stream on GSP Stream will help DeepMine reach a target audience.
Thanks to Get Set Play's watch-to-earn protocol, streamers can quickly increase their fan base and viewership via the reward system. Additionally, streaming on GSP Stream lets users receive a much more fair payment for their time spent broadcasting.
Viewers of DeepMine on other platforms will be more likely to switch to GSP Stream and the Get Set Play ecosystem thanks to the watch-to-earn incentive. This will significantly boost the number of active users within the Get Set Play ecosystem.
Key Features of DeepMine:
In-game cryptocurrency tokens mining
Players own their assets and can freely trade and exchange them
Unique P2P (player to player) minting system of gaming NFTs
Open economy integrated with WAX and AtomicHub
NFTs Upgrade system
Unique cooperation mode
Business tycoons and ventures
Political parties
R&D career paths
Live and evolving game story
DeepMine has different roles with different responsibilities. Senators are in charge of politics, Landlords are in charge of their areas, Factory and Mining owners are in charge of the business side, Contractors work in mines, while Geologists, Engineers, and Scientists help with production and further exploration. Different roles give players different ways to play the game and earn in-game tokens.
About Get Set Play
Get Set Play is a groundbreaking decentralized, DAO-governed esports gaming and streaming platform that leverages blockchain technology.
Get Set Play has also created an immersive metaverse experience to let gamers all over the globe feel like they are competing under one roof. The metaverse is designed for a wide variety of users – from gamers and creators to business owners and game sponsors. The metaverse will allow users to interact with one another like never before.
Within the metaverse, you will be able to showcase your achievements, highlights and trophies for the rest of the community, as well as being able to meet up for live events within the metaverse.
About DeepMine
DeepMine is an NFT-based metaverse game with a unique narrative and some unconventional cooperative mechanics. The open economy implies a number of in-game scenarios, so that each player can choose the role that best fits their time and effort.
The main activity is using mines and mining equipment to get DME token. For the process to work as well as possible, all of the players, like the DAO and political parties, need to work together.
SOURSE:
https://medium.com/@deepmineworld/deepmine-announces-partnership-with-the-get-set-play-platform-2034c0868b30