Orca Whirlpools Rotation #8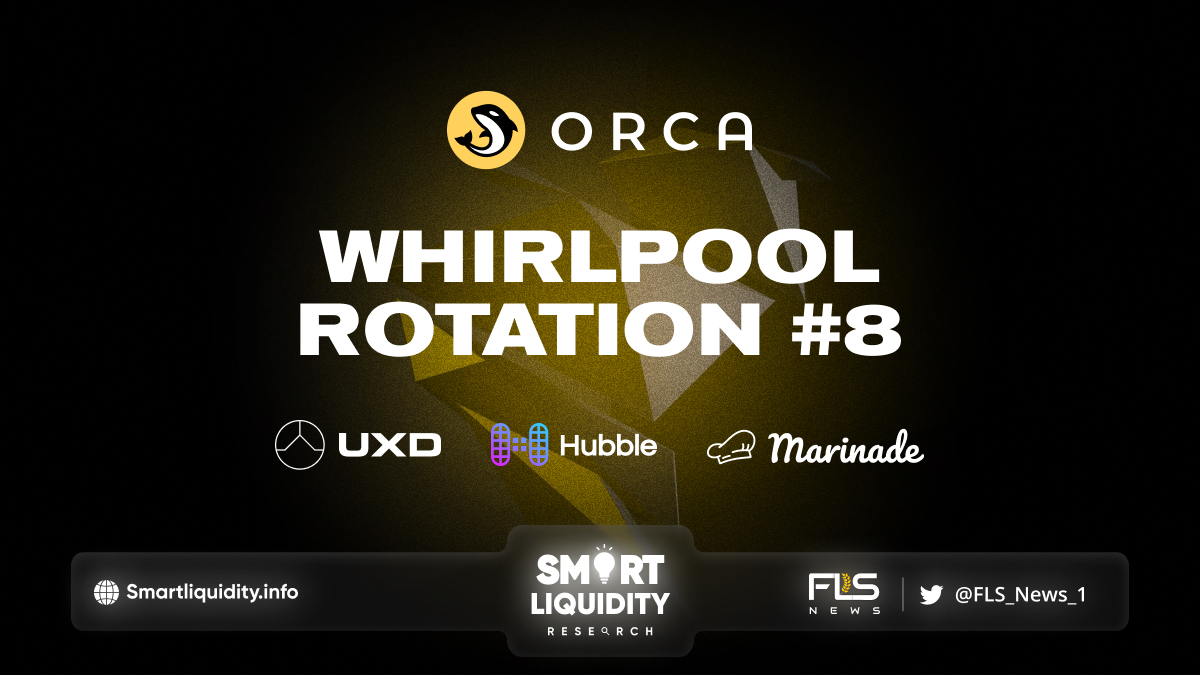 Whirlpools Rotation #8: July 28th — August 11th
Five new Whirlpools are opening on Orca Whirlpools Rotation #8, including two Fresh Double-Dips.
Whirlpools Rotation #8 🌀
Duration: Thursday July 28th — Thursday August 11th, 2022
Total Rewards: ORCA rewards for this Rotation will be ~35K ORCA per week, with the distribution across our pools detailed below. All Whirlpools and Aquafarms are now open and rewards will begin on July 28th at ~20:00 UTC.
Events: The Solana Summer Camp online hackathon continues, with prizes of up to $50,000 for innovators in the DeFi space. With Orca co-founder Ori and Orca's head of BizDev Milan judging, we encourage all podmates who want to build in the ocean of DeFi to participate! 🐳
Double-Dip pools 🐋
Double-Dip Whirlpools offer LPs two different token rewards plus trading fees.
#1 mSOL/USDH from Hubble & Marinade
Double-Dip duration: July 28th — August 25th 2022
MNDE rewards: 20,000 MNDE per week
Orca rewards: ~500 ORCA per week
#2 USDT/USDH from Hubble
Double-Dip duration: July 28th — September 22nd 2022
Hubble rewards: 1,000 HBB per week
Orca rewards: ~100 ORCA per week
Other fresh Whirlpools 🌀
Whirlpools offer market-savvy LPs the opportunity to compete for higher yields
While these Whirlpools receive no additional token rewards, they are highly capital efficient and provide tactical opportunities for Sharks! 🦈
#3 DAI/USDH (USDH by Hubble)
#4 HBB/USDH (from Hubble)
#5 UXD/SOL (from UXD Protocol)
🌊 Deepsea Insights 🌏
With every Rotation, there's always something interesting going on in the Orca ecosystem…
Not only is there a raft of fresh Whirlpools from Hubble this Rotation: Hubble's existing Whirlpools have also been attracting some interesting activity over the last two weeks.
Of particular note is the Triple-Dip USDH/stSOL Whirlpool, which is boasting strong volumes and trading fees without even considering the additional HBB, wLDO, and ORCA rewards!
About Hubble
Hubble protocol allows users to take interest-free loans against multiple crypto assets. Hubble works with USDH, Hubble's decentralized stablecoin.
About 

UXD Protocol
UXD Protocol a fully collateralized decentralized stablecoin backed by delta-neutral position using derivatives.
About Orca
Orca the easiest way to exchange cryptocurrency on the Solana blockchain. There, you can exchange tokens with minimal transaction fees and lower latency than any DEX on Ethereum, all while knowing that you're getting a fair price. Additionally, users may provide liquidity to a trading pool to earn a share of trading fees.