pStake is Launching Liquid Staking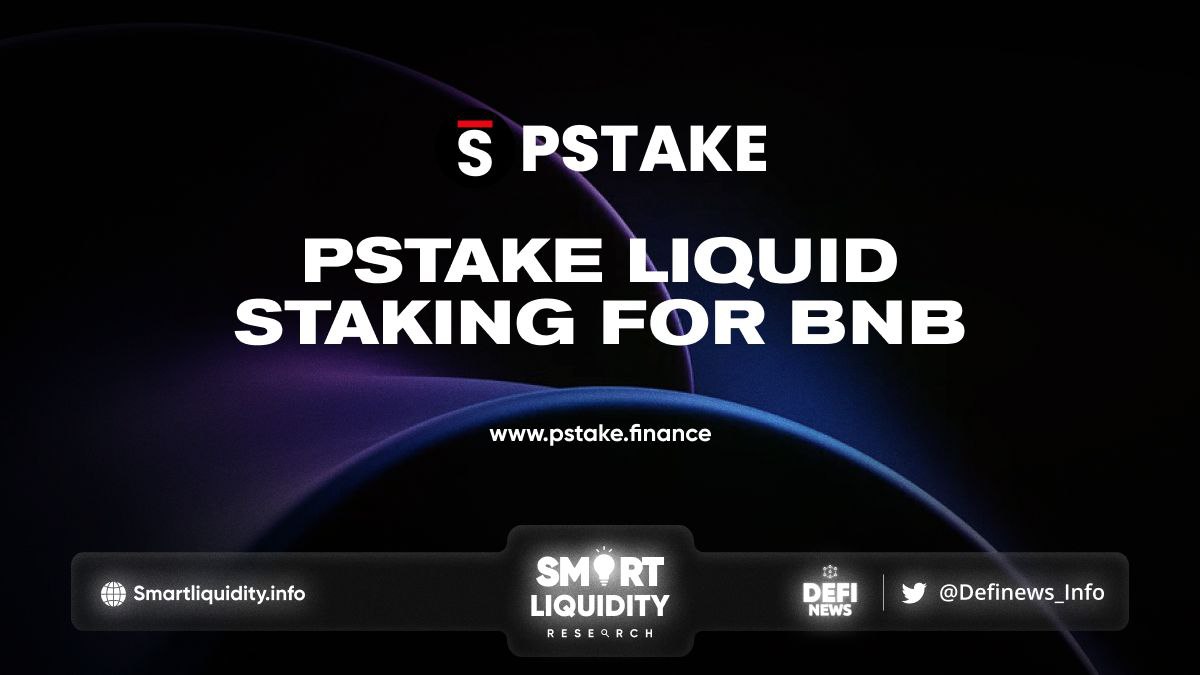 pStake is launching Liquid Staking solution for BNB which is expected to go live in the second week of August 2022. This is another significant stepping stone on its path to creating a comprehensive and robust multi-chain liquid staking ecosystem.
pStake has always taken a security-first approach while building products. Upon finalization of security audits (expected mid-next week), they are targeting the launch of stkBNB tentatively in the next 2 weeks.
How does stkBNB (pSTAKE's liquid-staked representative for BNB) work?
Stake
pSTAKE's BNB liquid staking solution will allow you to stake any non-zero amount of BNB. You will be instantly issued stkBNB which follows an exchange rate model (inspired by the Compound's cToken model). The value of your stkBNB will keep increasing against BNB as it accrues staking rewards in the background. We have even gone one step further to enable auto-compounding on your BNB staking rewards to allow you to generate the highest yields.
Unstake
Furthermore, when you perform an unstake transaction on the pSTAKE application, the stkBNB deposited by you is burnt. A claim request for an equivalent amount of BNB based on the ongoing exchange rate (c-value) will be created against your wallet. You can then claim the unstaked BNB from the pSTAKE application after 15 days (this allows us to safely undelegated funds from validators). You will stop earning rewards after performing the unstake transaction.
Alternatively, you can swap your stkBNB for BNB directly from the liquidity pools on DEXs such as PancakeSwap.
 Rewards for liquid staking BNB
Staking rewards on BNB come from the transaction fees paid by users of the BNB chain and thus vary according to the network activity. They also received for delegating BNB to BNB Chain validators every epoch (24 hours). Validators take their cut from rewards before sharing it with the stakers. In the case of the pSTAKE protocol, as claimable tokens. The pSTAKE will delegate to the top performing validators to increase staking rewards.
 The rewards earned are split into two parts
97%* goes to stkBNB holders in the form of stkBNB value appreciation: This will happen every epoch as staked BNB accrues rewards.
3%* goes to the protocol: The protocol fee is managed by a contract and is targeted towards developmental activities like hackathons, grants, bug bounties, etc. to support the long-term growth of the pSTAKE ecosystem.
*The current distribution will be finalized upon further feedback. The fee distribution can be amended in the future through pSTAKE Governance.
Whitelisted set of validators
The initial set of whitelisted validators will be selected from the Top Validators on BNB Chain based on a scoring mechanism that uses various parameters like APR, slashing instances, and uptime
Will stkBNB be audited separately?
The stkBNB contracts have already been audited by PeckShield and they are currently awaiting an audit report from Halborn. The mainnet will go live only after these audits are successfully received.
pStake is continuously working with Certora to verify the rules in our smart contracts and has finished on the most critical ones. They are integrating with Forta to enable on-chain tracking of the contracts right from the launch. Furthermore, they will also be launching a bug bounty program along with Immunefi to allow white-hat hackers to stress test the product.
ABOUT pStake
pSTAKE is a liquid staking protocol unlocking the liquidity of staked assets. Stakers of PoS tokens can now stake their assets while maintaining the liquidity of these assets. On staking with pSTAKE. Additionally, users earn staking rewards and also receive 1:1 pegged staked representative tokens (stkTOKENs). It can also be used in DeFi to generate additional yield (yield on top of staking rewards).
RESOURCES