Synthr Three-Way Partnership With Dfyn and Router Protocol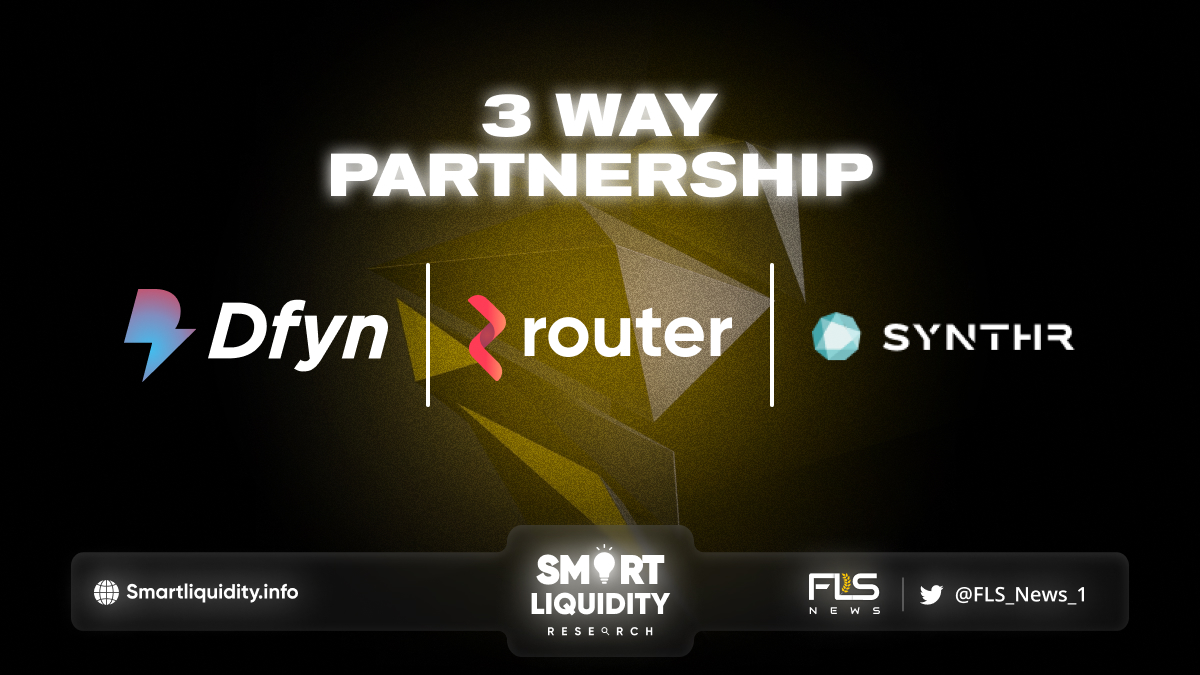 Three-way partnership between Synthr, Dfyn, and Router Protocol
Synthr Three-way partnership with Dfyn, a cross-chain AMM decentralized exchange, and Router Protocol– a cross-chain bridging protocol enabling fund transfer and asset swaps between different chains.
What type of opportunities will this partnership create for users?
The partnership with Dfyn opens up new possibilities to earn LP rewards in $SYNTH for depositing syAssets. With this move, $SYNTH and syAssets will be listed on Dfyn, with it being made available on Polygon thereby not only providing users earning potential, but also build deep syAsset liquidity on Polygon.
The partnership with Dfyn also serves a broader purpose as part of their DRASR module — Synthr's unique dynamic rewards allocation mechanism that ensures that the DEX price of a syAssets remains pegged to their respective oracle prices. This is possible by toggling the long and short farm APRs, ensuring a very low price difference between exchange price and oracle price.
The partnership with Router Protocol will allow Synthr users to swap $SYNTH across various EVM compatible chains, and Router Protocol will also use Synthr's zero-slippage swapping engine to execute atomic swaps on partner DEXs.
This partnership makes low slippage cross-chain swaps, also known as atomic swaps, possible on Router. (Atomic swaps allow you to exchange tokens from different blockchains in one trade with nearly zero slippage.)
About Synthr
Born through a collaboration of DeFi experts and traditional investors with real-world trading expertise. Synthr a synthetic asset protocol, goal to enable traders thrive without the restrictions of traditional finance via application of DeFi. Solutions and to transform trading into a truly universal and omi-accessible market.
About Dfyn
Dfyn a multi-chain AMM DEX currently functional on the Polygon network and Fantom. Dfyn nodes on various chains act as liquidity entry & exit into the cross-chain liquidity that is enabled by Router Protocol.
About Router Protocol
Router Protocol building a suite of cross-chain infra primitives that aims to enable blockchain interoperability between current and emerging Layer 1 and Layer 2 blockchains.