Story Integration with Chainlink VRF, now have access to a tamper-proof and auditable source of randomness needed to help randomly select winning tickets for their raffle.
Ultimately this creates a more exciting and transparent user experience, as users can be confident that the raffle draws are powered by a fair and verifiable source of randomness. As Story announced its integration with Chainlink VRF.
Story is a platform that aims to help others and disrupt the traditional crowdfunding space. For example, Story has initiated a raffle contest, primarily as a means to raise funds for charities.
At Story, they encourage users to tell stories about other people rather than about themselves.. They provide an incentivized environment that encourages users to help others. Their raffle serves as a donations campaign where donors can purchase tickets for the chance to receive certain benefits.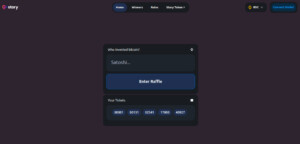 Integration with Chainlink VRF
In order to help randomly select raffle winners and help assure users that the selection process is fair and transparent, they need access to a secure random number generator (RNG) that any user could independently audit. However, RNG solutions for smart contracts require several security considerations to prevent manipulation and ensure system integrity. For instance, RNG solutions derived from blockchain data like block hashes can be exploited by miners/validators, while off-chain RNG solutions derived from off-chain APIs are opaque and don't provide users with definitive proof about the integrity of the process.
­
About Chainlink
Chainlink is the industry standard for building, accessing, and selling oracle services needed to power hybrid smart contracts on any blockchain. Their oracle networks provide smart contracts with a way to reliably connect to any external API and leverage secure off-chain computations for enabling feature-rich applications. Chainlink currently secures tens of billions of dollars across DeFi, insurance, gaming, and other major industries, and offers global enterprises and leading data providers a universal gateway to all blockchains.
­
About Story
Story is a platform that helps others. Every story counts! From sad events to happy moments, every story matters. They live in a world with billions of untold stories, as well as the unheard and voiceless, for lack of a platform. Story is also a crowdfunding platform dedicated to reshaping traditional crowdfunding. By offering a low barrier of entry for anyone with a smartphone, anywhere in the world.
To incentivize users, they offer engagement rewards and Storyteller tipping. These incentives encourage users to share and promote the stories happening all around them on the Story platform. Their platform provides an opportunity for countless stories all over the world to have happy endings. But the story is not the end goal, the goal is to change the dominant narrative of the subject's life.
­