Race and Win With RacewayX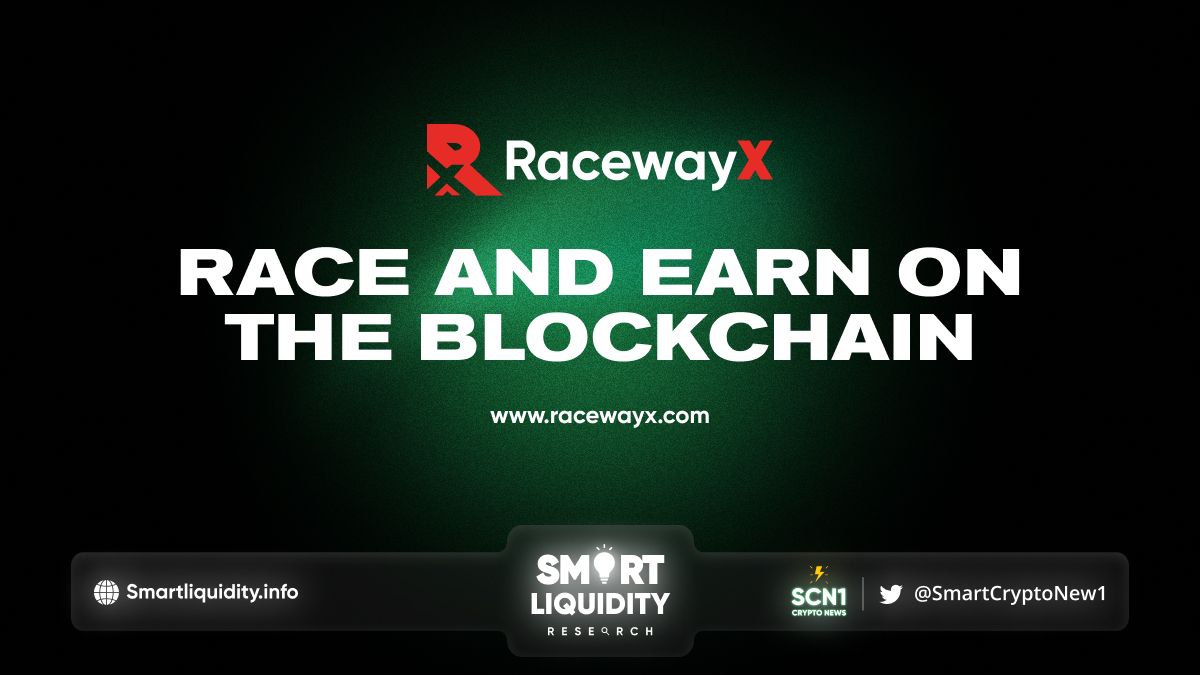 Race and Win with RacewayX a multi-chain NFT-driven strategy racing game with blockchain-powered economy and prize pool redistribution contracts. A play-to-earn car racing simulation game where players and participants own parts of the game. Players can earn by playing the game or by simply holding parts of the game.
All ownable parts of the game are in the form of verifiable owned NFTs. The in-game currency would be RacewayX Token (RWX), used for all in-game activities. The gameplay is purely based on physics and player strategy with no physical controls. To play the game, you need to own a car NFT, select a racetrack and ensure you have or buy the required level of gas, choose your race strategy, and view the results.
Racewayx Game Features
Interactive P2E
Farming and Staking
Token Supports In-Game Economy
Collectible NFTs with UTILITY
When entering a race, players are presented with the Race Conditions. With this in mind, players select from several options that make up their Race Strategy to compete in the race. Moreover, the race then happens in the background. Results of the race are determined primarily by how well each player's Race Strategy played out, and secondarily by a weighted random algorithm. Cars with higher XP and upgrades have an advantage in the race.
RacewayX Gameplay
The game flow involves buying a car, buying gas for the car, selecting a race, choosing your race strategy, and viewing the results. The races happen in the background and are determined primarily by the racer's strategy, and secondarily by a weighted random algorithm. In addition, cars with higher XP and upgrades have an advantage, but players with the best Race Strategies have the ultimate advantage. To play RacewayX you first need to buy a car.
Buy Gas
 In order to enter a race, you must first buy enough gas. Gas is purchased in virtual gallons, with each gallon costing about $1 to $5 USD. All purchases and winnings in the game are in $RWX tokens, but costs are quoted in USD to maximize ease of understanding and to maintain consistent prices. All races are shown as "1 GAL" or "5 GAL" races. This means that you will need 1 gallon of gas to enter a "1 GAL" race.
Selecting a Race
Moreover, players must have a car selected. To select a car, a player will go to their garage and choose the car they want to race with. Once this is done, players will view upcoming races by all classes, by their car's eligible races, or by the racetrack. They can then choose a race and enter their strategy.
Choose Your Race Strategy
Players will see the Race Conditions will be displayed to the players, this will comprise important information that will inform and influence their strategy.
RacewayX Ecosystem
The Cars — Cars are the core asset of the game, they are required to play the game. Players can either buy cars from our Marketplace or from the verified collection at PCS. All cars will have both properties and will be at the same level on the first mint but as the car gains XP, the current rank will move up the rank levels.

Gas Station

— Gas functions as the entrance fee for races and strategy to race on tracks. To enter a race, racers must have the gas level required for the racetrack if they don't, they need to stop at a Gas Station and buy fuel with RWX Tokens. There are only 20 Gas Stations in the initial Collection of game assets.
Tuneup Garage — Racers must bring their cars to a Tuneup Garage to buy and install upgrades. Tuneup Garage earns a portion of the upgrades purchased at their Garage. Total proceeds from upgrades purchased at all Tuneup Garage will be pooled together and distributed evenly to all Tuneup Garage owners. There are only 30 Tuneup Garages in the initial Collection of game assets
TOKENOMICS
The in-game currency would be RacewayX Token (RWX), used for all in-game activities such as Racetrack Gate Fees, Upgrades, Fuel, and Rewards.
Token name: RacewayX
Token symbol: RWX
Total supply: 1,000,000,000
Token protocol

: Initial – Binance Smart Chain, Avax, Polygon & Ethereum (Coming soon)
Furthermore, RacewayX received support and investment from its prominent partners such as TroveDAO, TOFUNFT, Moralis, International Blockchain Consulting, as well as Caduceus, etc.
RacewayX Social Media