USDC Spot Market on Injective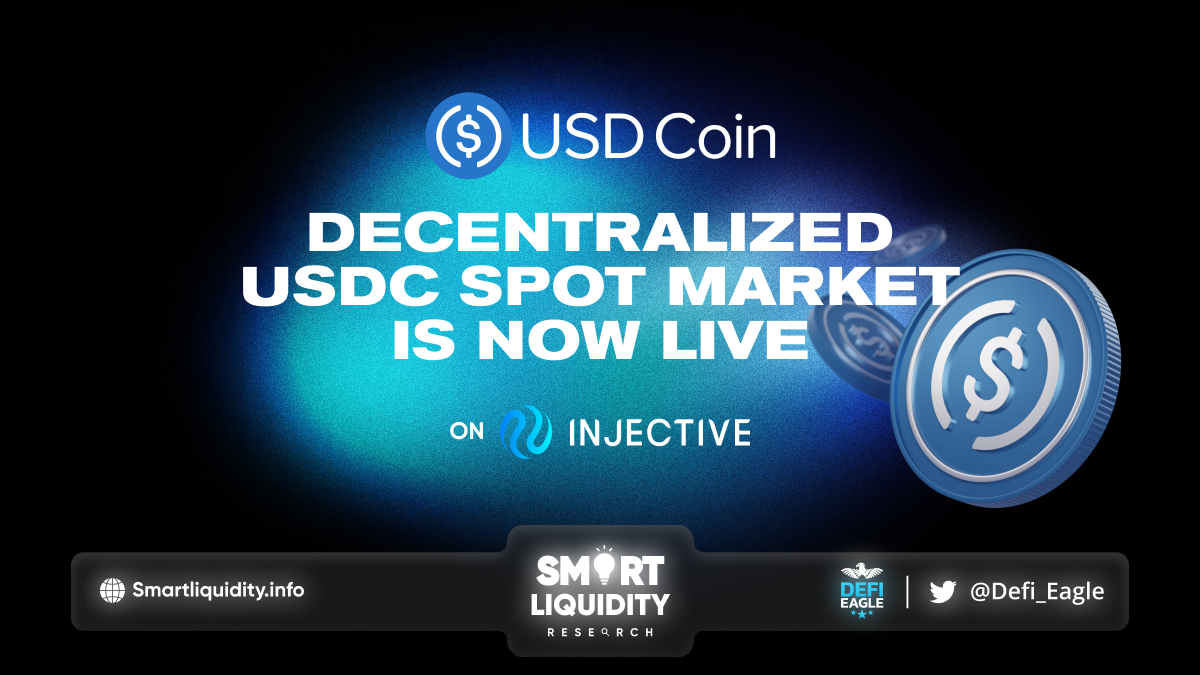 USDC Spot Market on Injective Pro, where users will be able to trade USDC with zero gas fees and lightning fast speeds. 
This USDC/USDT Spot Market will showcase the lowest trading fees for a stablecoin pair available on any exchange.
You can start trading $USDC with market and limit orders on Injective Pro, the premier derivatives exchange dApp built on Injective. USDC Spot Market on Injective, Injective Pro provides users with a fully decentralized orderbook environment with zero gas fees.
You can transfer your USDC through the Injective Bridge from Ethereum or you can start trading USDC on Injective using USDT. Injective is natively able to connect to Ethereum, Cosmos, and a number of other IBC-enabled chains. The Injective Bridge further expanded its supported networks, allowing users to access a wider array of assets and ecosystems, such as Polkadot and Axelar.
Moving forward, the recent funding round led by Jump Crypto will look to accelerate the Injective ecosystem growth, increase utility for $INJ, and provide liquidity to existing exchange dApps built on Injective. This is a new milestone for Injective to rapidly grow within institutional circles globally.
Get started here: https://injective.exchange/spot/usdc-usdt/
Why Trade $USDC on Injective?
You can place both market and limit orders on a fully decentralized orderbook created for the Injective community.
Injective is natively compatible with Ethereum and allows assets to be transferred to the Injective network directly. While trading, users can earn rewards from the$120 Million Injective Astro Program.
USDC-USDT Market Details
Base asset: USDC
Quote asset: USDT
Tick size: $0.0001 USD
Minimum order size: 1 USDC
Quantity step: 0.0001 XPRT
Trade and earn multiplier: 1X maker pts; 1X taker pts
Negative Maker Fee: -0.2 bps
Trading hours: 24/7/365
About New Listings
Injective Pro will continue to expand the markets available for users. All community members can propose to bring new assets to exchange DApps built on Injective using the Injective Governance portal. Ultimately, all INJ token holders own Injective so the community has the power to list assets on exchanges built on Injective.
About Injective
Injective is a custom interoperable layer one protocol for building powerful exchange, DeFi, derivatives & Web3 applications. Injective was creating using the Cosmos SDK and is able to achieve instant transaction finality while sustaining lightning fast speeds. INJ is the native deflationary scarce asset that powers the Injective Protocol and its rapidly growing ecosystem. Injective is incubated by Binance and is backed by Pantera Capital.
SOURCE
https://blog.injective.com/decentralized-usdc-spot-market-listing-on-injective-pro/