GSP's NFTs Cross-chain ecosystem with DeSpace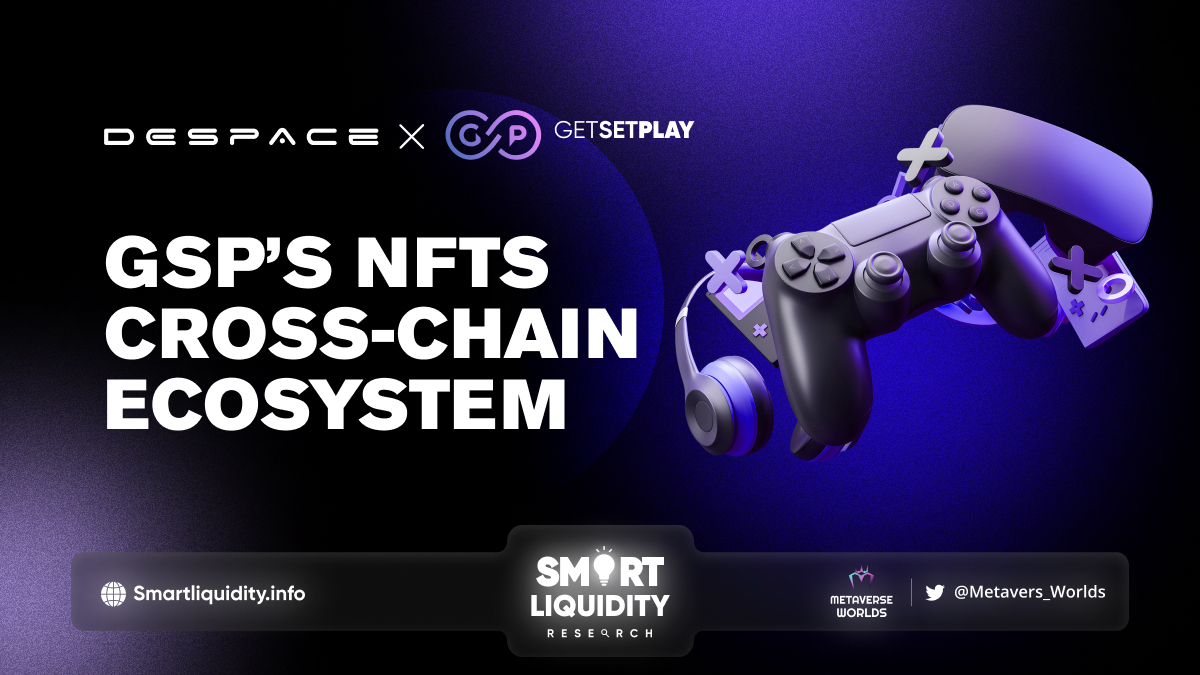 DeSpace has announced its partnership with Get Set Play (GSP) — a leading esports and streaming metaverse built on Avalanche. 
GSP's innovative approach to esports and streaming employs DAO governance to run a buzzing ecosystem of gamers that reaches beyond blockchain gaming into the world of traditional esports.
As part of this partnership, they'll be adding GSP's NFTs to DeSpace cross-chain ecosystem. This means that GSP NFT holders will benefit from DeSpace marketplace aggregators. And NFT staking protocols, adding extra utility to their already exciting assets. They'll also be collaborating on exclusive drops through its Lottery and Auction Pads.
They'll also seek to expand their partnership into new areas as DeSpace products roll out, including benefits on DeSwap and DeLend. Once DeChain goes live, GSP users will also benefit from cross-chain functionality. And all the perks that access to the widest possible blockchain user base brings.
Lastly, They're looking forward to getting to know the Get Set Play community through collaborative events. And they're thrilled to welcome them all to the DeSpace fold! If you're a gamer, or just interested in what is possible with Web3, make sure you check them out today!
About Get Set Play
Firstly, Get Set Play is a groundbreaking decentralized, DAO-governed esports gaming. And streaming platform that leverages blockchain technology to revolutionize the way they play, stream and spectate video games and esports. GSP have tailored their platform for avid gamers and streamers alike to compete in tournaments while simultaneously streaming their gameplay to the rest of the globe.
GSP has also created an immersive metaverse experience to let gamers all over the globe feel like they are competing under one roof. GSP's one-of-a-kind metaverse is designed for users ranging from gamers and creators to business owners and game sponsors. The metaverse will allow users to interact with one another like never before. Within the metaverse you will be able to showcase your achievements.
About DeSpace
DeSpace Protocol is the most advanced DeFi and NFT navigation tool to date. We empower users with a range of DeFi and NFT products from around the crypto ecosystem, including our own products, all from a single interface. In addition, DeSpace is supported by DeChain, its Layer-2 blockchain solution that connects the disparate chains and allows easy transactions across several bridges. Every time a user transacts, they are rewarded with DES, our native token which also unlocks a massive amount of utility within the platform. DeSpace's latest product, DeSwap DEX, will go live on Cube in Q3, 2022.
Indeed, DeSpace takes the best of DeFi and NFTs and combines them into a single, easy-to-use platform that rewards users.
SOURCE:
https://blog.despace.io/despace-partners-with-esports-and-streaming-metaverse-get-set-play-b0c1bcd202f5