Plato Farm x SeedX Ambassador Program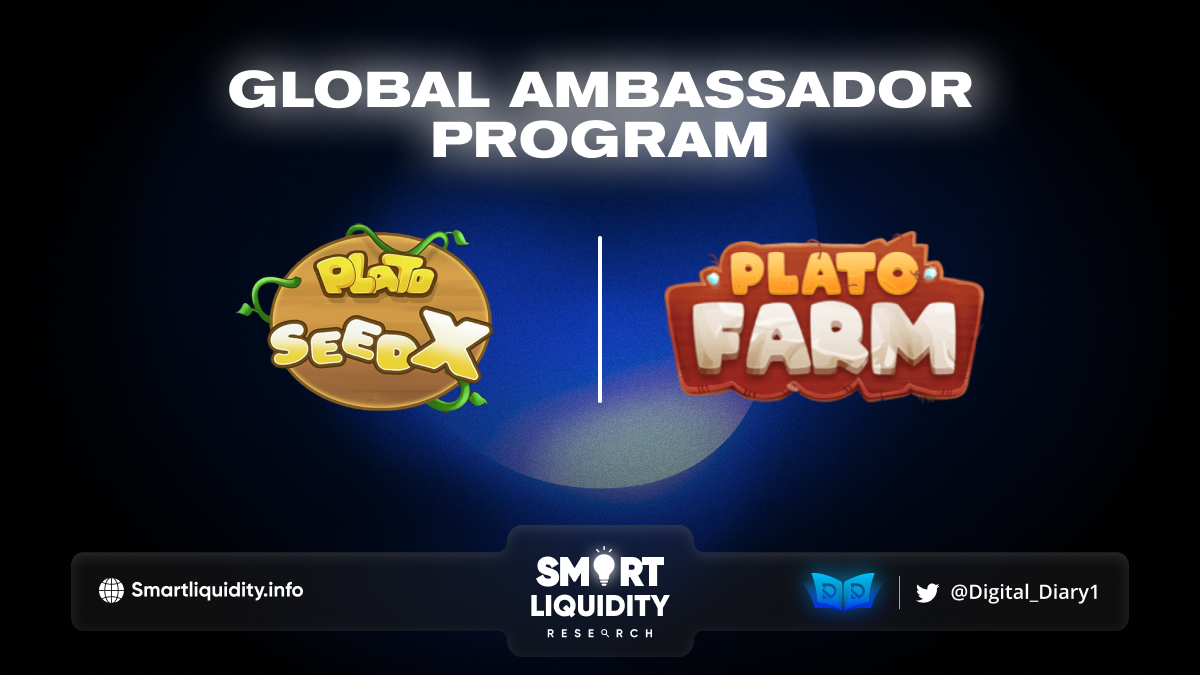 Plato Farm, a metaverse that uses blockchain technology thrilled to announce the launch of its Global Ambassador Program with SeedX!
With the smooth Public Beta of their SeedX game, they would like to continue to explore its community for hidden talents by launching the Ambassador Program to gain further quality contributions from tneir community members and blockchain enthusiasts!
The program will be started with a goal to create various contents for SeedX and help to educate their users across various platforms. In return, they will provide a monthly prize pool of $3000 worth of tokens and an added bonus of NFTs for qualified ambassadors!
Who Can Participate?
They are looking for ambassadors who can assist the team to expand their users and players in the SeedX game, promoting media content, and expanding and engaging with the community. Also maintaining the brand image of Plato Farm & SeedX.
The following are not mandatory requirements, just some preferences.
Experienced crypto users who have a great interest in Plato Farm & SeedX.
DeFi influencers with 1k and above followers on Twitter, Telegram, or Medium.
Technical writers who have extensive Crypto/GameFi industry knowledge and can dive into the discussions about coding and programming in different GameFi projects.
Users who are able to effectively help people to understand the game mechanism of Plato Farm & SeedX through both verbal communication and written content.
Users who are able to create clear yet insightful graphics or visuals for Plato Farm & SeedX brand content when needed.
Provide valuable feedback and suggestions for Plato Farm & SeedX improvements.
Ambassador Responsibilities
Opinion Spread
Their ambassador will devise ways to spread the views of NFT and GameFi around Plato Farm & SeedX. This could be through blogs, YouTube videos, tweets, or even memes.
Social Media Moderator
Take care of Plato Farm & SeedX official social media (Telegram, Discord and etc.), assist in spreading the word about their online or offline events and meet-ups, engaging with the community, and gathering feedback.
Fluent Translator
Translate and share Plato Farm & SeedX content in different languages and expand Plato Farm & SeedX exposure to communities.
Referral Mechanism
Expected to be the ambassador to more GameFi lovers and creators. Invite them to join their community and game.
They provide two modes to facilitate user participation.
One is zero-cost participation, where the user's APY is about 10%
The other is cost participation, where the user's APY is about 1000%.
Users with the cost to participate in the game will have to spend 100U to buy energy canisters at the beginning of the game and 100U to buy electric cards to get 10 opportunities to activate energy canisters.
Each game brings in a corresponding amount of revenue, about 3% per day.
As an ambassador, you will receive sales incentives. You will receive 10% of your sales if more than 100 residents of your neighborhood purchase energy canisters.
If 500+ users buy Energy canisters, you'll get a 20% bonus on your sales.
When more than 1,000 people in your community buy energy canisters and power cards, you'll get a 30% bonus on your sales.
If your community has over 5000 users participating in the game, you will become their super ambassador, and in addition to the rebate on sales, you will receive an additional generous Plato reward.
Ambassador Benefits
Energy canister and electric card sales incentives
A total of $3000 ambassador rewards pool.
Direct access to executive members behind Plato Farm & SeedX and learn from their expertise and mentorship.
Exclusive growth path, quickly accumulate blockchain work experience.
Opportunity to get Plato Farm & SeedX exclusive NFT and gifts.
How to apply?
Become a part of the Plato Farm & SeedX by submitting your applications:
https://forms.gle/sVjzVELdyqsrrcn76
Over the next couple of weeks, the most passionate members of the community will be chosen as Plato Farm & SeedX Global Ambassadors. Then more specific instructions on tasks and responsibilities will be provided through an onboarding process.
About SeedX
SeedX is the world's first Web3 gamified task platform incubated by Plato Labs. It uses the X-to-Earn 2.0 version as tokenomics and integrates DAO community governance. It prioritizes users' interests and is committed to building a simple, fun, and highly popular metagame ecosystem.
About Plato Farm
Plato Farm is a metaverse that uses blockchain technology to simulate the evolution of human civilization. Through hard work, players can develop the wildland into a rich and modern home of human civilization, and then create the space civilization.
SOURCE: MEDIUM