Revenant Partners with Amakuni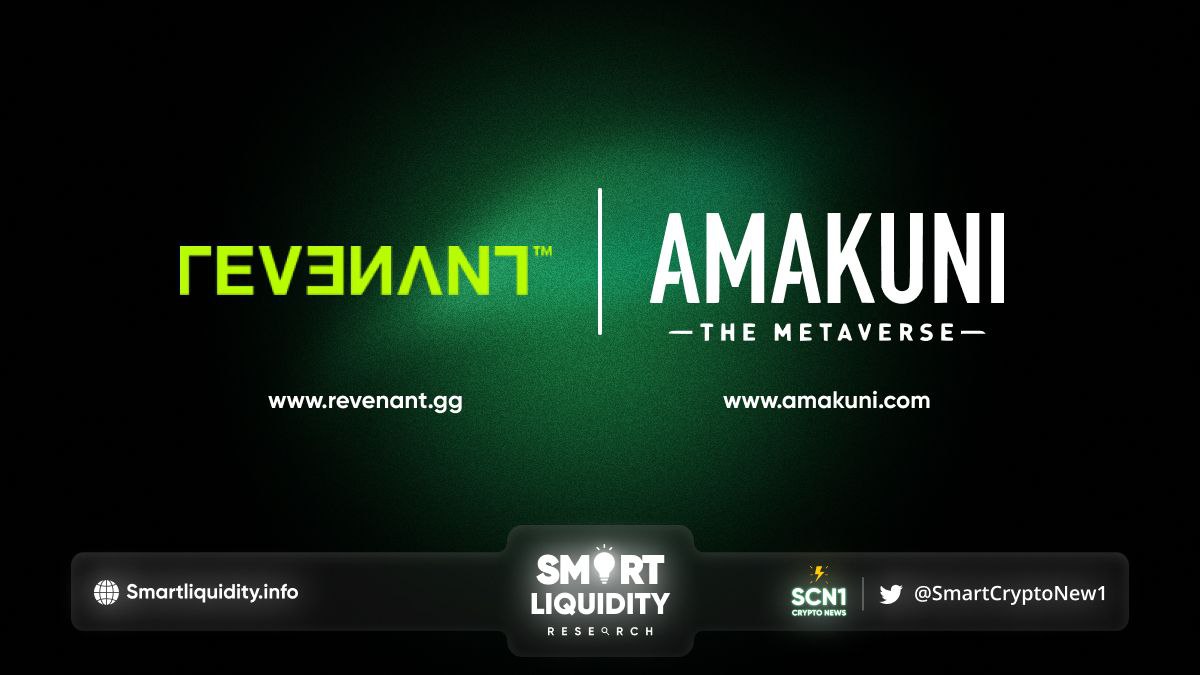 Revenant partners with Amakuni. Partnering with NFT games is the fun part of the GameFi ecosystem, and Revenant are very excited about Amakuni and what their team has done.
AMAKUNI is a fully on-chain P2E Action RPG with a fixed token supply, fair launch & fair distribution model. It provides both PVE and PVP experience with a large roster of heroes. The game is build with an easy-to-learn, hard-to-master concept in mind, coupled with a beautiful design.
Revenant is the first decentralized gaming platform on Metis. Explore Revenant's decentralized gaming ecosystem for gamers, game developers, and investors. Earn $GAMEFI while you play and trade with Revenant.
REVENANT ECOSYSTEM
1. Revenant Games is a collection of cutting-edge blockchain games developed in-house. To combat the lack of enjoyable games on the crypto market, Revenant is combining the playable aspect of traditional gaming with the earning potential of NFTs and cryptocurrency.
2. The Revenant Launchpad makes the process of launching and funding a game simple for developers so they have more time to do what they do best. Make high-quality games. However, Revenant Launchpad also caters to investors looking to participate in early-stage investments.
3. Revenant Marketplace is a platform for gamers and investors where they can freely trade their NFT assets that are featured in the Revenant Ecosystem. This platform will serve to enhance gameplay, demonstrate authentic ownership of in-game items, and much more.
4. The Revenant eSports, a platform that organizes tournaments for gamers worldwide to compete, network, and earns while playing crypto games that are actually fun. Revenant eSports will maximize gamers' earning potential by capitalizing on the crypto market and our expertise in the gaming industry.
AMAKUNI THE METAVERSE
AMAKUNI is the new and exciting multi-platform NFT Action RPG set in the Fantasy World of Aepiran. Combining proven design concepts of traditional mobile Action RPG with blockchain-based technology allows us to bring an entire new Metaverse experience to our players.
The players will be transported to the fantasy World of Aepiran, 10 thousand years after the Great Gods War. A once devastated world has now been re-born and it is filled with exciting adventures and life-changing treasures for all adventurers who are brave enough to traverse the New World of Aepiran.
ABOUT Revenant
Revenant is the first decentralized gaming platform on Metis. Discover P2E games, invest in its launchpad, and trade in the NFTs marketplace.
ABOUT Amakuni
Amakuni's goal is to become the world's most popular blockchain game publisher and give everyone access to thriving virtual economies where works are enjoyable and their time and efforts gets reward with real-life financial benefits.
RESOURCES