MMFinance Partners with Kyber Network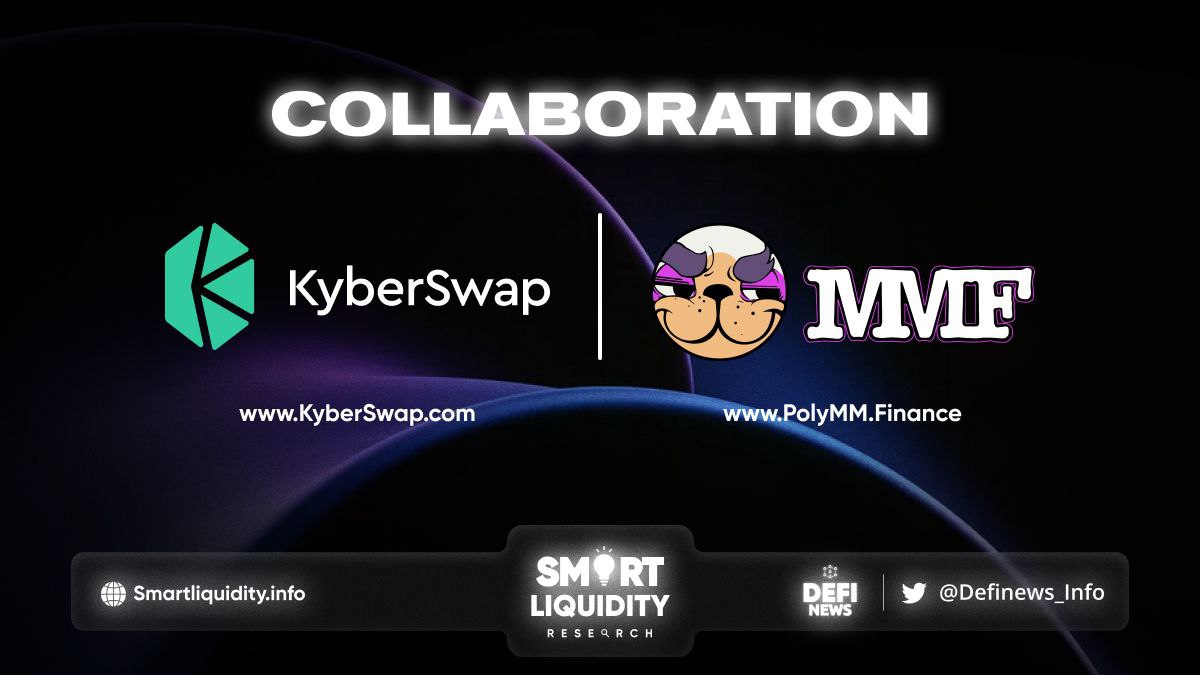 MMFinance partners with Kyber Network to integrate with KyberSwap. MM Finance is an AMM & DEX on Cronos Chain that offers fee rebates via trade mining. They have the lowest trading fees on Cronos Chain. On top of that, they are the FIRST to introduce Protocol Owned Liquidity (POL) into its DEX!
MM Finance has the largest ecosystem in the DeFi space with its DEX, Yield Optimizer, NFT, Algo Stablecoin, and many more.
Earn passive income by staking your crypto assets
Yield Farms allow you to stake Liquidity Pool (LP) tokens to earn MMF on MM Finance. The LP tokens come from Liquidity pools by adding tokens to provide liquidity. Each farm has its own APR, depending on the value of LP tokens, reward multiplier, and price of $MMF.
MM Finance Innovative Features
Lower fees
MM Finance runs on Cronos & Polygon, blockchains with much lower transaction costs than Ethereum or Bitcoin. It is not a lot cheaper but roughly 100x cheaper.
Decentralized
Unlike centralized exchanges, MM Finance doesn't hold your funds when you trade: you have 100% ownership of your tokens, and you can trade directly from your wallet without anyone holding your funds.
Earn
Earn $MMF and other tokens for free with high-interest rates and APY. The annual percentage yield (APY) is the real rate of return earned on an investment, taking into account the effect of compounding interest. Unlike simple interest, compounding interest is calculated periodically and the amount is immediately added to the balance
Lowest Trading Fees
With 0.17% Trading Fees (lowest in the space) you are guaranteed the best rates all the time when you trade via MM Finance.
Earn $MMF via Yield Farms
Stake LP tokens to earn $MMF. You get LP tokens through staking tokens in Liquidity Pools (LPs). The amount of $MMF rewards you will receive can be calculated via the APR
Earn tokens via Pools
Stake $MMF to earn tokens contributed by our partner projects. Partner projects provide MM Finance with their tokens to help increase their exposure via its platform or as payment for them helping them set up farms
Earn Trading Fees
Like other centralized exchanges, you can earn trading fees (0.10%) for all trades that go through your pair when you stake your tokens in Liquidity Pools (LPs).
KyberSwap is a decentralized exchange (DEX) aggregator. It provides traders with the best token prices by analyzing rates across thousands of exchanges instantly.
KyberSwap is also an automated market maker (AMM) with industry-leading liquidity protocols and concentrated liquidity. Liquidity providers can add liquidity to our pools & earn fees!
Kyber Network's vision is to become the liquidity hub for the decentralized economy, where any user or application can easily access the required tokens for their liquidity needs.
In addition, Kyber Network aims to build protocols that support convenient and secure value exchange in decentralized finance, NFT markets, and beyond.
ABOUT MM Finance
MM Finance is the most popular AMM & DEX on Cronos & Polygon with the highest trading volume.
ABOUT KyberSwap
KyberSwap is a decentralized exchange (DEX) aggregator. It provides its traders with the best token prices by analyzing rates across thousands of exchanges instantly.
ABOUT KyberNetwork
Kyber Network is a multi-chain crypto trading and liquidity hub that connects liquidity from different sources to enable trades at the best rates.
RESOURCES