Monopolon Upcoming IDO On Diviner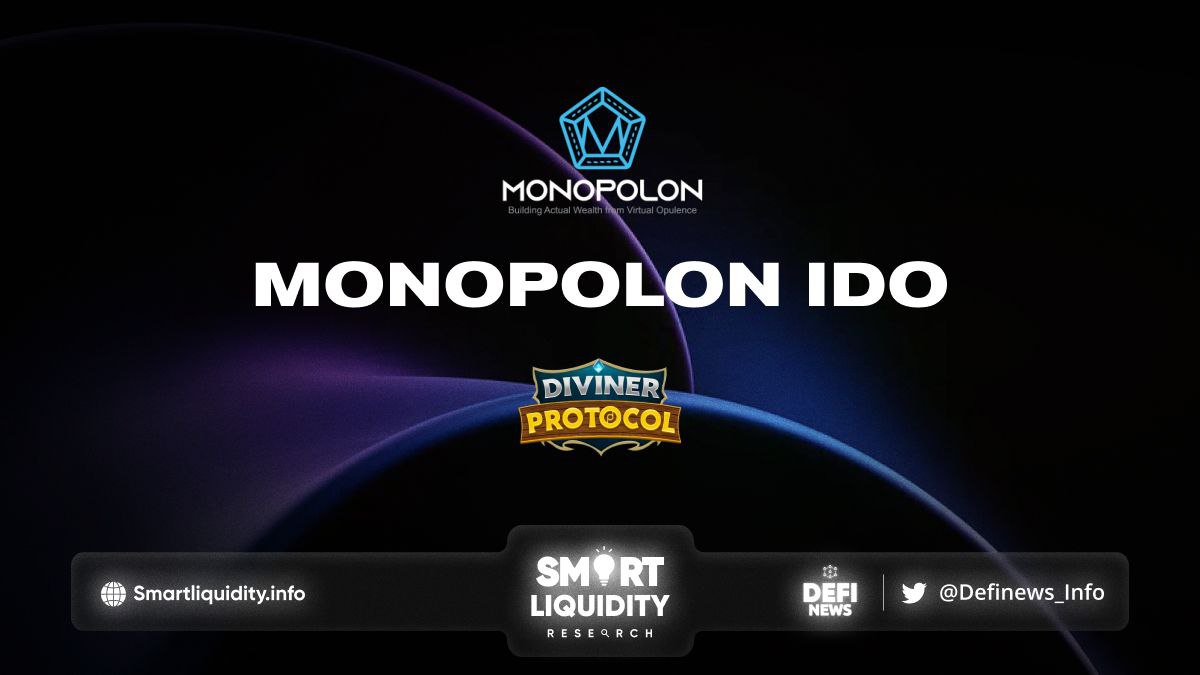 Monopolon upcoming IDO on Diviner launchpad will take place on 2nd September 2022. Monopolon is a GameFi project with a dynamic similar to that of the iconic game 'Monopoly'.
Individual NFTs represent players on a 'board' where they can move around to earn rewards, join guilds, engage other players in battle (PvP), join guilds, and participate in boss raids and guild wars on a grand scale. Monopolon also has virtual land and infrastructure that players can purchase to build up equity and secure their place in the metaverse.
Monopolon Token
MLON allows players to purchase NFT characters within the game, and to participate in Monopolon's DAO governance process. MGM allows players to purchase items in-game that have a wide array of utilities.
Diviner Launchpad will create gamified utility for project tokens by adding their token to the prediction staking pool, thus their users can stake the token to earn prediction rewards and tickets used in the mini-games. In addition, Projects can get gamified marketing services with no fees, and all of their airdrop tokens will be distributed to the most active gamers.
In this way, Diviner Launchpad not only can bring projects with more gamified utilizes, accurate users, game resources, etc to help them start at the very beginning but also give $DPT holders a great chance to join high-potential startups at an early stage.
Updated Rules for Diviner IGO Platform
First of all, Diviner will open $DPT & $DPT-BNB LP staking pools for IDO eligibility, please check below for the updated rules! Stake $DPT or $DPT-BNB Pancakeswap LP can both get IGO allocation! Kindly note this is IDO staking pool, so Diviner uses this one mainly to give stakers IDO allocation. The DPT reward is additional.
MLON IDO DETAILS
Ticker: MLON
Total Supply: 30m
Initial Marketcap: $600k
Price: $1
HardCap: $50k
Vesting: 100% TGE
Staking deadline: 1 AM, 2nd Sep (UTC)
Stake DPT or DPT-BNB LP to get guaranteed allocation!
Guaranteed & Community Round
POOL Opens: 2 AM 2nd Sep (UTC)
POOL Closes: 2 PM 2nd Sep (UTC)
CFS round (if any unsold allocation)
Pool Opens : 3 PM, 2nd Sep (UTC)
Pool closes: 3 PM, 4th Sep (UTC)
Listing: 11 AM, 5th Sep (UTC)
Claim: 11 AM, 5th Sep (UTC)
Kindly note users have the refund option within 2 hours from listing! But if you claim a token, you can't use the refund option.
ABOUT Monopolon
Monopolon is first and foremost a fun and exciting game, with huge complexity and depth. It is a GameFi project with a dynamic similar to that of the iconic game 'Monopoly'.
ABOUT Diviner Protocol
Diviner Protocol is building a metaverse "Diviner Harbour City" to offer users gamified & diversified prediction marketplace. "Free to Predict, Predict to Earn".
RESOURCES