Midas Capital X Jarvis Network, jFIAT Pool Now Live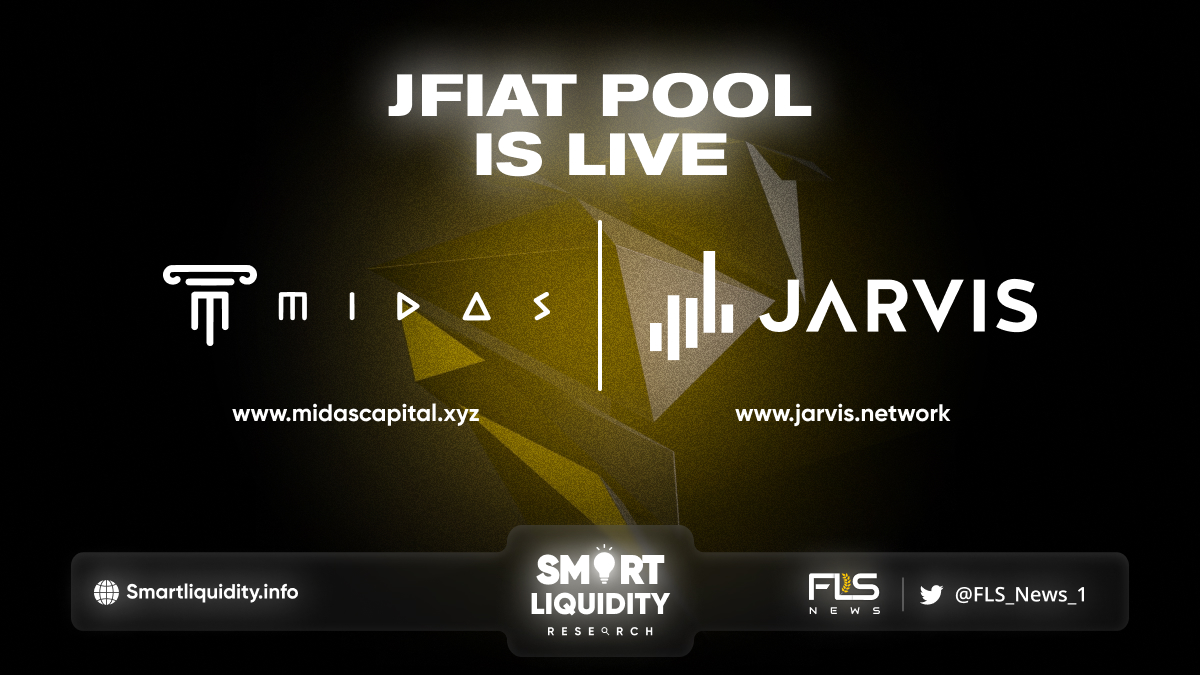 Midas

Capital X

Jarvis

Network (Polygon)
The Jarvis Network jFIAT pool is now live, enabling users to leverage jFIATs to borrow, lend, and collateralize their assets in isolated money markets.
After the success of Jarvis Network's jFIAT pool on BNB Chain, the FX stablecoins will now be available on Polygon as well. With various non-USD stablecoins called jFIATs, users can lend, borrow, and collateralize their assets in the pool. The Jarvis community has already passed a proposal to seed liquidity in the pool, and Jarvis has seeded the pool with 1.2 million liquidity. Therefore, users, protocols, and DAOs can seamlessly get started with the pool.
About the pool
Initial pool structure:
Collateral:
ERC4626 Strategy: 2EUR (PAR) LP, 2EUR (EURT) LP, 2JPY LP, 2NZD LP, agEURjEUR LP, jCAD+CADC LP, jSGD+XSGD LP
Regular tokens: jAUD, jCAD, jCHF, jCHY, jEUR, jGBP, jJPY, jKRW, jMXN, jNZD, jPHP, jPLN, jSEK, jSGD, MAI
Borrowable: jAUD, jCAD, jCHF, jCHY, jEUR, jGBP, jJPY, jKRW, jMXN, jNZD, jPHP, jPLN, jSEK, jSGD, MAI
LTV for Jarvis pool assets: 70%
Get Started With The Pool
Endless Opportunities With jFIAT Pool
With a plethora of assets available in the pool, users can deploy various strategies to maximize the returns on their assets. Some of the use cases of the pool include:
Earn interest on their deposits from a share of lending fees
Use their deposits as collateral to borrow other assets
Execute long and short strategies on different assets
Hedging across different assets
Leverage trading
Looping their deposits
Credit without FX risks
Mt Pelerin's 0-fee on and off-ramp to enable on/off-chain symbiosis
Earn Additional Rewards With ERC-4626
Midas Capital utilizes the ERC-4626 tokenized vault standard and flywheel contract to offer additional opportunities to users to maximize the returns on their assets. Through the jFIAT pool, users can deposit their Curve LP tokens as collateral while still compounding LP rewards through Beefy vaults. Once the LP tokens are deposited, Midas Protocol stakes the tokens at the Jarvis Staking contract and redirects them to Beefy Vaults. Therefore, users can access the liquidity from their LP positions while auto-compounding their rewards.
About Jarvis Network
Jarvis Network a set of protocols and applications on EVM-compatible chains to bridge legacy and decentralized finance (DeFi). Mission to build an infrastructure layer that can be leverage by anyone to develop use cases facilitating the adoption of DeFi, and to build applications to onboard the next billions of users. Its first protocol, Synthereum, pioneers an innovative and capital-efficient manner to issue and exchange synthetic fiat currencies called jFIATs, thanks to a fully on-chain Forex market. jFIATs are stablecoins designed to be usable: they keep their peg, are highly liquid, and are scalable.
About Midas Capital
Midas Capital bringing isolated and customizable money markets to EVM-compatible blockchains. Enabling users, DAOs, & protocols to create customized and isolated pools for lending and borrowing any asset. The Midas is building a cross-chain ecosystem that democratizes money markets. Pool creators have the flexibility to modify pool parameters according to their risk appetite. With isolated pools, Midas offers stellar features for large-scale institutions, protocols, and traditional investors.