Sushi is coming to BobaNetwork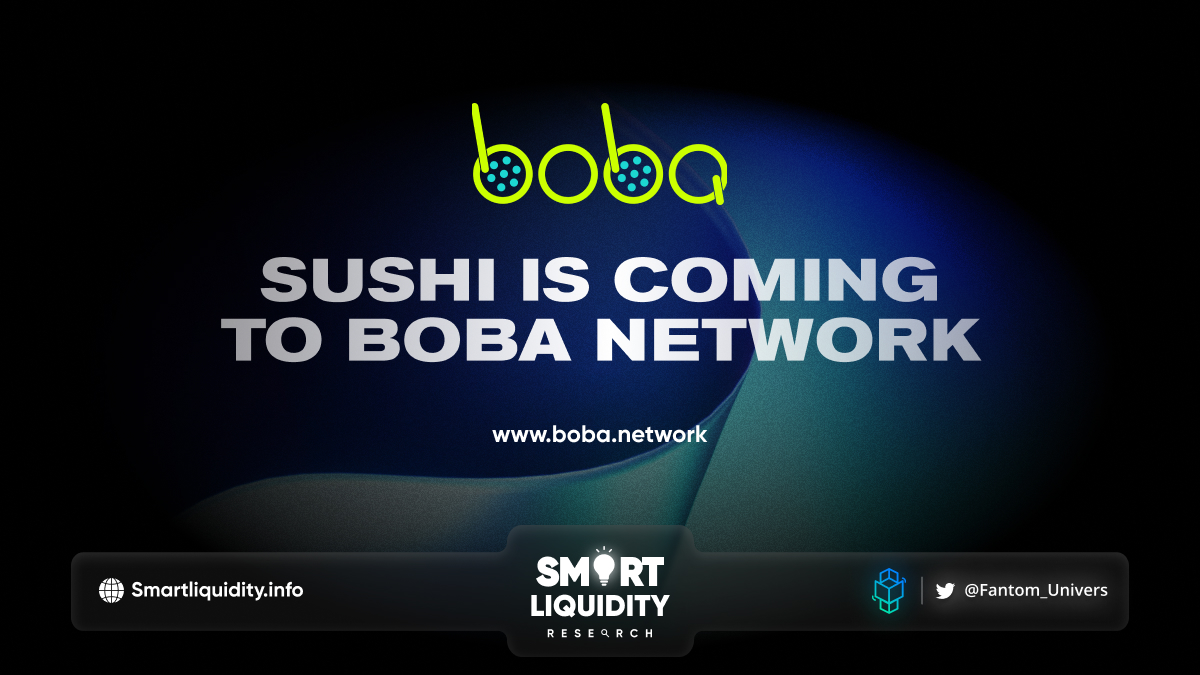 Sushi is coming to BobaNetwork, the Sushi team will begin with Legacy Swap (the original, pre-Trident AMM), which will quickly be followed by the Kashi margin lending platform, Bento Box and Furo.
Deploying on Boba will offer additional value to SUSHI holders through the xSUSHI revenue sharing mechanism. Which deposits protocol fees from swaps and borrowing as additional SUSHI tokens bought from the market. Existing liquidity providers can also move to Boba to obtain larger farming yields. As Sushi is coming to BobaNetwork.
Boba Network and Sushi have committed to providing liquidity mining rewards for a year post-deployment to bootstrap liquidity and usage. The deployment will help Boba diversify its DEX offering and attract new liquidity.
What will Sushi and Boba Network will offer?
Legacy Swap: Legacy Swap is an AMM (automated market maker) decentralized exchange. Allowing users to swap cryptocurrencies without a central authority.
Kashi: Kashi is a lending and margin trading platform, built on the BentoBox, allowing anyone to create customized and gas-efficient markets for lending, borrowing, and collateralizing a variety of DeFi tokens, stable coins, and synthetic assets.
BentoBox: Also referred to as Bento, this token vault generates yield for the capital deposited into it.
Furo: Furo is a decentralized payments streaming platform that allows any DAO to automate their contributor payments and their token vesting schedule.
"Sushi is one of DeFi's OGs, so naturally we're excited to welcome it to Boba. Both Boba and Sushi users will benefit from this integration, as the Boba community will get to use some of the most trusted DeFi products out there, while the Sushi ecosystem will tap into new liquidity, new users, new developers, & new communities. — Alan Chiu, CEO of Enya, the core contributor to Boba Network"

"We are excited to deploy our product suite to Boba, which allows us to serve an ever growing user base with all the dApps a DeFi user needs. We can't wait to make Sushi scalable. — Sarang Parikh, lead developer at Sushi "
­
About Boba Network
Boba is an L2 Ethereum scaling & augmenting solution built by the Enya team as core contributors to the Boba Foundation. Boba is a next-generation Ethereum Layer 2 Optimistic Rollup scaling solution that reduces gas fees, improves transaction throughput, and extends the capabilities of smart contracts. They offers fast exits backed by community-driven liquidity pools, shrinking the Optimistic Rollup exit period from seven days to only a few minutes, while giving LPs incentivized yield farming opportunities.
­
About Sushi
Swap, earn, stack yields, lend, borrow, leverage all on one decentralized, community driven platform.
­