SKALE NFT Visionaries Grant Program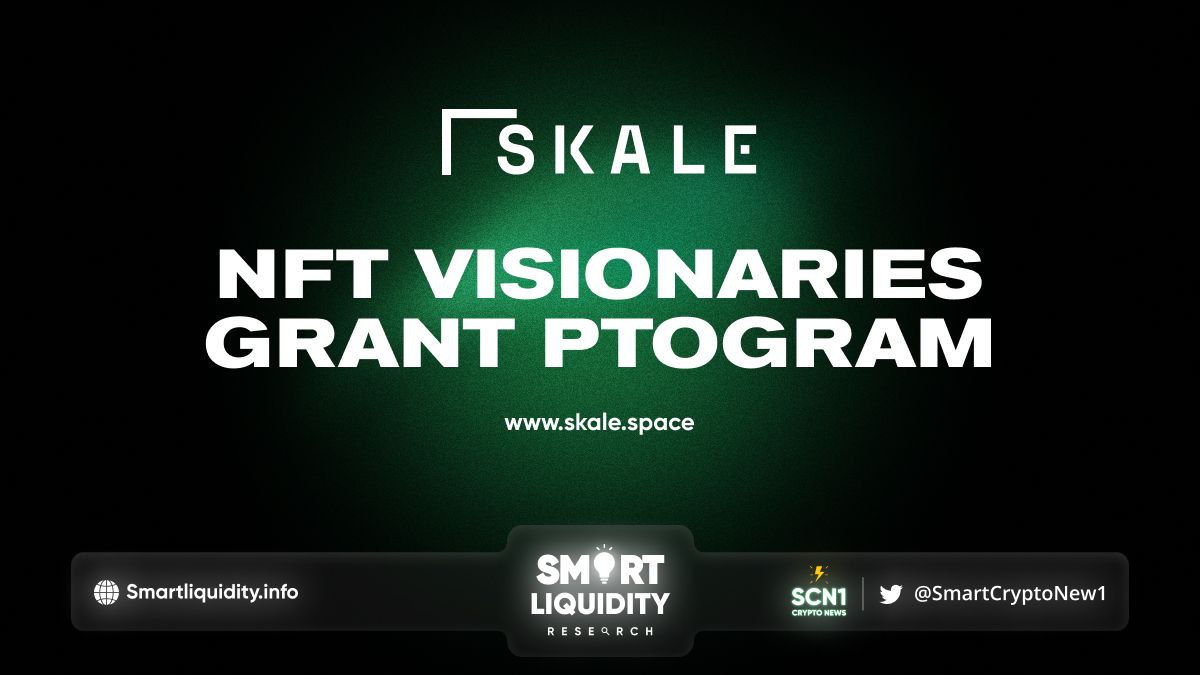 SKALE NFT Visionaries Grant Program has announced an allocation of 10,000,000 SKL from the previously announced $100M USD value SKALE Ecosystem Incentive Program. The NFT Visionaries grants are focused on helping creators and developers bring their work to life in the SKALEverse.  
Artists, projects, and creators who are selected for a grant will not only receive an allocation of SKL tokens. They will also have ongoing educational, networking, and marketing opportunities.
SKALE NFT creators in virtual residences will get technical, creative, and marketing assistance. Including access to partners, the Calypso NFT Hub, and inclusion in SKALE promotional and marketing campaigns. Creators will also get a boost from SKALE's increased presence, with over 3x month per month growth in on-chain metrics such as users and transactions since the V2 launch in June.
Ultimately, the goal is to encourage and support a wide variety of NFT creators, who are looking to promote and monetize their creations in new and innovative ways. Of course all with zero gas fees on SKALE.
SKALE's MP game grants have already supported several game dapps including CryptoCrusades, BlockBrawlers, Metaverse Invaders, CryptoColosseum, and DEXGame to name a few.  In fact, CryptoBlades has already had significant traction. Within 4 weeks of the game going live, they reached over 2.5 million transactions on their SKALE chain and have transferred over 100,000 NFTs to SKALE.
"NFTs are here to stay, whether they are used as a mechanism to prove provenance and ownership or as utility NFTs that are used for brand/fan engagement and more. SKALE's gas-free minting and user experience focus is perfect for NFT creators of all kinds, and we wanted to help support them as they express their creativity." — Fabio Tomaschett, Director of Operations and Business Development, NODE Anstalt
Why Build on SKALE?
SKALE enables Web3 blockchain applications to function like their Web 2 counterparts by removing the user experience issues commonly associated with decentralized apps. Not only that, creators can mint hundreds or thousands of NFTs at a fraction of the speed with zero-cost gas. The creator and user experience is unlike any other chain, Ethereum based or not.
Who should apply to the NFT Grant program?
Projects that are in their mid to late-stage development, or creators that can get their collection live within 2 months. Also, projects should be focused on the NFT format. Including but not limited to functional NFTs, collectibles, streaming media, and art.
How are applicants being evaluated?
Applicants are selected on a variety of criteria. Including time to market, quality of work, innovation, and size of following/brand awareness. It also includes the unique value they can bring to the SKALE ecosystem.
ABOUT Skale Network
SKALE is an Ethereum native, modular blockchain network composed of high-throughput, low-latency blockchains that are optimized for Web3 user experience. SKALE chains offer zero gas fees to end-users. It has advanced features such as on-chain file storage, interchain messaging, zero-cost minting, ML/AI smart contracts, and enhanced security features.
RESOURCES