Coin98 Partners with Kyber Network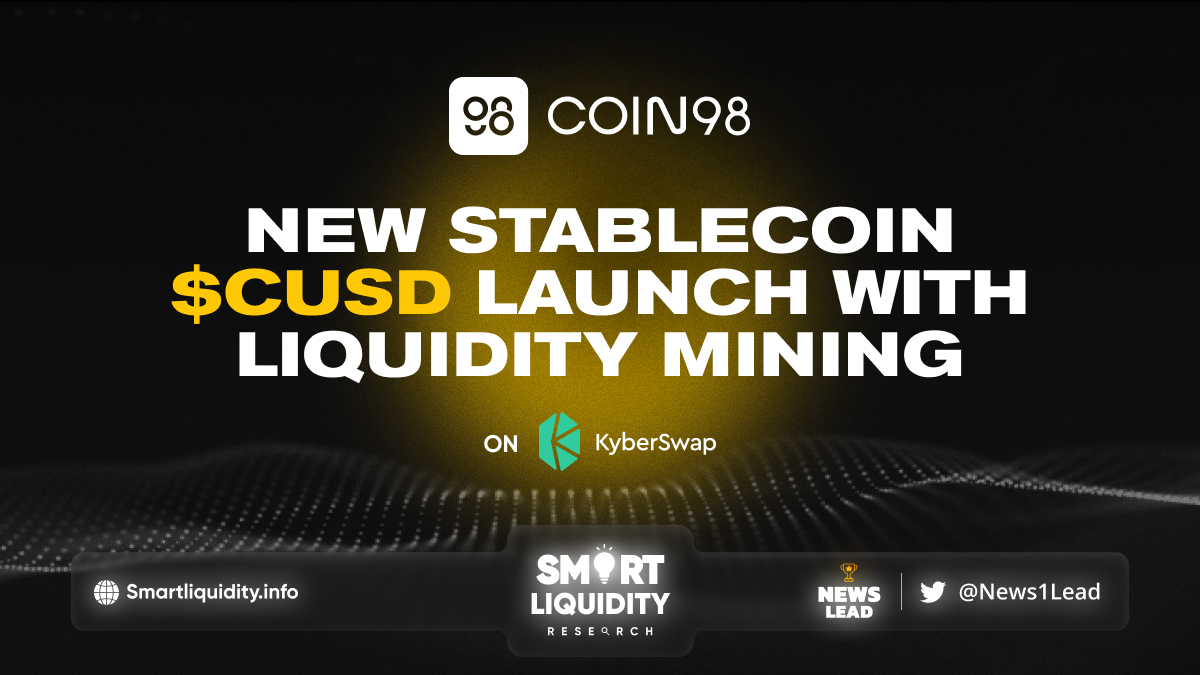 Coin98 (C98) has chosen to enhance liquidity on Ethereum for their newly launched stablecoin CUSD on KyberSwap Elastic.
Dubbed as an all-in-one DeFi platform designed to provide DeFi's most prominent features in one place. Coin98 Partners with Kyber Network, where Coin98's infrastructure features a decentralized exchange, multi-chain wallet, coin launching, financing, and auditing services.
KyberSwap has been long-time partners with Coin98, with Coin98 Wallet being one of the first supported wallets on KyberSwap's platform.
And now, Coin98 Partners with Kyber Network by hosting a liquidity mining campaign for their newly launched stablecoin CUSD!
From 19 Sept, CUSD & USDC LPs can deposit and stake their liquidity position NFT on KyberSwap Elastic and earn $C98 rewards!
With KyberSwap's Elastic protocol, LPs can enjoy concentrated liquidity and compounding fees, giving you higher capital efficiency and maximising rewards!
What is CUSD and how can I get it?
Coin98 Dollar (CUSD) is a USD pegged stablecoin related to other stablecoins like USDC, USDT and BUSD, providing cross-chain liquidity for all chains. CUSD is absolutely insured and backed by reserve assets. The audit of CUSD contracts is public.
CUSD is developed to be the "lifeline" of the Coin98 ecosystem, bringing a seamless, unified cross-chain liquidity movement to present / approaching infrastructures.
The consumer ought to submit Treasury in USD (CUSD Treasury) a single of the two stablecoins is BUSD or USDC to release CUSD. Conversely, if it is not essential to use, the consumer has to spend CUSD re-enter Treasury in USD to get it back BUSD or USDC.
The easiest way to get CUSD would be to buy directly on KyberSwap Ethereum. Buying on KyberSwap gets you the best rates too!
What is C98?
C98 is Coin98's native cryptocurrency, and has a spot on the Ethereum blockchain, the Binance Smart Chain, and then the Solana Network.
C98 holders enjoy multiple benefits. First off is those who hold the coin earn network transaction fees, and they can stake the asset as well to earn rewards. Token holders have a say in governance as well, enabling users to both submit and vote on proposals and updates.
Important Details:
Eligible Pools (Fee Tier):
Farming on KyberSwap Elastic
Deposit Liquidity
On KyberSwap, under "Earn => Pools", select [Elastic Pools]
Add liquidity to the eligible pools at the fee tiers mentioned above.
Key in your deposit amount for the token pair. Approve the tokens if you have not done so earlier.
Input a custom price range in which you would like to provide liquidity. By indicating the min price and the max price of that range. A narrower range gives your higher concentrated liquidity and more fees. While a bigger range would give a higher chance of the pool always being active (and get yield farming rewards).
After adding liquidity, you will receive an NFT (non-fungible token) that represents your liquidity position. (You can view your liquidity positions on the "Earn -> My Pools" page.)
About Kyber Network
Kyber Network is building a world where any token is usable anywhere. KyberSwap.com, our flagship Decentralized Exchange (DEX) aggregator and liquidity platform, provides the best rates for traders in DeFi and maximizes returns for liquidity providers.
KyberSwap powers 100+ integrated projects and has facilitated over US$10 billion worth of transactions. Currently deployed across 12 chains including Ethereum, BNB Chain, Polygon, Avalanche, Fantom, Cronos, Arbitrum, Velas, Aurora, Oasis, BitTorrent and Optimism.
About Coin98 Super App
Coin98 is the #1 crypto super app designed to seamlessly connect a billion users to the crypto world safely and securely.
We offer users across the globe a comprehensive and trusted ecosystem of essential services, including but not limited to a non-custodial, multi-chain NFT & cryptocurrency wallet, built-in DEXs, Cross-chain Bridge & DApp Browser, a powerful Terminal, attractive Earn, Gift & Campaign, and Others.
SOURCE:
https://blog.kyber.network/coin98-launches-new-stablecoin-cusd-and-celebrates-with-liquidity-mining-on-kyberswap-4aa2af03bca9