Notifi New Integration with Hedge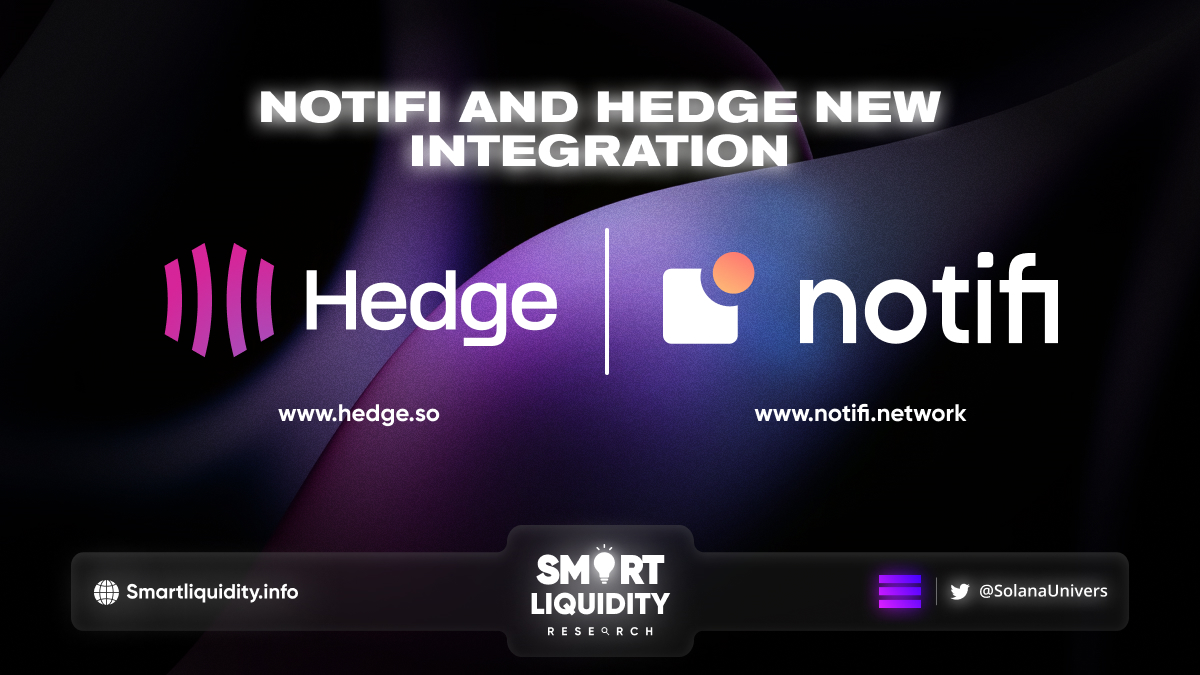 Notifi, embed notifications and messaging into decentralized applications, announced a new integration with Hedge, a decentralized lending protocol on Solana offering users 0% interest-free collateralized loans.
This new integration of will Notifi alerts allow Hedge to further engage and empower its users with real-time market data updates to make better financial decisions.
Overview of Hedge and Notifi
Hedge is a decentralized lending protocol where users can borrow their stablecoin (USH) with $SOL as collateral. They have partnered with Notifi to provide their community liquidation alert Their lending protocol offers interest-free loans with a .05% loan initiation fee and a minimum of 110% collateral ratio. The team at Hedge created an easy 3 step process to obtain a loan:
Create a vault
Back it with a $SOL deposit
Take out our stablecoin USH as a loan (pegged at $1 to the USD)
Since launching earlier this year, the team at Hedge has raised a seed round of $3.7M and secured several strategic partnerships such as Raydium, Orca, Chainlink, Snowflake, and more. The team understands the importance of partnerships for added security, personalization, and simplifying the DeFi experience. Partnering with Notifi's multi-channel alerts perfectly aligns with that vision. The Team at Hedge chose Notifi for ease of reaching their users and integration.
Users can repay the loan anytime, but the 0% interest rate incentivizes users to keep $SOL in the vault to benefit from market gains over time. Please note that it is vital to keep in mind. Users are also at risk for liquidation if the market crashes and the collateralized $SOL is below the 110% threshold. Adding Notifi's web3 messaging layer provides a new level of transparency for their community. Notifi will send alerts when their loan collateral ratio is nearing liquidation via SMS, Telegram, or Email.
Management Quote
The Team at Hedge created a platform that allows users to borrow against their $SOL and benefit from market gains with their 0% interest-free solution. With the volatility of the current crypto market, adding Notifi's alerts provide their community peace of mind on their positions with real-time market updates and liquidation threats." — Paul Kim, Notifi Co-Founder & CEO
"When creating Hedge, we wanted to create an experience that would simplify and elevate the DeFi experience on Solana with our end user in mind. We understand the benefits of DeFi but also the confusion for the general public. Partnering with Notfi aligns with our vision to help users unlock more liquidity with real-time updates to reduce liquidation risk and better leverage their assets." Sebastian Grubb — Co-Founder & CEO
About Notifi
Notifi is Twilio for Web3. Notifi simplifies communication across all Web3 messaging channels. The Notifi platform is design with simple APIs for easy integration, customizable, and advanced features for dApps and Web3 applications. Notifi empowers developers to better engage with their users via multichannel communications.
About Hedge
Hedge is an interest-free, low minimal collateral ratio lending protocol on Solana. It gives users the best deal on access to liquidity against their collateral.
SOURCE
https://medium.com/notifi/notifi-powers-hedges-liquidation-alerts-6f572496ef1c