Orca Whirlpools Rotation #12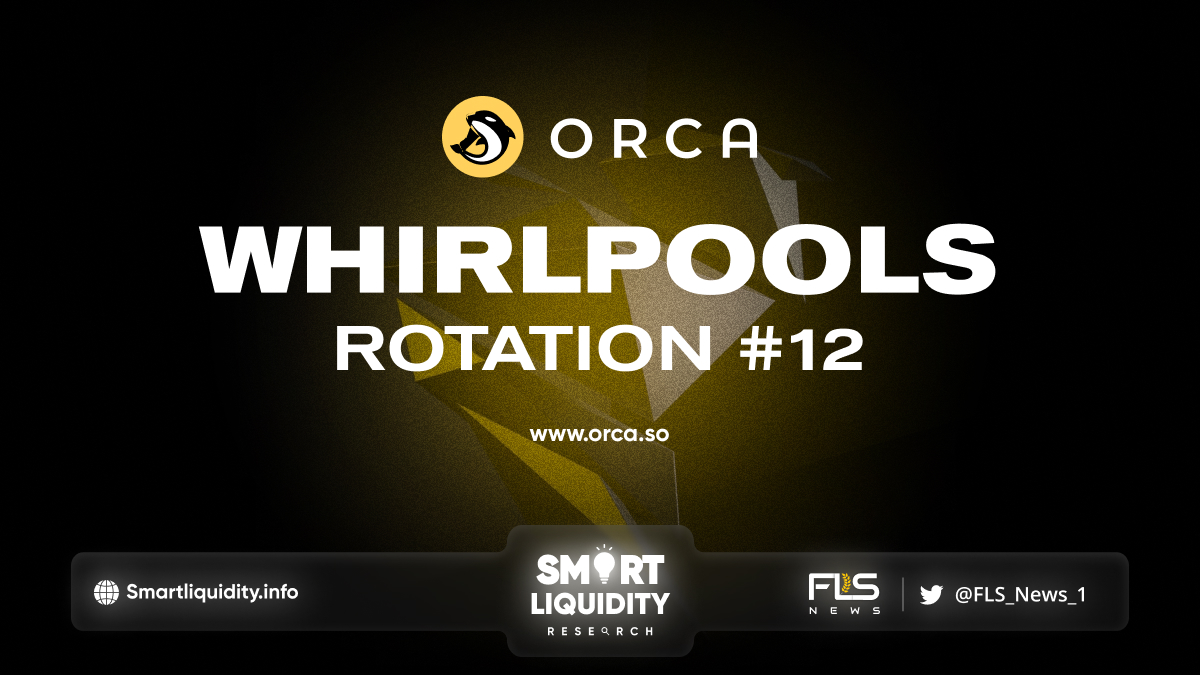 Whirlpools Rotation #12: September 22nd — October 6th
A dozen new Whirlpools including three Double-Dips are opening on Orca!
Whirlpools Rotation #12
Duration: Thursday Sept 22, 2022 — Thursday October 6, 2022
Total Rewards: The rewards are detailed below for each Whirlpool with total rewards of ~15K ORCA per week across all pools. All Whirlpools are now open and rewards will begin on Sept 22nd at ~24:00 UTC.
Cega will be hosting Boaz from the Orca team on their Twitter Space today at 3pm UTC!
On Friday, Jet Protocol will be jumping onto the Orca Twitter Space for an AMA on Friday 23rd at 16:00 UTC. Tune in to learn more about their new margin account features and how they have integrated Orca into their protocol! 🐳
New bridged assets from Portal are surfacing in this week's Whirlpools! Also be on the lookout for pools with daoSOL from MonkeDAO where LPs may now be rewarded with part of a tokenized Solana Monkey Business NFT… 👀
Double-Dip pools
Double-Dip Whirlpools offer LPs two different token rewards plus trading fees.
#1 daoSOL/SOL from MonkeDAO
#2 daoSOL/USDH from MonkeDAO
#3 daoSOL/USDC from MonkeDAO
Double-Dip duration and Rewards for these pools are to be announced (keep an eye on Twitter! Coming soon 😉)
Other fresh Whirlpools…
Whirlpools offer market-savvy LPs the opportunity to compete for higher yields
#4 BUSD/USDC from Portal
#5 BNB/USDC from Portal
#6 LINK/USDC from Portal
#7 AVAX/USDC from Portal
#8 wMATIC/USDC from Portal
#9 UNI/USDC from Portal
#10 SUSHI/USDC from Portal
#11 HAWK/USDC from Hawksight
#12 MNDE/mSOL from Marinade Finance
Deepsea Insights
With every Rotation, there's always something interesting going on in the Orca ecosystem…
Fees on Orca are becoming more dynamic! 👀
LPs on Orca will soon be able to decide the fees they earn on their liquidity: 0.01%, 0.05%, or 0.30%. By providing LPs more options during volatile markets, the Orca ecosystem will become even more competitive and efficient! 🦈
In preparation for the new fee-tiers, LP fees on Whirlpools rose from 0.20% to 0.30% this week. LPs will earn the new 0.3% tier, with the Impact Fund continuing to receive 3% of fees earned on Whirlpools (the Orca Treasury is not receiving any fees from Whirlpools).
About Orca
Orca the easiest way to exchange cryptocurrency on the Solana blockchain. There, you can exchange tokens with minimal transaction fees and lower latency than any DEX on Ethereum, all while knowing that you're getting a fair price. Additionally, users may provide liquidity to a trading pool to earn a share of trading fees.