What is the Metaverse?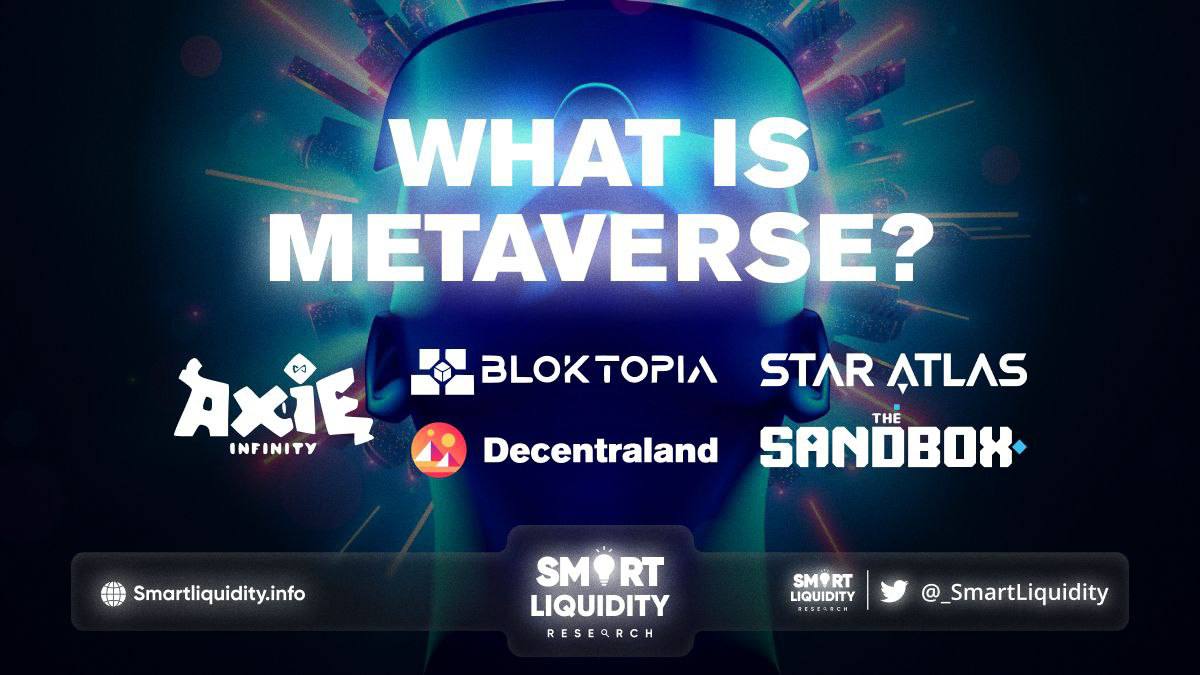 What is the Metaverse? Popular, trending, and talked about by everyone, this is how the metaverse can be defined. But what exactly is the metaverse?
What can it give to the person or user who enjoys it? Why are most people obsessed with this business, especially in the world of cryptocurrency?
Some of the most well-known names in the industry are already working on creating a metaverse. This is definitely something to keep an eye on!
WHAT IS METAVERSE?
Metaverse is a virtual-reality space where users can interact with a computer-generated environment and other users. The metaverse is the next evolution in social connection and the successor to the mobile internet.
Many companies that are creating virtual worlds also envision a new digital economy, where users can create, buy, and sell goods.
The metaverse is a hypothetical virtual world that could be created by linking together all the existing online platforms and networks. This would create a single, unified virtual reality that people could access using VR and AR headsets.
WHAT ARE THE EXAMPLE OF THE METAVERSE?
Decentraland
Decentraland is a decentralized virtual reality platform powered by the Ethereum blockchain. Within the Decentraland platform, users can create, experience, and monetize their content and applications.
The finite, traversable, 3D virtual space within Decentraland is LAND, a non-fungible digital asset maintain in an Ethereum smart contract. The land divides into parcels that identify by cartesian coordinates (x,y). Furthermore, these parcels permanently own by members of the community and purchase using MANA, Decentraland's cryptocurrency token. This allows users to create any type of environment or application, from static 3D scenes to interactive games.
Axie Infinity
Axies are fierce creatures that love to battle, build, and hunt for treasure. Players can also build up a collection of Axies and use them across an ever-expanding universe of games. Axie Infinity uses cutting-edge technology called Blockchain to reward players for their engagement.
How To Get Axies?
In addition, you can buy Axies from other players using the Marketplace, or you can purchase eggs from the Axie Lab if it is open. You can also create new Axie eggs through breeding.
Star Atlas
Star Atlas is a virtual gaming metaverse based in the year 2620. In this distant future, three major factions have emerged. The MUD Territory governs by humankind, The ONI Region is a consortium of alien races, and The Ustur Sector controls by sentient androids. These factions are in an ongoing struggle for resources, territorial conquest, and political domination.
As a result, you, a faction citizen of Star Atlas will have the ability to influence the outcome of this intergalactic conflict while creating the opportunity to earn rewards for your contributions.
The metaverse introduces a unique gaming experience through the combination of both traditional core games and blockchain mechanics. In addition, Star Atlas is a grand strategy game of space exploration, territorial conquest, political domination, and more.
Bloktopia
Bloktopia provides an unprecedented VR experience for the crypto community, bringing users together all in one immersive and engaging environment.
Furthermore, Bloktopia is a Skyscraper made up of 21 levels to pay recognition to 21 million Bitcoin. Token holders will be known as Bloktopians. It will also act as a central hub and welcome all levels of crypto experience. For the first time ever, users will have access to crypto information and immersive content all in one place.
Bloktopians will earn revenue from real estate ownership, advertising, games, and networking. Bloktopia will use advanced real-time 3D technology to create stunning visualizations and user experiences.
The Metaverse is the bridge between physical and virtual worlds within the decentralized and open-source virtual world. In addition, cryptographic protocols will emerge for managing digital value, for example, digital art, real estate & advertising space. The facilitators that make this happen will be NFTs on the Polygon Network allowing for affordable and rapid transactions.
Sandbox
The Sandbox is a decentralized, community-driven gaming ecosystem where creators can share and monetize voxel assets and gaming experiences on the Ethereum blockchain. The Sandbox offers free software that allows players, artists, and game designers to create their own games, dioramas, as well as art galleries. These can also be shared with others.
What is SAND?
Furthermore, $SAND is an ERC-20 token on the Ethereum blockchain. It is the main utility token and the currency of The Sandbox's ecosystem. It is also a governance token. As such, $SAND requires the buying and selling of non-fungible tokens (NFTs), such as LAND and ASSETs, from The Sandbox's marketplace.
The SAND token is the medium of exchange in The Sandbox's ecosystem. It will also be necessary for making purchases from The Sandbox's marketplace.
It can purchase:
Land
Assets
Gems and Catalysts
Avatar Customization
Moreover, from all $SAND transactions, a 5% transaction fee applies. 50% of this fee allocates to the Foundation Fund and the other 50% allocates to the Staking Pool.
WAYS TO EARN WITH THE METAVERSE
There are many ways to earn income through the metaverse. This can be through playing, selling, or maybe through real estate.
Create an NFTs
Some metaverse projects offer their users to create their non-fungible tokens or NFTs and then sell these NFTs in their respective marketplaces.

Play-to-Earn


Projects like Axie Infinity allow their users to play the game and let them earn tokens in the presence of SPL or Smooth Love Potion. From their earnings of tokens, they can sell to a trusted exchange like Binance, or swap their tokens at any DEX that supports the assets.
Real Estate
Users also can build their own virtual land and sell these NFTs at a higher price
Metaverse offers a lot of opportunities to earn money while enjoying the game. It also opens up some people's minds that through the help of the internet, they can earn extra income just by exploring the metaverse.
CONNECT WITH US
Website | Twitter | LinkedIn | Facebook