Orca Whirlpools Rotation #16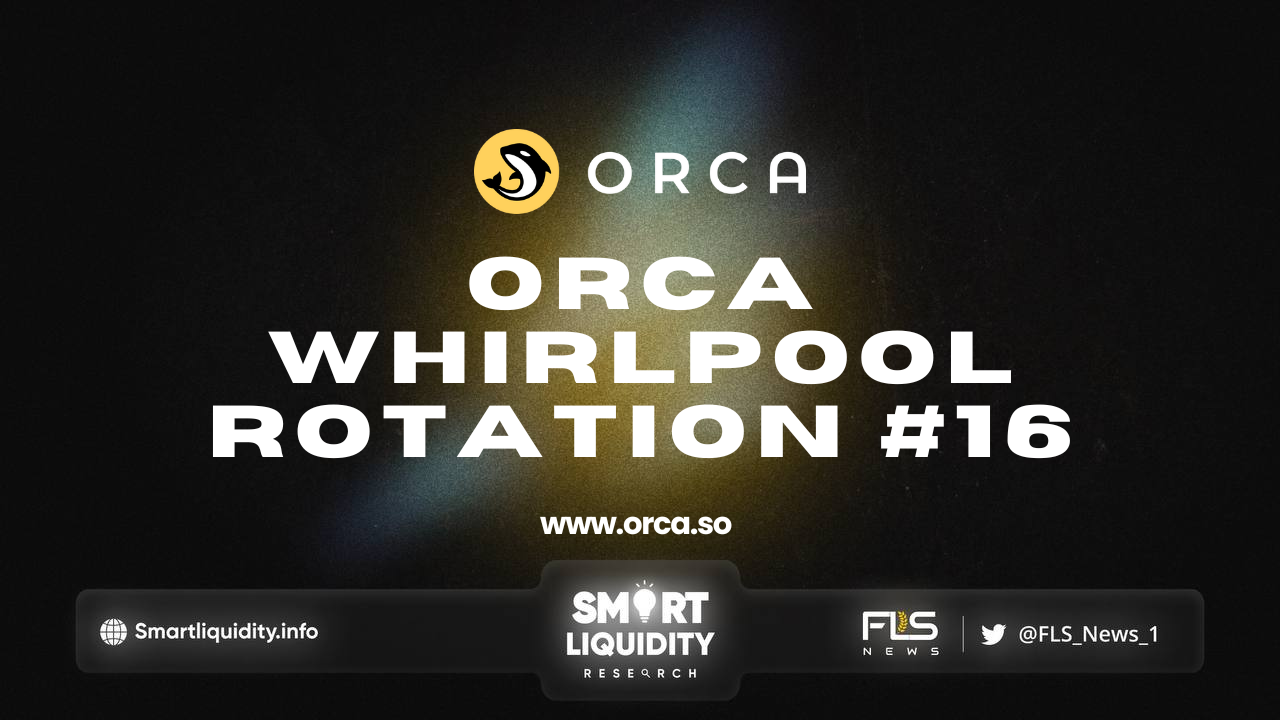 Orca

Whirlpools Rotation #16: November 17th — December 1st
A storm is no match for the apex predator of Solana DeFi…
Orca Whirlpools Rotation #16
Duration: Thursday November 17, 2022 — Thursday December 1st, 2022
Total Rewards: The rewards are detailed below for each Whirlpool with total rewards of ~30K ORCA per rotation across all pools. Rewards will begin on November 17th at ~24:00 UTC.
Note for LPs: All rewards on soBTC pools will end with today's rotation. Please be careful trading any Sollet wrapped assets as they have significantly de-pegged from their native assets.
Double-Dip pools
Double-Dip Whirlpools offer LPs two different token rewards plus trading fees.
BAT/USDC rewards have begun, courtesy of Brave
Double-Dip duration: until January 12, 2023
BAT rewards: ~12,500 BAT per week
Orca rewards: ~100 ORCA per week
Other fresh Whirlpools
Whirlpools offer market-savvy LPs the opportunity to compete for higher yields
To help bootstrap liquidity across several new fee tiers and pools, the following pairs will receive ~250 ORCA/week in rewards:
Lastly, through Community Listings, you'll soon see new pools arriving ashore from several Solana projects:
New arrivals in the Orca ecosystem: LP Vaults
Concentrated liquidity just got a lot simpler
A vault is a smart contract ("program" on Solana) that conducts certain actions on-chain to actively and automatically manage liquidity provided to concentrated liquidity platforms like Orca.
Below you can find a few of the newest additions.
Tulip.garden: Concentrated liquidity vaults that reduces divergence loss and auto-compounds rewards.
Kamino.finance: Vaults that gives LPs exposure to the benefits of concentrated liquidity without continuous rebalancing. Kamino also offers a novel method to use Whirlpool LP positions as collateral.
Nazare.so: Vaults that allow depositors to take advantage of concentrated liquidity without actively managing their positions themselves.
Investin.pro: Active liquidity provision executed by individual vault managers. LPs are able to monitor activity through a UI that shows vault positions with performance charts and expected APRs.
About Orca
Orca the easiest way to exchange cryptocurrency on the Solana blockchain. There, you can exchange tokens with minimal transaction fees and lower latency than any DEX on Ethereum, all while knowing that you're getting a fair price. Additionally, users may provide liquidity to a trading pool to earn a share of trading fees.