StaderBNB Partnership with Deri Protocol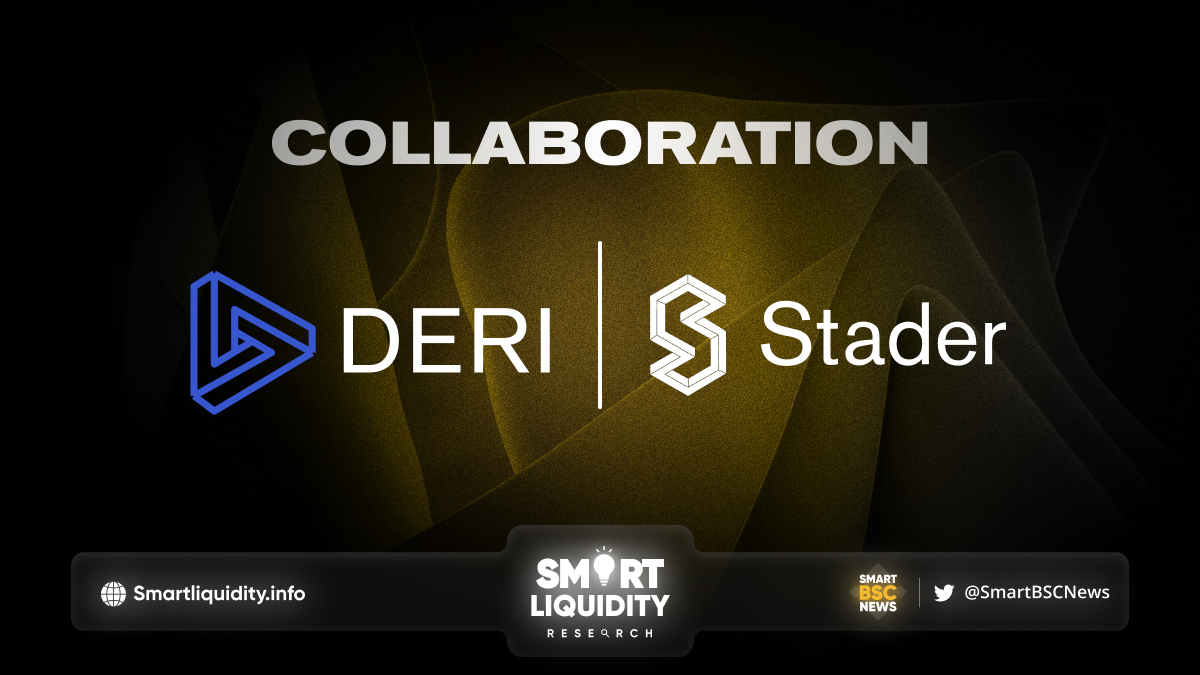 StaderBNB Partnership with Deri Protocol, the DeFi way to trade derivatives: to hedge, to speculate, to arbitrage, all on chain.
Stader is a non-custodial smart contract-based staking platform that helps you conveniently discover and access staking solutions. As StaderBNB announced its Partnership with Deri Protocol.
Introducing Stader BNBx
Stake and grow your BNB with Stader's liquid staking token, BNBx. Earn staking rewards, get instant liquidity and explore exciting DeFi opportunities across the BNB ecosystem
Stake your BNB the simplest way possible. No minimums. No lockups. One-click staking
Use your BNBX for liquidity mining, yield farming, lending, options trading and more
Best-in-class security – audited by Halborn & Immunebytes, a $1M bug bounty on Immunefi and live monitoring with Forta
What is Stader for BNB Chain?​
Stader For BNB chain is a trusted liquid staking solution for BNB backed by Binance Foundation. They lets users earn BNB staking rewards without needing to maintain infrastructure, and enables users to participate in other Defi Strategies while accruing rewards. Stader for BNB chain gives you:
Liquidity through tokenization – Users can participate in Defi using the liquid token
Ease of staking – User-centric design of Dapp to make staking seamless for users
­
About Stable Earn
Stable Earn is a fund for you to invest BUSD and earn stable yield in BUSD at almost zero risk.
Under the hood, it buys BNB to stake on Stader (ultimately used for BNB POS staking) and hedges the BNB price fluctuations with a perp position on Deri Protocol. This fund enables you to earn BUSD from BNB staking rewards without worrying about BNB price fluctuations.
How does Stable Earn work?
Stable Earn runs a BNB POS staking fund, with its purpose to help users earn BNB staking yield with their BUSD investment. 90% of the BUSD invested will be swapped into BNB which is staked to Stader for POS yield. That is, 90% of the capital is participating in the Proof-of-Staking of the BNB Smart Chain (BSC).
­
About Deri Protocol
Deri is the DeFi way to trade derivatives: to hedge, to speculate, to arbitrage, all on chain. With Deri Protocol, trades are executed under AMM paradigm and positions are tokenized as NFTs, highly composable with other DeFi projects. Having provided an on-chain mechanism to exchange risk exposures precisely and capital-efficiently, Deri Protocol has minted one of the most important blocks of the DeFi infrastructure.
­