Orion Protocol Adds Curve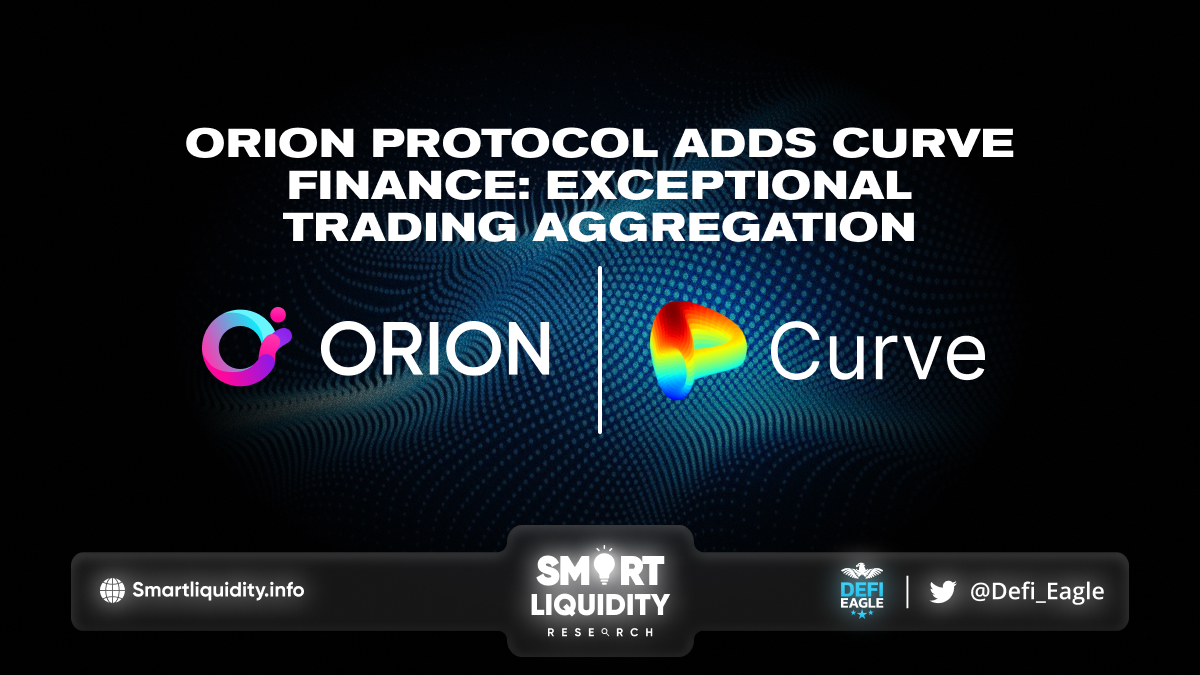 Orion Protocol adds Curve to its aggregation sources, adding to the vast depth of liquidity aggregator across CEXs, DEXs, and swap pools.
Curve deepens Orion's liquidity providers
Curve Finance's AMM pools add another significant liquidity source to Orion Protocol. Giving a platform for users to add exceptional depth to their trading capability using Orion's supreme aggregation technology for any token or coin on the Terminal. Curve (CRV), Uniswap (UNI), PancakeSwap (CAKE), SpookySwap (BOO), and QuickSwap are all included on Orion. Combined with the largest centralized exchanges for seamlessly combined trading of digital assets like stablecoins and other altcoins.
Given the industry's flawed and fragmented nature with protocols, staking, projects and more. Adding Curve pools to Orion continue to combine the top exchanges and pools into one place.
This reduces friction for traders and creates an abundant environment for the decentralized finance trading community and crypto token accessibility while seeking the best price against the digital dollar.
Developing the future
Orion's development team has implemented Ethereum (ETH) and Fantom (FTM) Curve pools with other chains to follow now the initial stage of Curve Finance has been launched. Each pool in the network with Orion adds to value for traders with significant weight behind the order book. Adding volume to price points along with the other centralized and decentralized exchange types.
What are Curve pools?
In general, Curve Finance liquidity pools provide users with a way of exchanging ERC-20 tokens with low fees and low slippage. The Curve liquidity pools sit in decentralized smart contracts via the Curve platform (CRV tokens are native to Curve's DAO). Users balance the same amount of tokens to the pools (for example, 1,000 DAI and 1,000 USDC.) Participants gain exposure to all of the assets in the pools along with the risks as well, including impermanent loss.
ABOUT Orion Protocol
Orion Protocol is building the decentralized gateway to the digital asset market. The layer 2 solution enables users access to deep, cross-chain liquidity in one place – across DEXs, CEXs, and swap pools. Providing access to the best price in the market without the need to ever give up their assets. Orion seeks to solve the fragmentation of crypto markets, NFTs marketplaces, and assets from traditional finance by eventually aggregating them into one place: Orion Terminal.
About Curve
Curve Finance is DeFi's leading automated market maker (AMM), whose stableswap formula sets the industry standard. It enables the high-liquidity, low-fee, low-slippage swaps between stablecoins. These stablecoins are $USDT, $DAI, and $USDC, as well as other core mERC-20 assets such as $wBTC and $wETH. With around $21b in TVL today, Curve is one of the key cornerstones of the multi-chain ERC-20 economy.
RESOURCES