Xandar Partnership with Bountie Hunter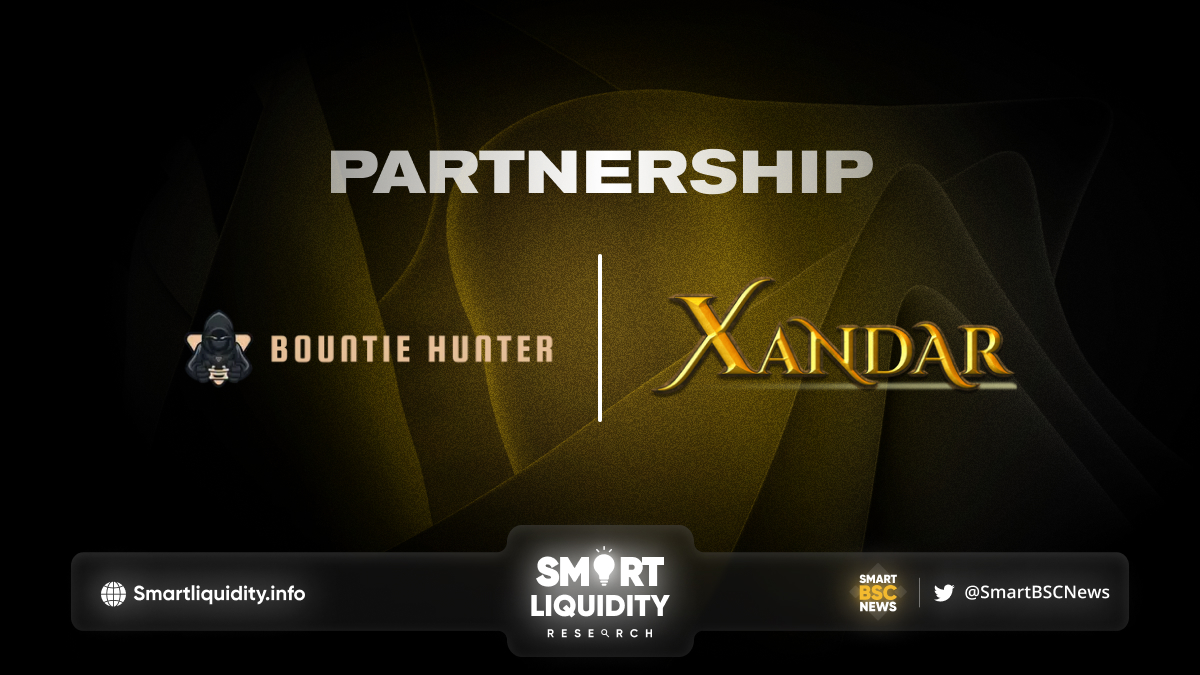 Xandar Partnership with Bountie Hunter, Bountie Hunter is a Gaming and Metaverse Acquisition Accelerator, it helps Web3 games educate, convert, and retain gamers through effective and customized campaigns.
Bountie Hunter is incorporated in Singapore with a Southeast Asia reach. Over the last 5 years, its web2 esports tournament platform has facilitated more than 3,000 community tournaments with more than 300,000 casual competitive gamers. As Xandar announced its Partnership with Bountie Hunter.
What does Bountie Hunter Features?
Hybrid Apps –

They

are offering multiple functions on their apps, ranging from services of Bountie.io, Bountiehunter.io, and LaunchPad for the future projects IDO
Staking/Unstaking – Earning Annual Percentage Return (APR) on the BOUNTIE Tokens staked on Bountie Hunter as well as Tiers Tracking

Smart Contracts –

Projects needing to lock the prize pools in smart contracts. Winners can claim upon conditions met.
Wallet Integration – Metamask, Trustwallet, and Wallet Connect integration for Projects and Gamers to access their crypto holdings and NFTs
Bountie Academy
Bountie Academy is the 'learn-to-play' education platform for its game partners. It aims to deliver a bite-sized 'how-to' curriculum to the gaming communities, distilling the mechanics of complex Web3 gameplay into short video tutorials meant for the everyday gamer.
Gamers would find easy-to-follow bespoke video guides that are localized to their native tongue, making it a breeze for gaming projects to engage gamers through Bountie Academy.
Bountie Academy aims to educate, transform and acquire Web2 into Web3 gamers making it accessible for gamers to 'learn-to-play' before they are 'play-to-earn'.
$BOUNTIE Token
Total Supply: 500,000,000
Symbol: $BOUNTIE
Contract Address: 0x00f80a8f39bb4D04a3038C497E3642bf1B0A304e
Chain: BNB Chain (BEP20)
Launching $BOUNTIE to connect future gamers (Web3) and traditional Gamers (Esports) to Blockchain, empower Gaming as a career through web3 for all gamers, community & crypto gaming projects in Bountie Hunter Platform
­
About Bountie Hunter
Bountie Hunter is a curated marketplace for gamers to discover and invest in crypto gaming and metaverse projects. They strive & to help gamers to find the next Axie Infinity, Gaming, and Metaverse Gem and organize Quests. For the community of gamers to play and earn!
­
About Xandar 
Xandar is a Play-To-Earn Adventure and Arena-based Game integrated with the concept of both Massively Multiplayer Online Role-Playing Game (MMORPG) and Multiplayer Online Battle Arena (MOBA) built on the BSC Network with the concept of Octa Attributes. It offers players an amazing experience with high-quality graphics. It is a game where players can combine their adventure and battle skills to win real amazing rewards in the form of NFTs and game tokens.
­