Celer Launches on Oasys Blockchain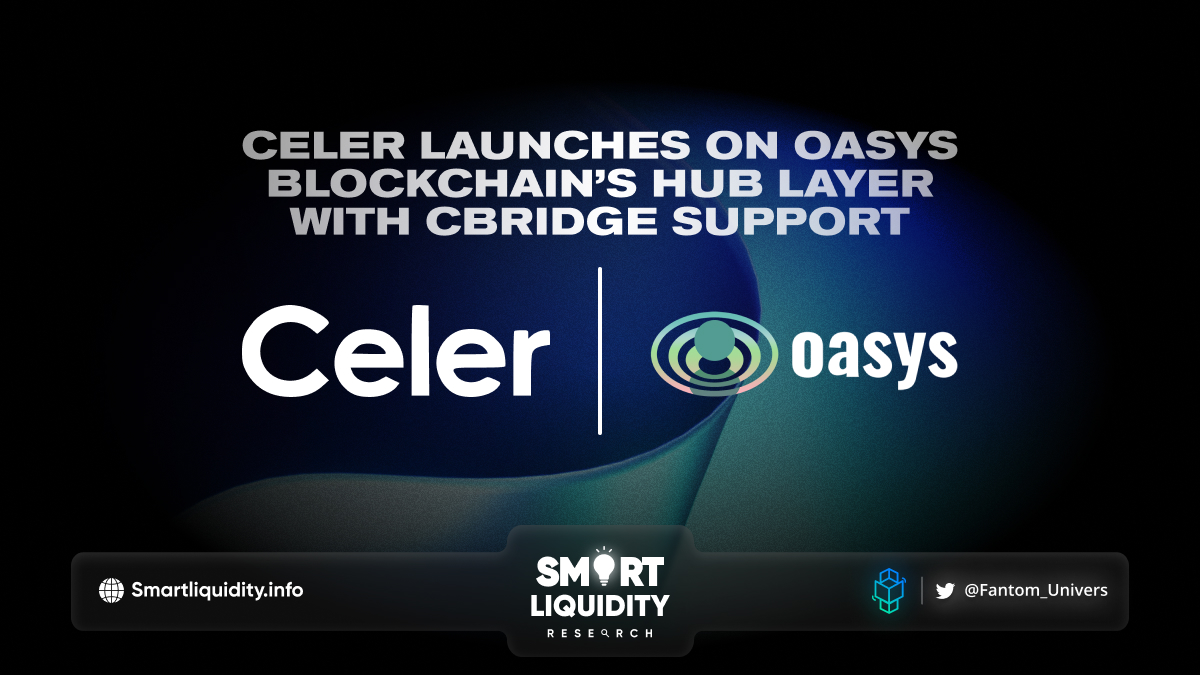 Celer Launches on Oasys Blockchain, Oasys creating an ecosystem for gamers and developers to distribute and develop blockchain-based games.
Celerhave launched cBridge support on Oasys' Hub-layer. As Celer Launches on Oasys Blockchain, allowing the bridging of the following tokens:
USDC and USDT between Ethereum <> Oasys Hub
MCHC and TCGC between Ethereum <> Oasys Hub <> Polygon
RAYS between Polygon <> Oasys Hub
Celer-bridged token addresses on the Oasys Hub:
USDC – 0xE1aB220E37AC55A4E2dD5Ba148298A9c09fBD716
USDT – 0xE1aB220E37AC55A4E2dD5Ba148298A9c09fBD716
MCHC – 0x5B1CC635E524cAbb63a581c050C895534755F297
RAYS – 0xC885f4eE4E4c0C3A36E11BAC28E2E1a2Ba644d39
TCGC – 0xdDB07cc0f2F9fB7899DbA5a21964f3C6D2740e44
Celer's has begun supporting Oasys by enabling asset bridging for the Oasys Hub starting with 5 tokens: USDC, USDT, MCHVerse's MCHC and RAYS, and TCGVerse's TCGC. In the future, Celer plans to support more bridging options to create an interconnected network within the Oasys Hub-Verse ecosystem, as well as between Oasys and external L1s.
The Partnership
Celer will be working with Oasys to onboard several dApps that use Celer Inter-chain Messaging (Celer IM) to enable cross-chain application logic. With IM, dApps can provide a seamless one-click cross-chain user experience without the user even realizing that they are hopping onto multiple chains to access different protocols. This opens up a wide range of potential cross-chain scenarios, such as bridging NFTs, purchasing and bidding on NFTs across different chains, claiming farming rewards from another chain, and even syncing game stats across multiple chains.
­
About Oasys
Oasys was established in February 2022 to increase mainstream play-and-earn adoption, and at launch, committed to partnering with 21 gaming and Web3 tech companies to act as validators, such as Bandai Namco Research, SEGA, Ubisoft and Yield Guild Games. Led by a team of blockchain experts and joining forces with the biggest gaming company names to serve as the initial validators, Oasys is revolutionizing the gaming industry with its Proof-of-Stake (PoS) based eco-friendly blockchain.
­
About Celer Network
Celer is a blockchain interoperability protocol enabling a one-click user experience accessing tokens, DeFi, GameFi, NFTs, governance, privacy solutions and more across multiple chains. Developers can build inter-chain-native dApps using the Celer Inter-chain Message SDK. To gain access to efficient liquidity utilization, coherent application logic, and shared states. Users of Celer-enabled dApps will enjoy the benefits of a diverse multi-blockchain ecosystem. With the simplicity of a single-transaction UX, all from a single chain.
­