OneRare and Cornitos Partnership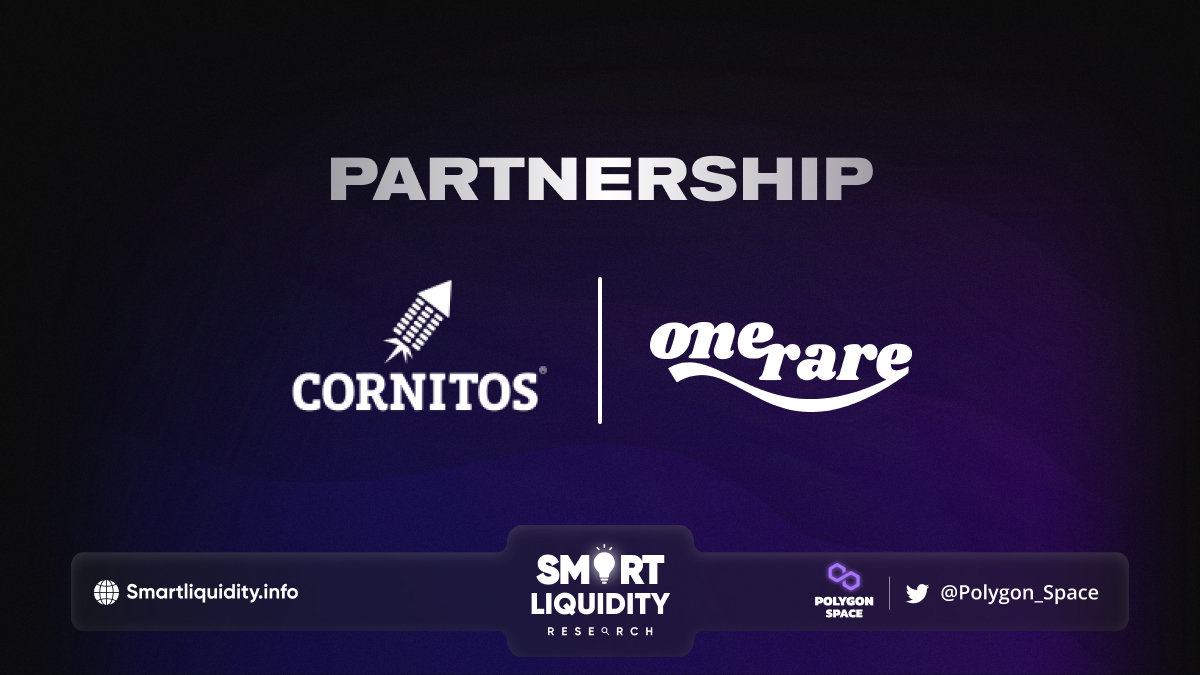 OneRare is thrilled to announce that Cornitos, one of the world's most premium snack brands is entering the Foodverse with their first-ever NFT collection on Polygon Chain— presenting their range of products to Web3 audiences.
Made with love and care using modern manufacturing practices, Cornitos offer flavors and textures for every palette, inspired by the mouth-watering flavours of India and South America. From the noisy crunch of Cornitos Nachos to creamy dips, Cornitos is a must-have at every party. Having made their mark in the healthy snacking category, Cornitos is a pioneer in introducing baked yummies and organic non-GMO ingredients across global markets.
The brand is now set to revolutionise snacking with its launch in OneRare's Foodverse, the first Food Metaverse in Web3. Speaking to the Cornitos Marketing & Strategy Lead, Anuj Arora, he emphasised on the brand's constant endeavour to offer a unique snacking experience that is not only healthy and appetising but also interactive.
By offering their product range as NFTs, Cornitos taps into the growing market for virtual goods and experiences. OneRare will usher Cornitos into the Web3 by converting their products to NFTs. And making them available to mint within the OneRare Gaming Layer, built on Polygon. This will provide Cornitos with a new platform to reach and engage with their global customers, while showcasing their best-sellers through interactive NFTs.
ABOUT CORNITOS
With our determination to revolutionize the snacking category, Greendot Health Foods Pvt. Ltd. (GHFPL) embarked on its journey in 2009, to launch Nacho Crisps for the first time in India under the brand name Cornitos. The brand set its sail to bridge the gap between healthy and delicious snacking. Over the years, the brand has forayed into various other categories like Nuts & Seeds, Tortilla Wraps, Taco Shells, DIY Kits, Dips and other gourmet delights- ensuring premium quality in its entire range.
Cornitos is on a mission to make snacking 'Guilt-Free'. With it wide range of healthy gourmet snacks using high quality ingredients. Since its inception, Cornitos has been an irresistible favourite in its category, both in India and in international markets.
ABOUT ONERARE
OneRare is the World's first Food Metaverse, aka, Foodverse. We are creating the first-ever Virtual World for the global Food & Beverage Industry, that celebrates Food in Web3. With an immersive gaming experience, virtual restaurants, chef experiences and more. OneRare is all set to lead Food into the next era.
SOURCE:
https://onerarenft.medium.com/onerare-ushers-cornitos-in-web3-with-their-first-ever-nfts-in-the-foodverse-f411a1a72f1c