GameFi partners with BNB Chain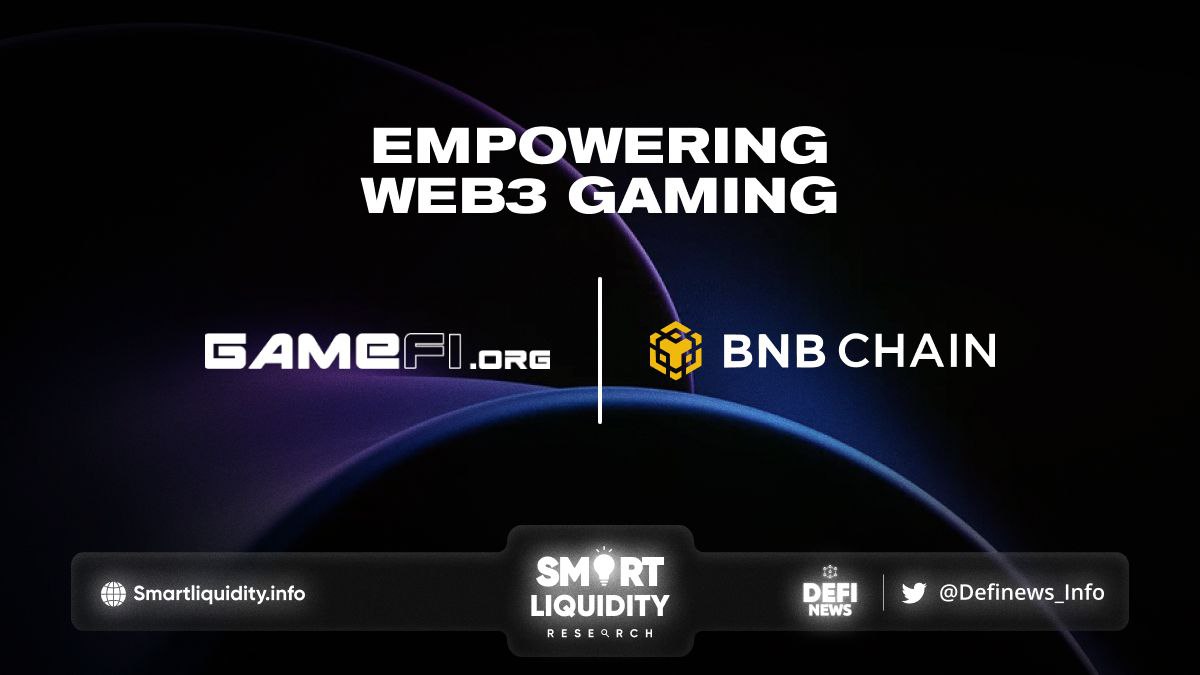 GameFi partners with BNB Chain to innovate the Web3 gaming industry. The Web3 game market has been strongly affected as well. A great number of games and metaverse projects have gone into hibernation, unsuccessful launch, and even bankruptcy before getting a chance to approach the audience.
On the bright side, Crypto Winter has come, but mainstream adoption continues faster and stronger than ever in 2022. Cryptocurrency-related topics are frequently on trend, governments & local brands began to show support and collaborate with crypto companies, and more and more content about the field is publicly discussed.
However, Web3 gaming faces many barriers in technology, cost, recognition, and faith among game enthusiasts. This leads to the demand for a connector and the guides behind it.
PARTNERSHIP FOR NEW INNOVATION CYCLE OF WEB3 GAMING
GameFi.org and BNB Chain encountered each other while they were on a mission to find a possible way of creating an innovation path for Web3 gaming development.
BNB Chain believes that innovation never sleeps. They aim for the goal where the future goes beyond Binance into a world of over 1 billion users. BNB Chain finds MetaFi (gamefi, socialfi & metaverse) to be a key part of this process, and its mission is to build the infrastructure powering the world's parallel virtual ecosystem.
GameFi.org, on the other hand, is on its way to actualizing the vision of becoming the ultimate destination for web3 gaming. It set the mission to build digital communities and manage virtual economies for mainstream adoption via games & metaverses.
Partnership Highlights
WEB3 GAMING GROWTH
GameFi.org and BNB Chain will focus on the work to empower Web3 gaming growth in the next several years.
As one of the most popular blockchains, BNB Chain supports projects with its reputable & powerful technology, underlying the world's virtual ecosystem infrastructure. As a one-stop destination for games & metaverse, GameFi.org offers a suite of solutions covering the entire games and gamified projects' lifecycle, following a vision of one digital platform, and one virtual identity requiring zero blockchain knowledge.
TECHNICAL RESEARCH & SUPPORT
The two teams are also a combination of blockchain tech & game enthusiasts. Therefore, they spare space in their long-term plan to closely connect with each other through research and development talks. Innovation will indeed never sleep in our ecosystems.
COMMUNITY BUILD & EXPANSION
Last but not least, community growth is one important part of the picture of the future. BNB Chain and GameFi.org both have built and embraced a diverse and supportive community of their own.
The future virtual society formed from this partnership will stay active, crowded, and expanding with upcoming cross-events. Gameplays, Web3 issue discussions, fun competitions & rewards are going to be available on every special occasion of GameFi.org.
ABOUT GameFi.org
GameFi.org integrates the top popular networks to bring users the best experience and enable diverse projects listed on its platform.
ABOUT BNB Chain
BNB Chain (formerly Binance Smart Chain) has quickly grown into one of the most widely used smart contract platforms, most notably in the decentralized finance (DeFi) marketplace. BNBChain is a technology platform designed to educate people worldwide about BNB technology and its potential impact on their daily lives.
RESOURCES