Bitizen Wallet Partners with ZoA.game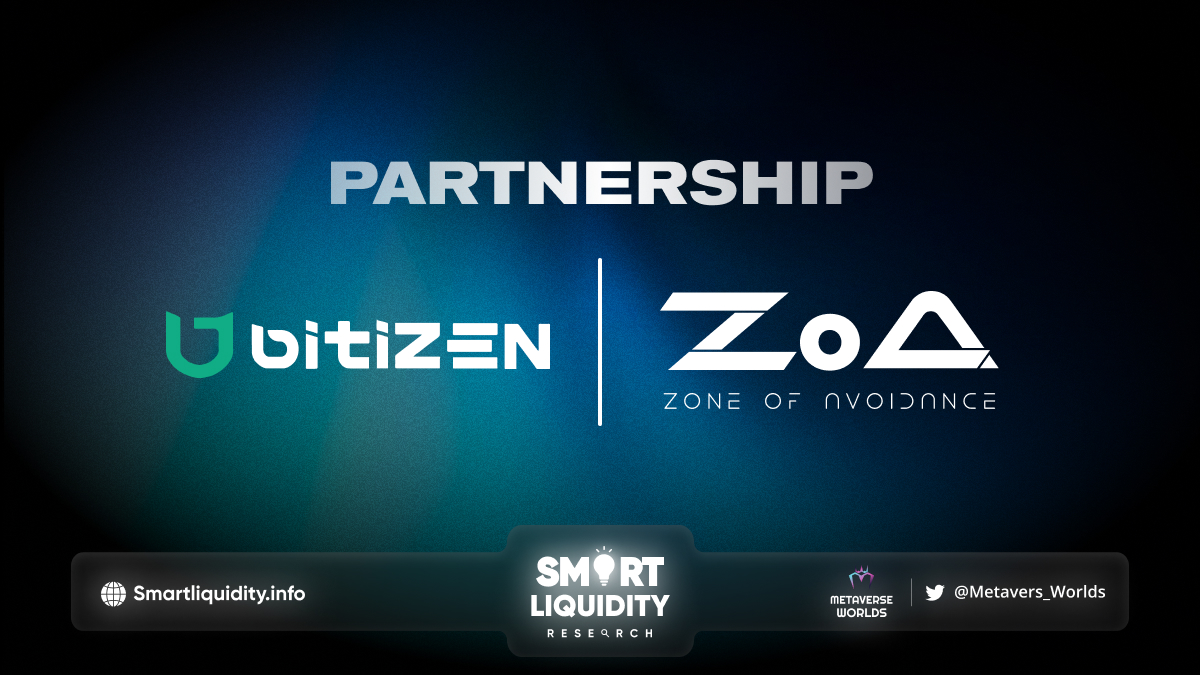 Bitizen is thrilled to announce a partnership with ZoA.Game 
ZoA.Game is a futuristic PVP/PVE, P2E NFT battleground game with NFT marketplace. On January 16th, the game will be available across all platforms — mobile and web versions, and directly accessible from Bitizen wallet Dapp Discovery.
Earlier in April 2022, ZoA.game, invested by Lua Ventures — an investment arm of TomoChain Labs, used LuaStarter — another Bitizen's partner, as an IDO token crowdsale platform and incubator.
Three teams cooperated to deliver a great Web3 gaming experience and celebrate successful game launch with special promo campaigns. Let's play and enjoy sweet early players' bonuses!
Join: Zone of Avoidance GIVEAWAY: 300,000 ZOA tokens for 500 players (gleam.io)
Game Pre-Launch Campaign
To celebrate ZoA Game launch, ZoA.game, Bitizen and LuaStarter have prepared a nice starting bonus, including in-game tokens starterpacks and NFT gift set!
Zone of Avoidance GIVEAWAY: 300,000 ZOA tokens for 500 players (gleam.io)
Zone of Avoidance GIVEAWAY: 300,000 ZOA tokens for 500 players (gleam.io)
Pool Prize:
600 ZOA Starter Pack: total 300,000 ZOA tokens for 500 players!
50 Special NFT gaming cards: Humans, Reddans, Syndicate
Free ZOA Game NFT Badge for all players!
Rules:
Campaign Period: January 12 10:00 (UTC) — 17 January 10:00 (UTC)
Zone of Avoidance GIVEAWAY: 300,000 ZOA tokens for 500 players (gleam.io)
Winners will be announced & Prizes distributed after campaign ends in Discord
About ZoA.Game
Zone of Avoidance (ZoA) is a PVP/PVE, Play-to-Earn, NFT-based auto battler in which the universe becomes your campaign ground. Buy your NFT spaceship, fill it with heroes and embark on your mission out of the New Milky Way toward the Zone of Avoidance. As you hop between planets you'll discover valuable commodities and fight the inhabitants willing to do anything to protect them.
Players can choose either PVP or PVE battles. In the PVE campaign, players must progress through five Galaxies containing 12 Planets each, and in doing so collect the Internal Resources they need to upgrade their ships and heroes and progress further through the universe. As they progress, players will encounter increasingly formidable opponents who drop increasingly valuable resources. A player's first win in a new battle will award them additional token rewards beyond their standard resource winnings.
Special Features:
Play-to-Earn with Strong tokenomics
Enthralling storyline & Epic PVP/PVE gameplay
Space/cyberpunk narrative & aesthetics
NFTs with in-game utility & NFT marketplace
Browser and mobile compatible
ZOA token
$ZOA is the main token of the game, allowing users to trade, upgrade items, buy NFTs on the Marketplace and create a robust in-game economy. Utilizing its features and use cases, the game hopes to replicate the excitement of gaming, within the decentralized world.
About Bitizen Web3 wallet
Bitizen is a new generation MPC-based Web3 wallet with no private keys and no seed phrases, designed for the new wave of Web2 users. Bitizen provides the highest level of security while staying simple and easy to use. Other notable features are full privacy-safety, censorship-resistance and multi-chain compatibility.
Bitizen wallet is able to integrate with any existing or future DApp on any blockchain via SDKs within a few minutes, and make them accessible in the built-in Web3 Touch™ Browser and DApp Pass.
About LuaStarter
LuaStarter is the first multi-chain fundraising and Initial DEX Offering (IDO) Platform based on LuaSwap Exchange, aimed at providing a secure environment for early-stage projects to raise funds, create awareness and liquidity on multiple chains. At the same time, based on the Tier Guaranteed System (TGS) model, LuaStarter provides flexibility and an opportunity for all investors to discover more projects and investment opportunities in a streamlined process and to participate in the IDOs in a fair and efficient manner.
SOURCE:
https://medium.com/@bitizenwallet/bitizen-wallet-partners-with-zoa-game-df5cb315950