ZetaChain, Introduces First-Ever Omnichain Smart Contracts!!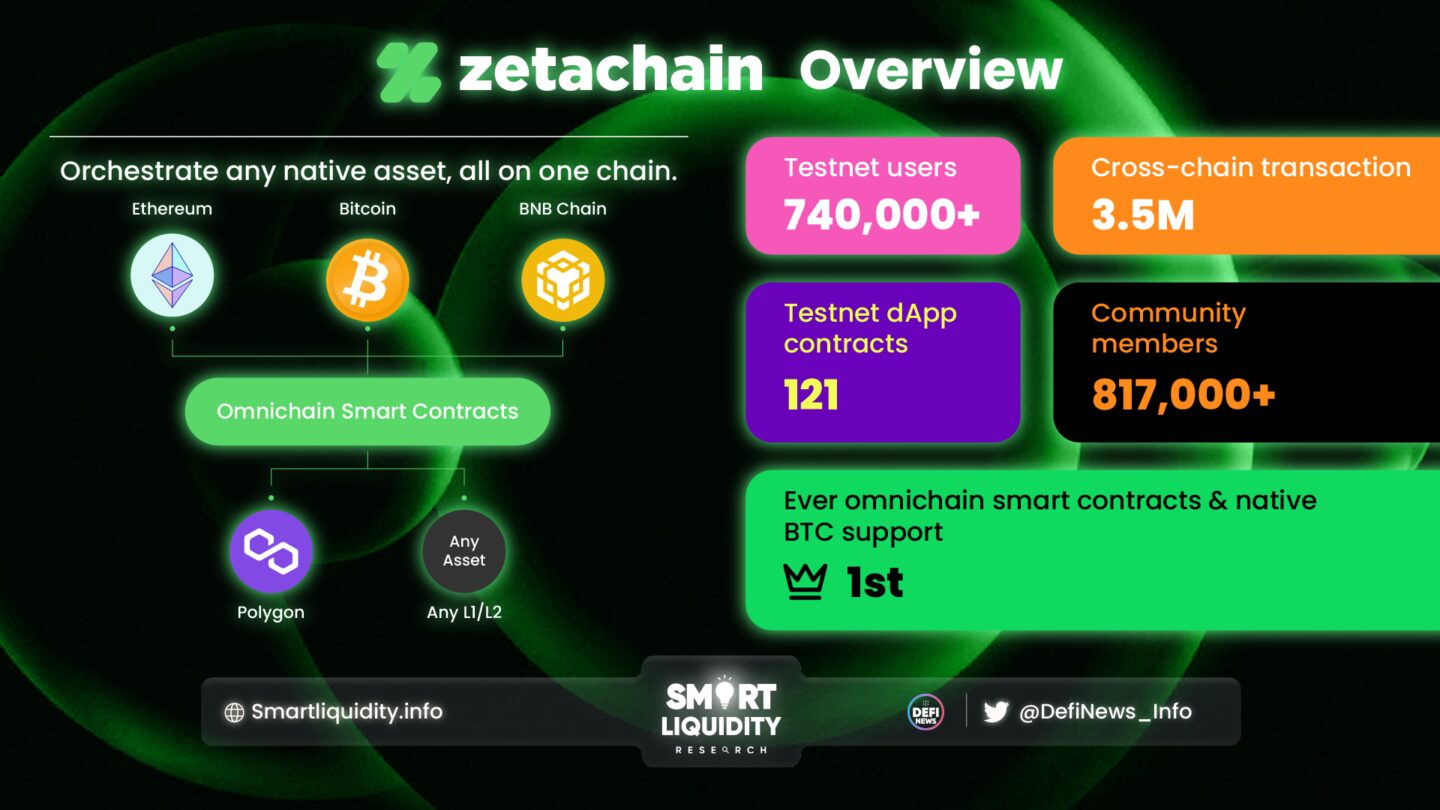 ZetaChain is the foundational, public blockchain that enables omnichain, generic smart contracts and messaging between any blockchain.
ZetaChain had successful deployed there devnet and also had closed of an initial seed funding round which includes investments from early Coinbase and Binance employees including Dan Romero, Sam Rosenblum, and John Yi, as well major contributors to some of the industry's most widely adopted protocols and well known funds, including Polygon's JD Kanani and HwiSang Kim former CIO of Hashed; advisors on the project include Nathalie McGrath, who, as Coinbase's first Head of People, scaled the industry leading exchange from a team of just 10 to over 800 employees, and Juan Suarez, who served as in-house counsel for Coinbase from 2013 until 2022.
ZetaChain's omnichain smart contract blockchain will prove to be beneficial for a number of reasons. Below are a few key use value propositions:
Trust-minimized cross-chain asset and data transfer with very low fees
Externally-managed smart contract capabilities for chains like Bitcoin & Dogecoin
No wrapping of assets or bridges are needed to transfer values cross-chain 
Multichain NFTs, DAOs, governance, identity, etc.
Seamless multichain DeFi; lending, staking, yield farming, etc.
DApp developers can add multichain functionality by simply implementing a few functions into their existing smart contracts, enabling omnichain-dApps, or odApps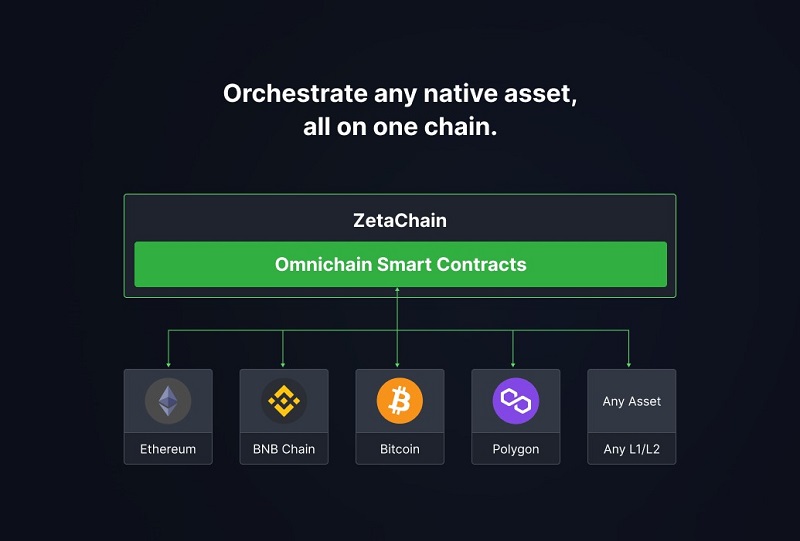 ZetaChain Integrates into the Web3 Credential Data Network Galxe and Launches an NFT Campaign for Interoperable Connectivity
With over 5 million active users, Galxe is the leading web3 data credential network that provides the infrastructure for community members to curate digital credentials and contributes data to the network. Contributors can curate different types of on-chain and off-chain credentials. Credential data can be used for building user experiences, marketing, advertising campaigns, validating work, and many other use cases.
The Glaxe-ZetaChain integration will unlock new cross-chain use cases for ecosystem partners building on Glaxe's network, such as omnichain NFTs, DAOs, Gamefi, native cross-chain payment omnichain, and much more.
Mission Bring ZETA Home is a campaign designed to help users explore the power of omnichain functionality while earning NFTs and ZETA Points along the way. Users will experience ZetaChain's native value transfer — with no bridging, wrapping, or locking of assets — to achieve any-to-any token/chain trades. Over the next few months, mission operations will reveal on a rolling basis.
Step #1: Claim your first 5000 Zeta Point, completing cross-chain swap.
Request Testnet ZETA
Complete your first cross-chain swap.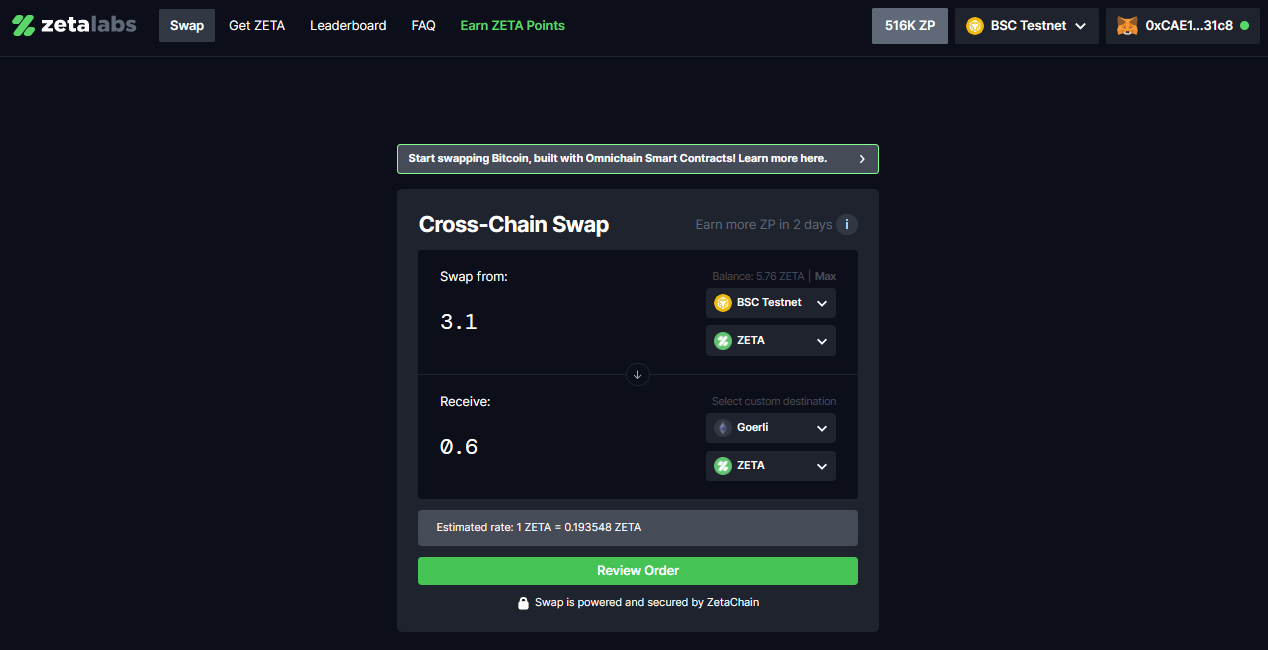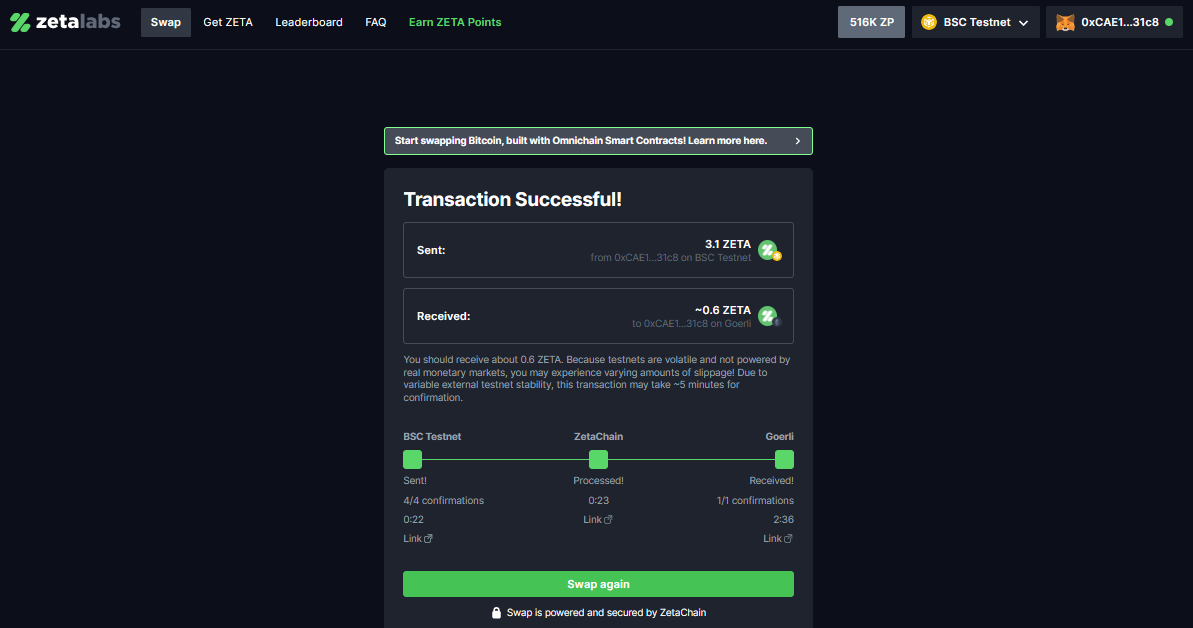 Step #2: Follow their socials here: Discord and Twitter.
Step #3: Verify your socials and claim your "ZETA Supporter" OAT on Galxe. Almost 300,000 OATs are already minted. An OAT is an On-chain Achievement Token.
Step #4: Go to their swap page. Now click on the "GET ZETA" header button and connect to the Goerli testnet and connect your Twitter account. You'll receive some testnet $ZETA and other assets.
Step #5: Swap some $ZETA tokens around to BSC testnet, Polygon Mumbai and back.
Step #6: Now you claim your 2nd NFT on Galxe. Well over 220,000 NFTs are already claimed here.
Step #7: There are 7 Galaxy has another couple of ZetaChain NFTs to claim. Just complete the tasks to claim the remaining NFTs. The more, the merrier!
Step #8: Make sure to get your Discord roles in the ZetaChain Guild for participating.
In addition to earning NFTs for your service throughout this journey, you will also earn ZETA Points on ZetaChain's testnet. ZETA Points represent your contributions to the ZetaChain protocol and are earned through the following actions:

You can check your "Zeta Points" that you earned. These are for activities that you've done so far.
In addition to Ethereum, Polygon, and Binance Smart Chain, Klaytn is now supported on Zetachain's testnet and will go live on the ZetaChain mainnet soon. Currently, omnichain dApps builders can create and test smart contracts on ZETA using the Zeta Connector. Users can natively swap assets to and from Klaytn and other connected chains on the ZetaLabs testnet now.
Klaytn is the bridge that connects Web2 enterprises to Web3. It is a public blockchain focused on the metaverse, gamefi, and the creator economy. Backed by South Korean internet giant Kakao Corp, Klaytn is now undergoing global expansion from its international base in Singapore.
Klaytn partnered with Zetachain few month back, the Klaytn-ZetaChain partnership will produce an ecosystem of more versatile cross-chain applications such as a cross-chain swap, DEX, multichain NFTs, and more. These applications will bring much greater liquidity and capital efficiency for transferring native assets between chains.
ZetaChain's integration into Klaytn will enable KLAY developers to bring full interoperability to existing and new smart contracts.
ZetaEVM (zEVM) and the ZRC-20 Standard
ZetaEVM (zEVM) is a module on top of the ZetaChain network that allows users to create and deploy EVM-compatible Omnichain Smart Contracts, which can read, write, or manage data and liquidity on any connected chain from a single place. A new standard called ZRC-20 allows Omnichain Smart Contracts to manage native assets on connected chains. With ZRC-20, developers can build applications that use and transact native fungible tokens such as Bitcoin, ERC-20s, and Gas Assets, all on a single chain.
Bitcoin Support
With Omnichain Smart Contracts and ZRC-20, developers can now deploy contracts on ZetaChain that control Bitcoin natively. In other words, ZetaChain supports Bitcoin smart contracts. On top of this, ZetaChain supports smart contracts that orchestrate not only Bitcoin, but also Bitcoin together with assets and data from other chains. Now, you can trade and use Bitcoin with any assets in the DeFi world without wrapping.
What does this mean for developers and users?
One Contract For All Chains:
Omnichain Smart Contracts significantly lower development overhead and simpler security profile. Instead of recreating the wheel of messaging architectures, you can experience the simplicity of building on Ethereum with access to assets on any chain. You also only have one contract to manage as opposed to deploying and maintaining contracts across every chain you want to support.
Users experience reduced gas fees because the single contract you control and use to transact manages multiple native tokens. Complex logic in contracts on ZetaChain can orchestrate assets across all connected external chains through simple transfers, which minimizes total gas expenditure and slippage.
Better, Safer User Experience:
Instead of waiting for different messages to pass and sync between separate chains, transaction logic occurs atomically on ZetaChain. The result is lower slippage, better guarantees for users, lower attack surface, and less susceptibility to race conditions or time constraints. This also means truly single-step transactions UX (and fees) in the user experience, even when operating across many chains.
Start Testing and Building
Users can test how Bitcoin Support, ZRC-20, and Omnichain Smart Contracts work together in ZetaLabs here. For developers, start building on ZetaChain using the developer documentation.
ZetaChain will transition from Proof-of-Authority consensus to Proof-of-Stake model over time; the protocol is based on the Cosmos SDK and utilizes the Tendermint Consensus mechanism. The team behind ZetaChain are especially focused on providing the best possible developer experience and aim to make building on the ZetaChain protocol a streamlined and familiar experience for developers already familiar with building on other platforms.
About ZetaChain 
ZetaChain is the foundational layer to a truly multichain future; the blockchain's novel approach creates a truly fluid crypto-ecosystem that will enable more users, developers, and traders than ever to onboard, use, and take advantage of the benefits of crypto. ZetaChain's blockchain enables multichain functionality without using bridges or wrapped tokens and enables the easy deployment of omnichain-dApps, or odApps, that can manage and connect data and value across all smart contract platforms as well as non-smart contract platforms like Bitcoin and Dogecoin.
Website | Zetachain Testnet | Twitter | Discord | Zetachain's Blog | Telegram