The Helium Network's New Chapter Commences on March 27th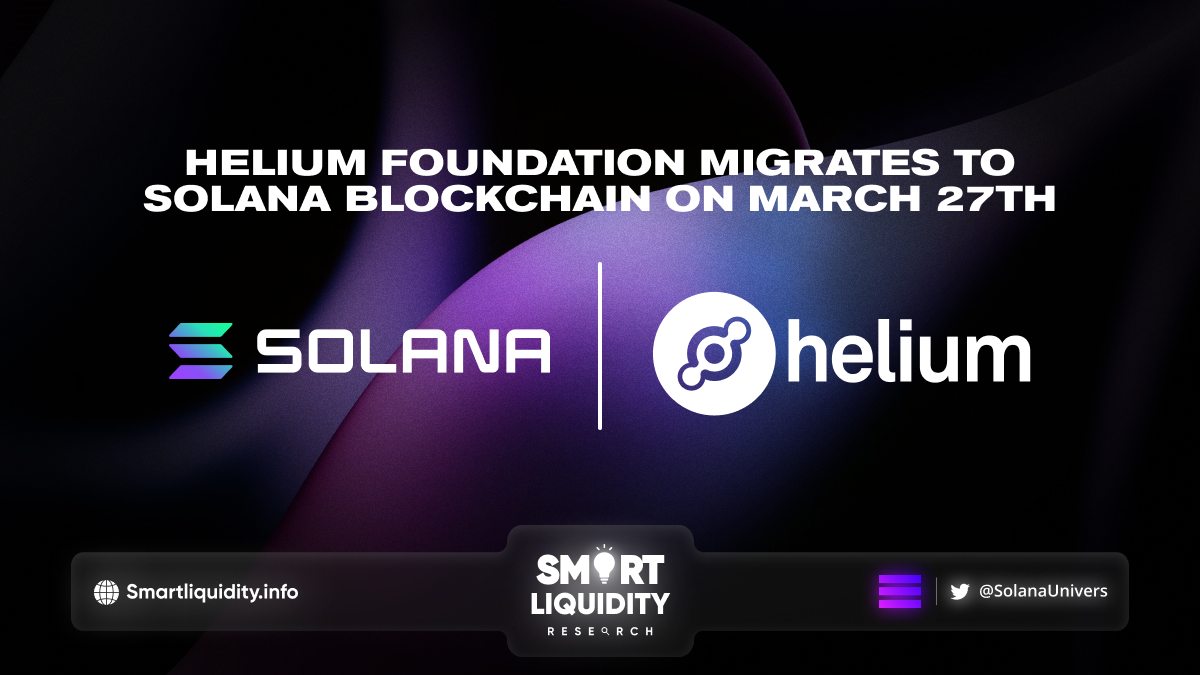 The Helium Network is set to embark on a new chapter of its journey, commencing on March 27th. This marks an important milestone for the network and the Helium community as they prepare to enter the next era.
The Helium Network has been gaining momentum over the years, and with this new chapter comes exciting developments and advancements that will further strengthen the network's infrastructure. The network's primary objective is to provide a decentralized wireless network for the Internet of Things (IoT) devices, allowing devices to communicate with each other without the need for a centralized authority.
Details of Migration to Solana
To begin with, the Helium Foundation plans to migrate to the Solana blockchain on March 27, 2023, and is forming an Upgrade Readiness Working Group to oversee the migration process. This panel will be made up of community volunteers who will decide on the migration date. Interested individuals can find more information in this post. The migration will include transferring all wallets, Hotspots, and Helium Network states over a 24-hour period starting at approximately 1500 UTC / 10:00 AM ET.
The Helium community passed HIP-70 last year and implemented various solutions to scale the Helium network enabling the move to Solana. The transition to Solana blockchain will also involve moving Proof-of-Coverage and Data Transfer processing to Oracles, which will eliminate significant scaling bottlenecks for these core functionalities. As the stewards of the Helium Network and decentralized wireless networks, the Helium Foundation is excited to share this milestone with the entire community and usher in a new phase of the Network.
Upgrade Readiness Working Group
After receiving approval from the Helium community, the Helium Core Developers have been diligently working on several tasks such as developing programs for the Solana blockchain. Hence, creating new Governance tools on Realms, implementing PoC Oracles, establishing Open LNS and Data Transfer Accounting Oracles, and transferring Helium account state data to the Solana Devnet.
In addition to extraordinary caution throughout development and continuing audits by credible businesses in the Solana ecosystem, the Helium Foundation acknowledges the necessity of addressing all downstream implications and has formed an ad hoc Upgrade Ready Working Group. The group will consist of a wide cross-section of technical specialists from the community and various stakeholders who will assess the migration, verify enough documentation is available, and raise any issues before proceeding.
About Helium 
The Helium blockchain is a public, open-source blockchain that utilizes a proof-of-stake consensus mechanism to verify transactions and reward Hotspot operators in HNT, its native cryptocurrency. Hotspot operators earn HNT by providing wireless coverage, and they can use it to pay for network transactions or exchange it on cryptocurrency exchanges.
SOURCE
https://blog.helium.com/the-next-era-of-the-helium-network-begins-on-march-27th-6d08f2b048e0