Red Falcon Navigation Guide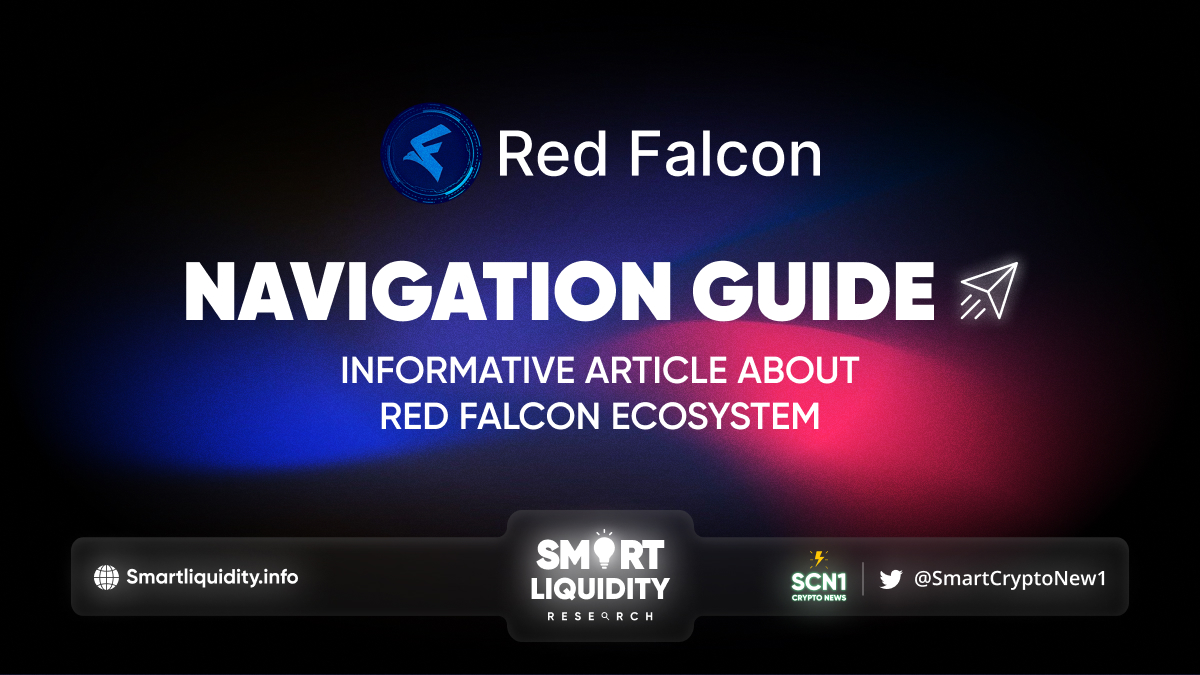 Red Falcon Navigation Guide! As cryptocurrencies continue to gain mainstream attention, a new wave of innovative blockchain projects is emerging. These projects aim to solve real-world problems and offer unique solutions to industries that are ripe for disruption. One such project is Red Falcon, a decentralized platform that aims to revolutionize the blockchain industry.
Built on cutting-edge blockchain technology, Red Falcon seeks to address the challenges faced by the blockchain industry by providing a secure, transparent, and efficient platform for its users. The project's native cryptocurrency, $RFN, serves as the primary medium of exchange on the platform, allowing users to conduct transactions and interact with the network.
But RFN is more than just a cryptocurrency project. It is a comprehensive ecosystem that includes a range of features and services, including transparency, community, and longevity. By leveraging the power of blockchain and smart contract technology Red Falcon has the potential to transform blockchain, creating new opportunities for businesses, and consumers alike.
Red Falcon is a next-generation decentralized, deflationary, utility & reward token built initially
on Binance Smart Chain that aims to incentivize investors and help everyone enter the crypto
space safely.
At the heart of the $RFN Ecosystem, for every transaction, a 6% fee is redistributed to all existing
holders. This incentivizes all hodlers and rewards people that stay on board.
In addition, a 1% portion of every transaction will mainly support & empower women and children around the world through its partnerships with non-profit organizations.
Furthermore, $RFN's initial supply of 100 billion tokens will be burned down from the first day after launch in a massive way. Tokens are burned automatically with a 2% share of all transactions sent to a
dead wallet. A smart contract that provides the capability to burn tokens can promote scarcity by
reducing the total supply and increasing the value.
How to Buy $RFN on Pre-Sale
Red Falcon has partnered with major payment gateways to bring ease and flexibility to $RFN investors.
Buy $RFN with 100+ Cryptocurrencies using Nowpayments
Buy $RFN with PayPal
Buy $RFN With Stripe using Visa, Mastercard, American Express a.s.
Where to trade $RFN Tokens?
Currently, RFN Token is available on Bitmart, Degifinex, and AAX Exchange. The $RFN token holders can also trade on Bibox, CoinW Exchange, and the ATNirex platform.
Red Falcon Ecosystem
RFN offers passive income through reflections. In each $RFN trade, the transaction tax is at a 12% fee. Here's how it works:
Token Holder: 6%
Redistributed6% fee to all token holders. That means you earn more $RFN Tokens just by
holding it in your wallet.
Auto Burn: 2%
Add 2% of the transactions to the public liquidity pool on PancakeSwap to improve price stability.
Token Governance: 1%
1% of the fees for the treasury. The treasury will also use to fund new $RFN products,
services, and projects that will expand and provide more value to the $RFN community
Public LP: 2%
Burns 2% of the transaction fees and sent to a dead wallet to decrease the total supply and increase the $RFN value.
Charity: 1%
1% of the fees will be donated to charities & NGOs.
Tokenomics is a key component of the emerging field of decentralized finance (DeFi) and is critical to the functioning of many blockchain-based projects.
Red Falcon $RFN Tokenomics
70 % Public Liquidity Pool
12 % 5 Founders
10 % Marketing
3% Charity & NGOs
2 % Airdrop Giveaways
2 % P2E Gaming
1 % NFT Development Project
Furthermore, Red Falcon tokenomics includes a wide range of economic considerations, such as token supply, distribution mechanisms, token utility and functionality, pricing, and market dynamics. These factors can have a significant impact on the success of the Falcon project, as they determine the value and usability of the tokens within the ecosystem.
In addition, $RFN is the people's token and is highly deflationary and the overall benefits are huge. Its investors get rewards daily with a 6% share of all fees from each transaction. Furthermore, $RFN's initial supply of 100 billion tokens. It will also burn down from the first day after launch in a massive way.
Tokens are burned automatically with a 2% share of all transactions sent to a dead wallet. In subsequent years burns will go on. Red Falcon donates 1% of every transaction to NGOs with a focus on children and women in need.
Moreover, automated bot trading is not tolerated by Red Falcon and they react to it with blacklisting. By listing its $RFN token on ChangeNow.io its investors can make payments worldwide using its token. It is more important than ever to offer maximum added value for investors and to stand out from the gray crowd. In addition, $RFN token investors are holding a jewel that is increasing in value every day.
FOLLOW RED FALCON OFFICIAL ACCOUNTS