CyberZ Finance Navigation Guide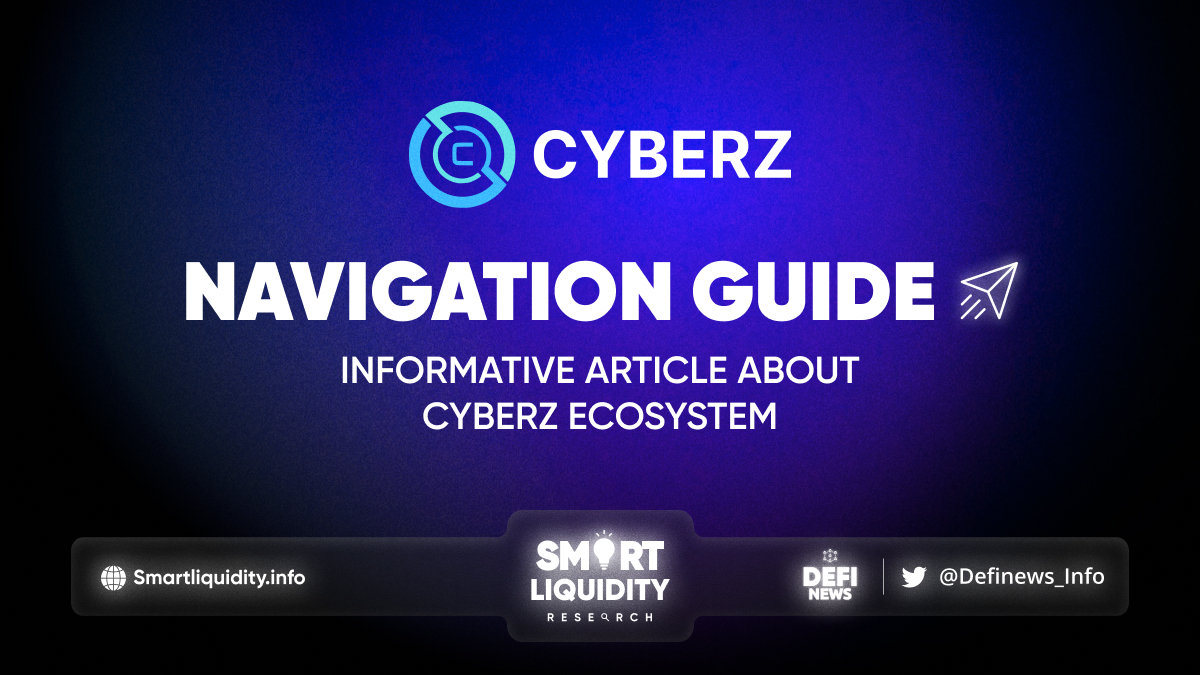 Introducing CyberZ Finance Navigation Guide, a comprehensive article about examining how does CyberZ Finance platform works.
CyberZ is a decentralized exchange (DEX) that operates on the Arbitrum Chain, offering revolutionary fast, secure, and cost-effective trading of tokens while ensuring complete transparency and fund control for users.
Through well-designed token economics and a rich ecosystem of applications, CyberZ can offer low transaction fees while attracting liquidity providers who can earn long-term profits, creating a virtuous cycle for the entire platform. This makes its platform more competitive and valuable for long-term investment compared to other platforms.
In a nutshell, CyberZ provides a seamless trading experience for DeFi assets on the Arbitrum Network, with complete asset control and zero hacking or theft risk. Additionally, the platform integrates multiple games and NFTs into its DEX, creating a one-stop shop for staking, trading, and farming tokens while engaging in on-chain gaming activities.
User-friendly Platform
CyberZ's user-friendly and sophisticated platform enables investors to easily trade DeFi assets, providing unparalleled trust and efficiency in the DeFi market. New investors can confidently invest in this comfortable and reliable environment.
How Does CyberZ Finance Make a Difference from other DEXs?
CyberZ values market feedback and seeks to avoid too heavy fluctuations that could undermine investor and market confidence. Therefore, the prioritizes building a quality product, maintaining transparency and communication with its users, constantly iterating on its development, and listening to community feedback.
Additionally, CyberZ aims to maintain market stability through token tokenisms and team buybacks and burns.
Products of CyberZ Finance
Trading | CyberZ Swap
Trading on CyberZ Swap is

quick, easy, and cost-effective. The platform offers low transaction fees (0.25% for volatile tokens and 0.1% for stable coins ) for trading mainstream tokens, making it accessible for traders of all sizes. Our community governance model allows them to introduce new trading pairs based on the needs and interests of our users.

Staking
CyberZ

offers nearly all major token trading pools, and it dynamically adjusts reward ratios based on our operational needs and community input. In the future, its community will have the power to determine which pools can be added and which pools will receive higher returns through the token staking process.

Liquidity


As a liquidity provider (LP) on its platform, you play a vital role in the growth and success of its ecosystem. Users' commitment to the CyberZ platform is essential, and that is why it is committed to offering the best possible rewards and benefits.
In addition to receiving the highest possible emission rewards, LPs who provide a certain duration and capacity of liquidity on the CyberZ platform will also be eligible for NFT airdrops and other potential benefits in the future. These benefits are CyberZ'splatform way of showing its appreciation for its users' ongoing support and contributions to its ecosystem.
CyberZ Finance Testnet is now Live
Cyber Finance is proud to announce that its testnet is now live. Users are invited to test these functions to enjoy delicious rewards from the CyberZ Finance platform. In connection with this event, Cyberz is conducting some special events such as airdrops. They will announce daily top 10 results, and provide initial funds to every participant while OG's will get more. To access CyberZ's testnet kindly follow this link to start your $CYZ journey.
Here are a few things you need to know about CyberZ Finance testnet
Transfer Goerli ETH to Arbitrum Goerli via the cross-chain bridge at https://bridge.arbitrum.io/?amount=17.5&l2ChainId=421613
CyberZ's team will airdrop testnet $CYZ and $USDC to your account
(If you haven't received them, open a ticket and tag Admin on their respective channels)
CyberZ's testnet competition will last for about a week, and the ultimate winner will receive an airdrop reward after the IDO.
Those who are willing to obtain $CYZ, users can purchase, provide liquidity, and farm anytime they want. The top 10 players with the highest $CYZ holdings on their balances will receive rewards.
Who Can Participate in the Cyberz Testnet Program
Anyone can participate, but OGs will receive more airdrops.
The goal of the competition is to obtain more CYZ using any method possible
Submit your address in the CyberZ testnet channel on Discord
The CyberZ team will distribute regular airdrops
Complete Guide to Participating in the Testnet
CyberZ Finance Tokenomics
Project Name: CyberZ Finance
Project Token: CYBERZ
Symbol: CYZ
Chain Arbitrum
CyberZ  Finance Unique Mechanism
Complete Testnet — Get Goerli ETH from here
Creative liquidity solution —

provide a higher-than-market APR reward for FARM

Bet market design

—

designed a betting game for CYZ token holders to gamble against its contract on various events

Burning mechanism —

lock tokens while burning the collected transaction fees and further reducing token circulation
As a decentralized exchange, CyberZ natively implements a token-burning mechanism in the contract. Every time it completes $100K in trading volume, they burn $1K of tokens. As its trading volume grows, it will burn more tokens, which will bring significant upward momentum to the $CYZ.
FOLLOW CYBERZ FINANCE FOR MORE UPDATES