Nautilus Chain and Eclipse Partnership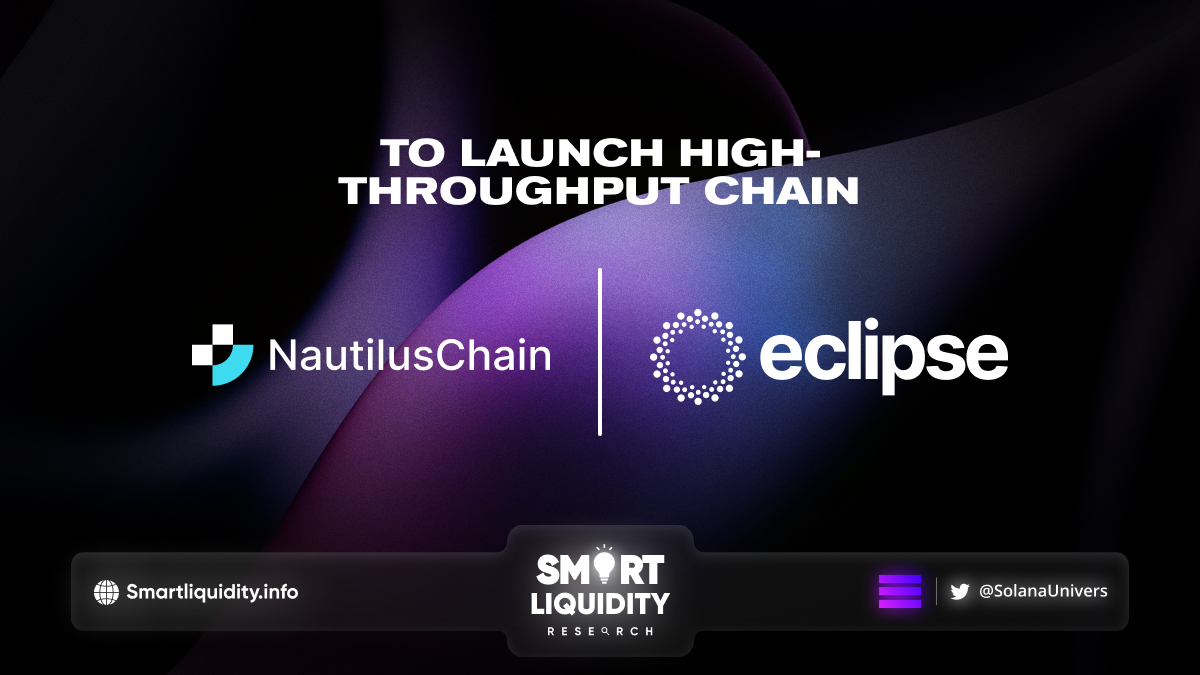 Eclipse and Nautilus Chain have joined hands to introduce a high-speed zk-EVM chain that will showcase the presence of RISC Zero, Celestia, and NEON.
The Nautilus Chain and Eclipse have formed a partnership to launch a new blockchain network based on the zk-EVM technology.  With its modular structure, the Nautilus chain will fuel various applications, ranging from consumer-centric to DeFi, and pave the way for exciting new prospects.
The initial rollouts on the Nautilus chain consist of various projects such as the payment streaming protocol from Zebec, which has over 20,000 daily active users, as well as Poseidon Swap, a decentralized exchange, Questbook, a decentralized university, and several other initiatives.
How Does it Work?
The zk-EVM chain will leverage NEON to enable EVM transactions alongside the Sealevel Virtual Machine's (SVM) parallel processing capacity. Upon completion, the blocks will be uploaded to CELESTIA to ensure data availability.
Consequently, users will have the advantage of utilizing EVM wallets and tools, while simultaneously gaining from the rapid performance offered by the Sealevel virtual machine (SVM).
The Nautilus network currently operates as an optimistic rollup and can handle more than 2,000 transactions per second. However, its ultimate goal is to evolve into a zero-knowledge EVM rollup that incorporates the RISC Zero proof system.
Potential Benefits that could be added by Eclipse to Nautilus
Enhanced execution layer flexibility, allowing for the addition of new features.
Potential future migration to a ZK rollup, which is a scaling solution for blockchains.
Gas abstraction, enabling the payment of gas fees in a token called $ZBC.
Gas fee redistribution, potentially enabling more equitable distribution of gas fees.
Option to relocate data availability layers in the future, providing greater flexibility and scalability.
About Eclipse
Eclipse offers customizable modular rollups, increasing throughput while giving developers the freedom to adjust the proportions of speed, decentralization, and cost as they see fit. Applications can create their own Solana virtual machine powered trust-minimized app chains using Eclipse.
About

Nautilus Chain
Nautilus Chain is building the future of blockchain-based payments, bringing Web3 technology to the real world.
SOURCE
Eclipse and @nautilus_chain are partnering to launch a high-throughput zk-EVM chain, featuring @RiscZero, @CelestiaOrg, and @neonlabsorg 🚀

The Nautilus chain will power a variety of applications with its modular design, from consumer to DeFi, unlocking new possibilities.

— Eclipse @ GDC 🎮 (@EclipseFND) March 20, 2023