Rango Exchange Integrates Allbridge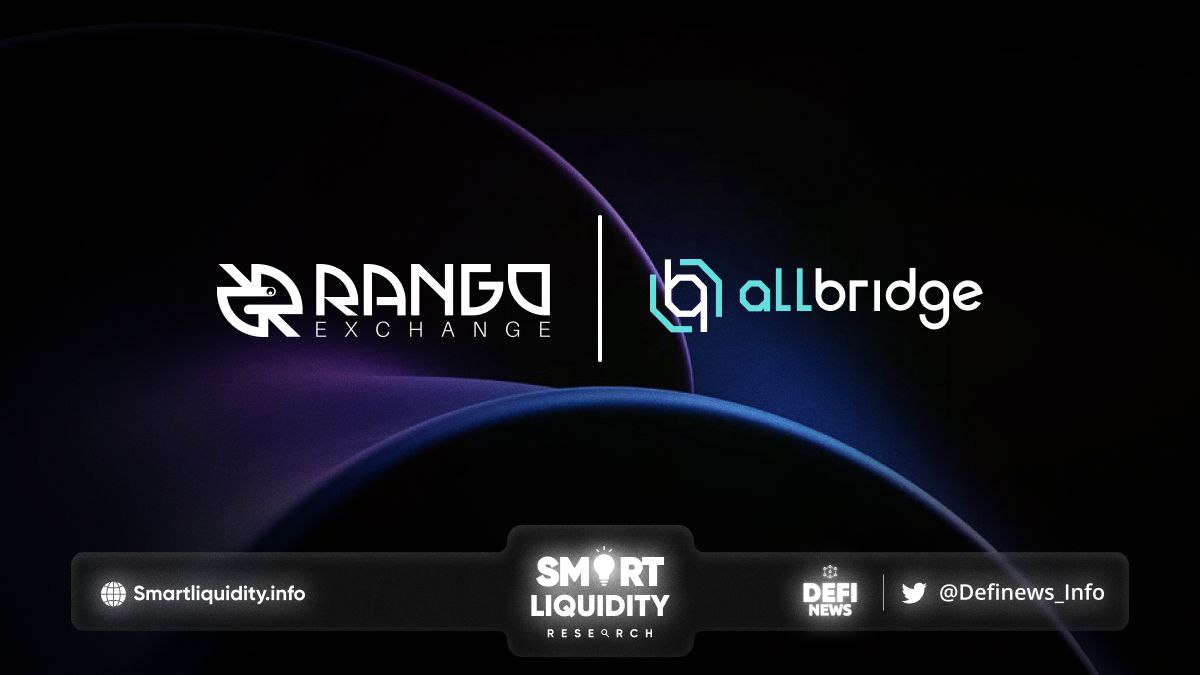 Rango Exchange integrates Allbridge Core for Enhanced Cross-Chain Liquidity. Rango Exchange, a cross-chain DEX/Bridge aggregator, announce a strategic partnership with Allbridge Core, a stablecoin cross-chain swap solution that enables users to swap between dollar-pegged tokens across different blockchains without wrapping or unwrapping them.
This integration is a significant step towards enhancing cross-chain liquidity and interoperability in the crypto space, as it allows users to access more stablecoin markets and arbitrage opportunities with low fees and high speed.
How does Allbridge Core work?
Allbridge Core operates by maintaining liquidity pools for the supported stablecoins on each chain. When a user sends tokens via Allbridge Core, the bridge exchanges incoming tokens into their dollar value in the token pool for that particular token.
This value is then sent via the underlying messaging protocol to the destination chain. The bridge contract on the destination chain swaps the dollar value to the tokens from the liquidity pool and sends them to the recipient. This way, users can enjoy fast and secure cross-chain swaps without losing peg or paying high fees.
The Security of Allbridge Core
The security of modern bridges is a point of concern for many. Allbridge Core addresses the existing issues in this area by making its smart contracts non-upgradable. This feature contributes to the bridge's security and removes malicious intrusions into the transfers as a potential attack vector.
In addition, the architectural flexibility allows Allbridge Core to integrate with multiple decentralized messaging protocols, further elevating its security. Audits are another vital component to prevent potential issues with cross-chain swaps, which is why Allbridge Core has been audited as well.
Rango and Allbridge Core
By integrating Allbridge Core, Rango Exchange aims to revolutionize the crypto industry by aggregating all DEXs, bridges, and DEX aggregators across DeFi, offering users a seamless cross-chain swap experience. Users can now swap between USDT, USDC, BUSD, and DAI on Binance Smart Chain, Ethereum, Polygon, Solana, and Tron using Rango Exchange's intuitive interface and innovative features.
ABOUT Allbridge Core
Allbridge Core is a cross-chain swap platform built specifically for dollar-pegged tokens. It operates without the wrapped assets by providing native liquidity pools for the supported assets on each chain.
ABOUT Rango Exchange
Rango Exchange is a cross-chain DEX/Bridge aggregator that integrates all DEXs, bridges, and DEX aggregators across DeFi. Rango Exchange offers users the best rates and lowest slippage for cross-chain swaps by routing orders through multiple liquidity sources. The platform also supports various blockchains, including EVM-based, Cosmos-based, Solana, UTXOs, and more to come.
RESOURCES