Introducing Phantom Multichain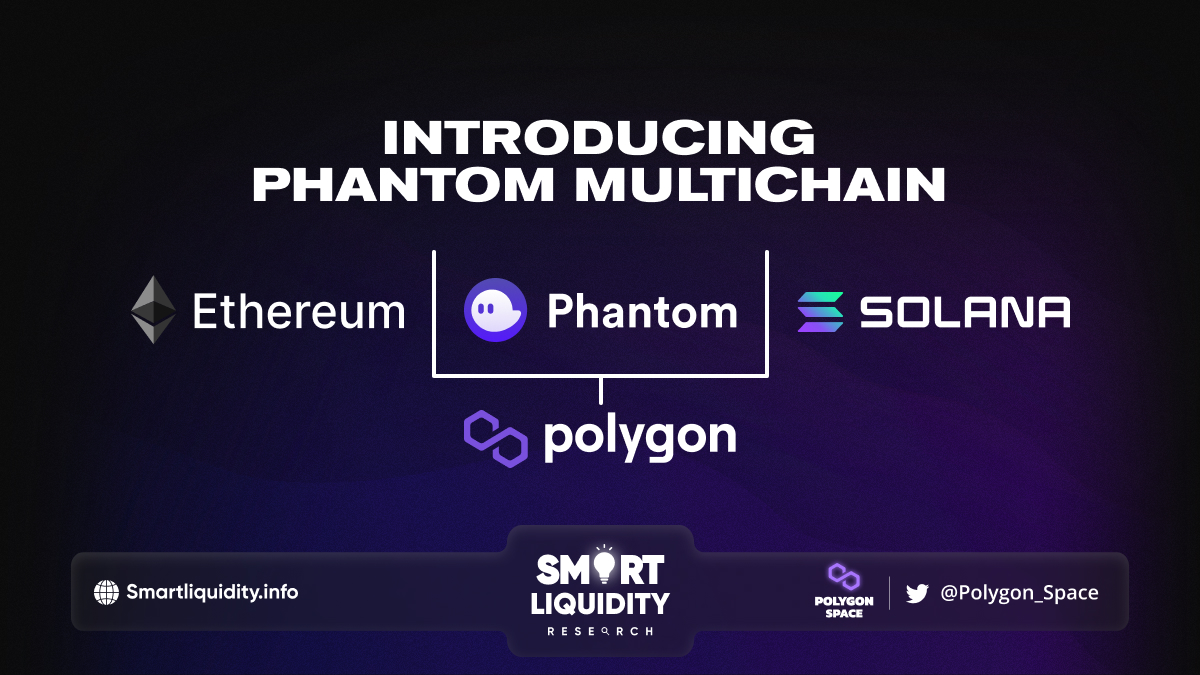 Phantom multichain wallet is now available for all users and devices, with support for Solana, Ethereum, and Polygon!
Phantom multichain is now a user-friendly, self-custodial wallet that is easy to use, allows you to do more with apps, and protects you with advanced security features.
The platform is excited to bring its unparalleled user experience to Ethereum and Polygon. Phantom multichain works everywhere that MetaMask does. Import your existing MetaMask, Solana, or EVM wallets to Phantom and unlock a suite of advanced wallet features and powerful tools.
One Wallet For Everything
Phantom provides a single, convenient solution for managing all your accounts and tokens across Solana, Ethereum, and Polygon. You can view all your tokens and NFTs in one place and seamlessly connect to apps automatically, meaning you never have to manually switch networks again.
Your Accounts Reimagined 
Accounts have a redesigned look and feel which makes it easier than ever to configure your Phantom wallet:
🧿 Customize your wallet with personal account names and avatars
🧿 Swap between accounts lightning fast and copy addresses with a single click
🧿 Reorder your accounts with a simple drag and drop
Phantom is supercharged for NFT power users. View, manage, and discover NFTs from Solana, Polygon, and Ethereum on all devices, with support for all file formats.
🧿 Immersive NFT gallery: The collectibles tab provides an elegant NFT showcase that supports all file formats including audio, video and multidimensional NFTs. Pinch, zoom, and admire every pixel. Have a favorite? Easily make it the avatar for any of your wallets.
🧿 Do more with your NFTs: Search for NFTs and collections and pin your favorites for easy access. Hide and remove unwanted spam, discover new collections, and manage listings all from within your wallet.
🧿 Rich NFT metadata: NFT details like floor price, last sale price, total return, and total unique holders are at your fingertips so you can manage your collection like a pro.
🧿 Intelligent notifications: Full transaction history and rich notifications for NFT bids, sales, and listings keep you informed at the speed of the market.
Best-in-Class Security
Phantom offers a suite of industry-leading security features and organizational practices to help keep you safe. Enjoy peace of mind with everyday security features and support:
Know what you are signing 
Human readable transactions help you understand exactly what assets will be entering and leaving your wallet with a simple, easy-to-read interface. 
Transaction Previews 
Transaction Previews act like a firewall for your wallet that identifies malicious transactions and warns you before you approve them. Controlled by you, secured by us.
When you use Phantom you gain access to a host of other security features including: 
🧿 Blocklists: An open source and community-maintained blocklist that keeps NFT spam and phishing websites away.
🧿 24/7 Support team: A full-time globally-distributed support team that is dedicated to support, education, and keeping you safe.
🧿 Report and Hide Spam: Help fight NFT spam and keep the community safe by reporting spam NFTs right inside of Phantom
Get Started with Phantom Wallet 
Click here to download the new Phantom multichain wallet for your browser or mobile device.
Import, setup, and go 
Easily import all your EVM or Solana wallets in seconds and securely keep all your accounts in one place. Discover more and manage less with all your accounts in one wallet wherever you go.
About Phantom 
Phantom is a crypto wallet that can be used to manage digital assets and access decentralized applications on Solana, Polygon, and Ethereum. 
Phantom is currently available as: