SaucerSwap launches Sauce Pro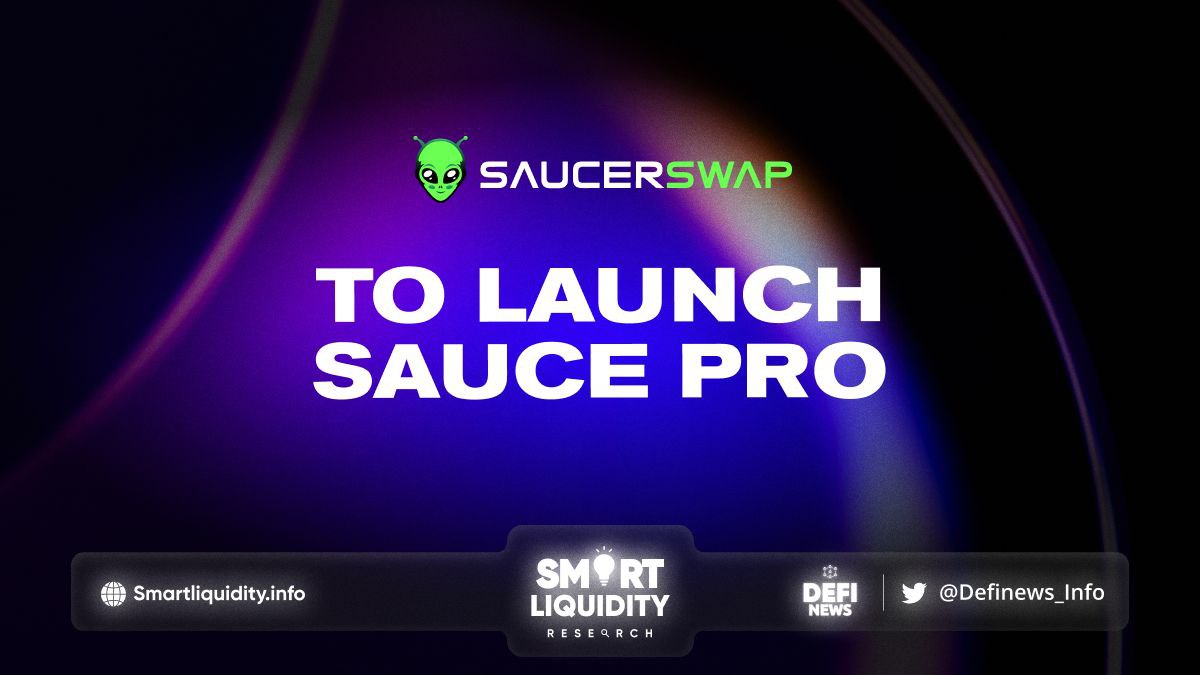 SaucerSwap launches Sauce Pro enhancing the SaucerSwap experience. SAUCE Pro is a Software-as-a-Service (SaaS) model that offers advanced features to users through an affordable and high-value monthly subscription paid in SaucerSwap's protocol token SAUCE. The service enhances the first-in-class UX of SaucerSwap by providing an optional feature set for active users of the platform.
Current smart contract and front-end functionality will not be monetized through this model, nor will the core maintainers cease to expand upon these offerings. This means that swap fees, farm yields, price quotes, existing UI, etc. will remain the same for all users, independent of SAUCE Pro. Likewise, upcoming features such as the CLMM, MetaMask integration, and Community Pools will be open to all. In other words, SaucerSwap will always be free to use, thereby upholding the permissionless ethos of DeFi integral to the ecosystem.
SAUCE Pro assigns a novel payment function to the SAUCE token, creating tangible utility and driving demand tied to the adoption of the DEX. Additionally, it establishes a new revenue stream for the underlying business, supporting the growth and maintenance of SaucerSwap.
SAUCE Pro will ship with the following features: user-specific transactions, overview charts, an AI assistant, an early access pass, and 1-minute price data.
User-specific transactions
SaucerSwap maintains a record of all transactions associated with an account ID. These transactions date back to the launch of the DEX and are labeled based on the type of operation (i.e., swap, add liquidity, remove liquidity, stake LP tokens, unstake LP tokens, single-sided staking). The transaction table updates once every 5 minutes and may be exported as a CSV file compatible with popular crypto tax software such as Koinly. This breadth and granularity of data will streamline accounting and empower users who wish to do further trading analysis in third-party software.
Overview charts & 1-min price data
Subscribers will have access to a multi-timeframe chart of their account balance, which tracks token, staking, and liquidity positions. This affords users the ability to track their portfolio performance over time, compare it to the broader market, and better allocate their capital in line with their risk tolerance and investment goals.
Furthermore, SAUCE Pro will unlock high-resolution, 1-min price charts on the Swap page. This real-time data will be available in both USD and HBAR denominations (e.g., HST/USD and HST/HBAR) and will extend over a 1-hour range. Non-subscribers will still have access to the hourly price charts; however, the resolution will remain at the current 5-min resolution.
Early access pass
The early access pass is yet another perk of SAUCE Pro. Similar to the historic utility of the Planck Epoch NFTs, this pass grants subscribers access to beta features. For instance, users may have the option of staking xSAUCE in Community Pools a couple of days before the general public, thereby allowing them to reap lucrative APRs. This beta approach also allows core maintainers to deploy bug fixes before releasing a more stable version of the feature to the public.
ABOUT SaucerSwap
SaucerSwap is a decentralized exchange (DEX) that leverages the Hedera Smart Contract Service (HSCS) to include Solidity smart contract integration with the Hedera Token Service (HTS). These smart contracts implement an automated market maker (AMM) protocol, which facilitates token swaps within liquidity pools.
RESOURCES