AirSwap V4 Unveiled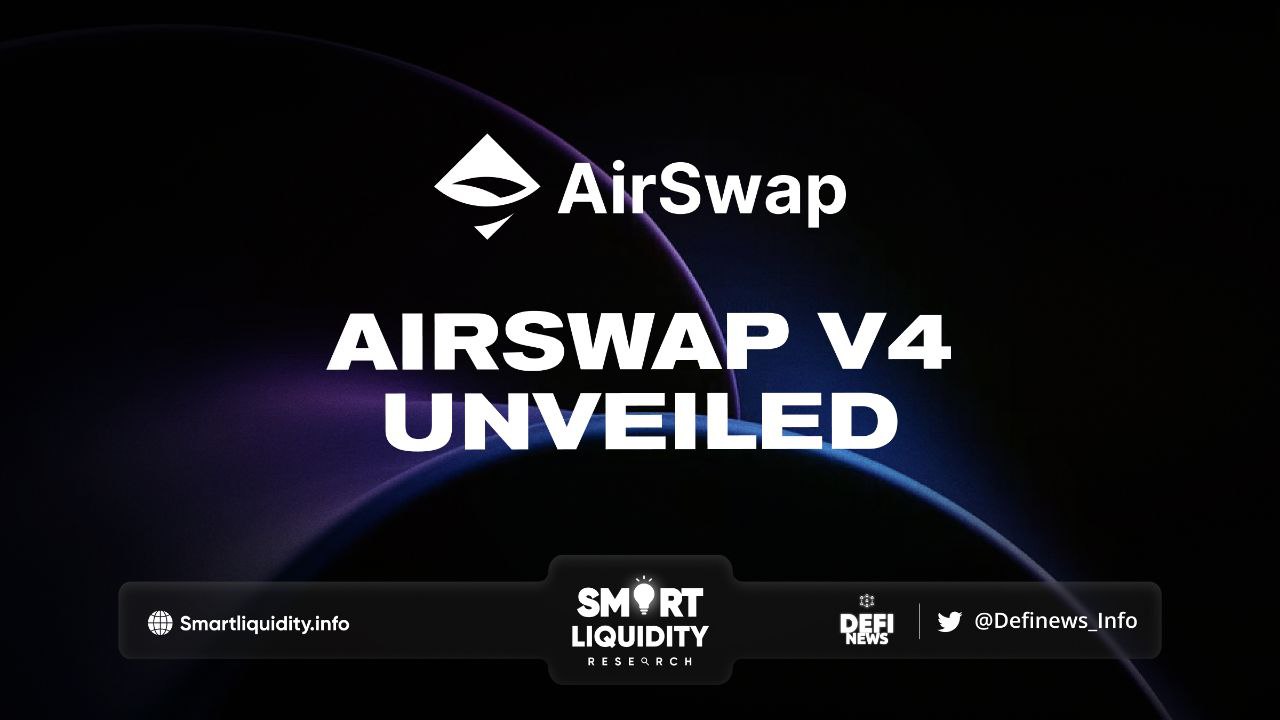 AirSwap V4 Unveiled. With the success of V3 and a stellar, AirSwap continues to drive the next generation of decentralized trading protocols with AirSwap V4.
Since its relaunch in 2021, AirSwap's decentralized technologies have enabled over $3.5B in trading volume. Just since the V3 launch last year, 25 proposals have been implemented by 30+ contributors and $2.1B+ in volume — with 100% of protocol fees ($1.42M+) continuously distributed to decentralized governance participants and individual contributors.
AirSwap v4 update includes new use cases, protocols, and contracts, now deployed across 6 EVMs, including Ethereum, BSC, Polygon, Avalanche, Arbitrum, and RSK — with Linea and Base on the horizon.
New use cases unlocked
V4 is about real-world use cases. They introduced new protocols for discovery, pricing, swapping, and storage, as well as dedicated protocols for ERC20s and NFTs. New applications and integrations have been unlocked and are emerging every day.
Custom community marketplaces
NFT communities can now launch their decentralized swapping marketplaces with full control over their configuration and operation. AirSwap contributors have already begun developing an open-source reference marketplace for general use.
Searchable bulletin boards
Traders can easily make orders available to be taken by anyone, even if they do not have a specific counterparty available. AirSwap contributors are developing this new functionality into the reference web app front, making it more accessible and user-friendly than ever.
Deep and efficient integrations
A galaxy of aggregators and clients underserved by peer-to-peer liquidity can now seamlessly integrate with AirSwap, enabled by Discovery and LastLook protocols. This means existing integrations will work even more efficiently — and new integrations are now possible.
New and improved protocols
Existing V3 protocols have been improved, expanded, and formalized with the ability to communicate and consume liquidity automatically and efficiently.
Discovery
With the new Registry contract, peers filter for potential counterparties by both protocols and tokens. Servers can indicate whether they support RFQ, LastLook, or Storage, for all token types or ERC20 specifically. Once a channel is opened, peers communicate this via the getProtocols / setProtocols and getTokens / setTokens methods.
ABOUT AirSwap
AirSwap is a developer DAO focused on decentralized trading systems. Our mission is to develop and steward standard peer-to-peer trading technology in the decentralized economy.
RESOURCES