NFT-TiX Migrates to Avalanche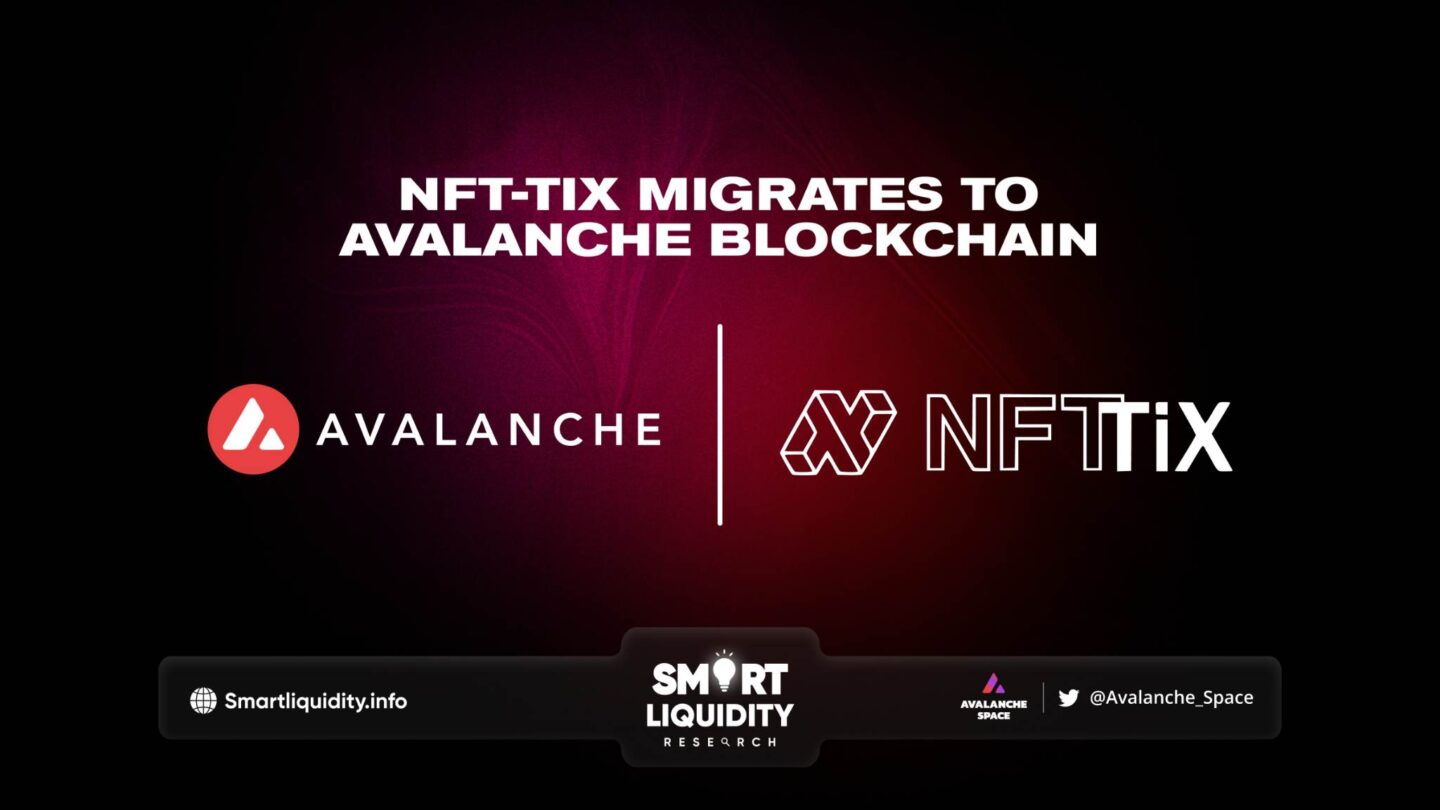 NFT-TiX Migrates to Avalanche, NFT-TiX will be migrating from Ethereum to the Avalanche blockchain exclusively.
NFT-TiX's mission is to provide a reliable, scalable, secure, and transparent platform for event organizers and attendees to participate in a ticketing experience that addresses the challenges of the ticketing industry and adds commercial and experiential benefits.
NFT-TiX combined blockchain technology with a solid business strategy to create a digital ticketing system that is easy to transfer or sell. Every transaction is recorded on a public ledger that everyone can see and no one can alter. The platform allows event planners unheard-of control over the number of tickets they can sell and how many people they can reach out to and interact with.
The decision to adopt Avalanche is strategic. Avalanche provides scalability to support the processing of thousands of transactions per second, with low fees and near-instant finality. This is crucial for event ticketing, where high volume and immediate confirmations are vital. Equally important, Avalanche provides top-tier security, courtesy of its unique consensus mechanism.
"Our shift to Avalanche is more than a mere platform change," said Emil R. Ljesnjanin, CEO of NFT-TiX."It embodies our vision for the future of event ticketing. Through Avalanche's speed, security, and interoperability, we can innovate more dynamically, foster exciting partnerships, and most importantly, deliver a superior, safer user experience."
Avalanche's consensus mechanism is an energy-efficient alternative to traditional Proof-of-Work blockchains, aligning with NFT-TiX's commitment to sustainability and transitioning events away from paper ticketing.
This integration marks NFT-TiX's place at the forefront of event ticketing  innovation.
NFT-TiX has announced new partnerships with a range of global festivals, including Exit Festival, Transmission, Hardmission, Techmission, Breathe Convention, Garden of Dreams, Sarajevo Film Festival, No Sleep Festival Belgrade, Unum Festival, and Epizode.
Dusan Kovacevic, CEO of EXIT Festival, celebrates the new partnership, saying, "Last year,together with NFT-TiX, we won an Innovation award at UK Festival awards, as one of the first festivals in the world that had NFT tickets for a major event. We are honored that we've established this long term partnership right before one of our greatest editions. This collaboration reinforces our commitment to bring superior festival experiences to the fortress."Anco Van der Kolk, Transmission's CEO, says, "Our alliance with NFT-TiX underlines our commitment to innovation, allowing us to provide an unmatched ticketing experience to our attendees."
Furthermore, NFT-TiX is in advanced discussions with various global sporting leagues. This signals NFT-TiX's ambition to transcend music and film festivals and transform ticketing across all event genres.
About NFT-TiX
‍NFT-TiX is a groundbreaking ticketing platform utilizing blockchain technology to deliver a dependable and secure ticketing experience. Emil R. Ljesnjanin founded NFT-TiX with the aim to disrupt the global event industry through innovation and trust.
About Avalanche
Avalanche network is the blockchain industry's quickest smart contracts platform digital asset. Avalanche is blazingly fast, low cost, echo-friendly Any smart contract-enabled application can outperform its competition by deploying on Avalanche.
SOURCE: https://www.avax.network/blog/nft-tix-migrates-to-avalanche-and-announces-global-festival-partnerships