Metis partners with PARSIQ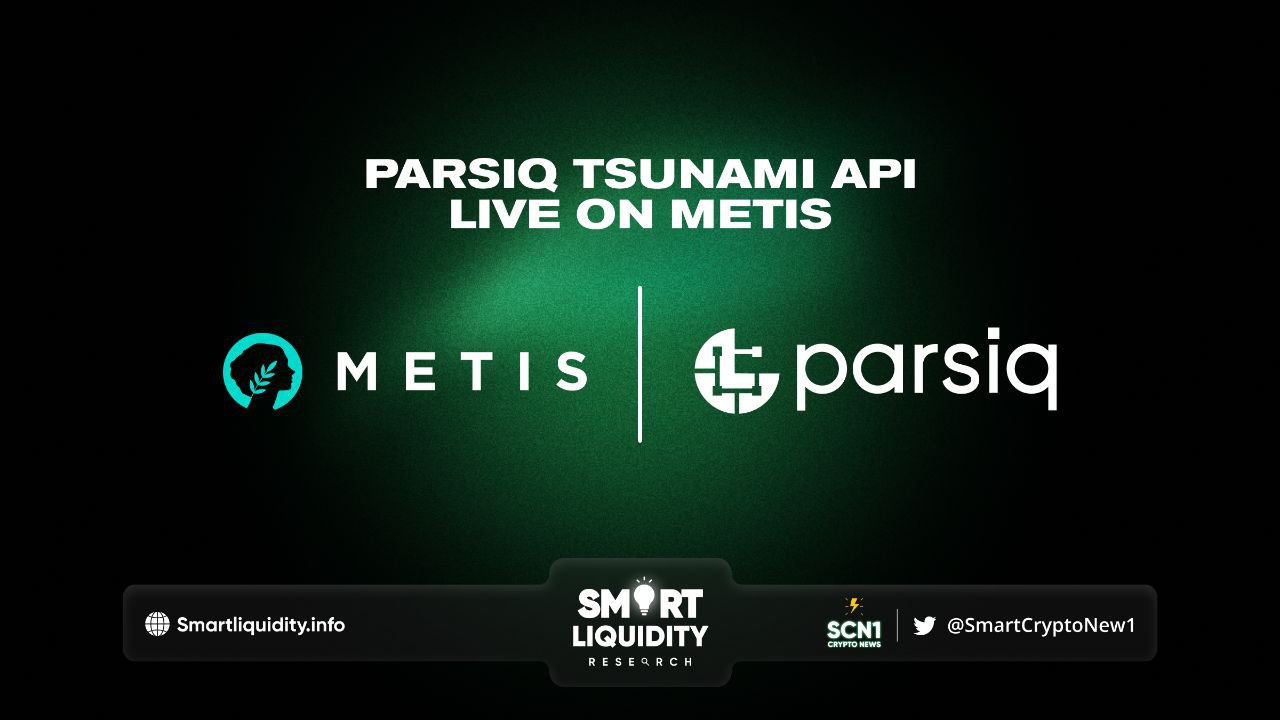 Metis partners with PARSIQ to implement PARSIQ's Tsunami API to address blockchain's biggest data challenges. Developers and projects now have instant access to real-time and historic Metis blockchain data.
EVM-equivalent Ethereum Layer-2 scaling solution Metis has integrated PARSIQ's blazing-fast Tsunami API, which will provide users with unprecedented access to raw data from the entire Metis chain.
The integration will lift the entire Metis developer ecosystem, which can now access the data they need more quickly and easily than ever before. Developers and projects will have instant access to both historical and real-time Metis blockchain data via filtered and indexed APIs. Utilizing Tsunami's library of functions will help Metis developers build more robust applications and scale.
Good data is the foundation of a good project, but blockchain data is often messy and difficult to standardize and index. PARSIQ's Tsunami API works like a shortcut for developers, offering a plug-and-play solution to these complex data problems.
"We are delighted to add PARSIQ to our ecosystem as it is a full-suite data network for building the backend of all Web3 dApps and protocols. Projects like PARSIQ help Metis with its primary goal — facilitating business evolvement from web2 to web3. Now developers working on Metis will have an even easier experience accessing data they need," — Tom Ngo, Executive Lead of Metis.

"We at PARSIQ love working closely with teams that share our conviction that the future belongs to Web3. That's why we're so excited to be integrating Metis. With their dedication to improving the scalability of Ethereum, Metis has built a perfect platform for builders and innovators in the space. They're the real deal. Together, we're making it easier for developers to get the tools they need to get building," —Tom Tirman, PARSIQ CEO.
Metis is currently the most cost-efficient Ethereum Layer-2, offering gas fees 200x lower than those on the mainnet. Having recently deployed Aave V3, and with other exciting DeFi platforms on the horizon, Metis is taking big steps towards becoming integral to the inner workings of Web3.
ABOUT Metis
Metis is an EVM-Equivalent Ethereum Layer-2 protocol focused on bridging the gap between Web2 and Web3. Metis provides users with a secure, decentralized, and scalable easy-to-use network. By combining a robust Layer 2 with on-chain credentials and Decentralized Autonomous Companies (DACs), Metis is building the perfect ecosystem to host open and trustless collaboration, secured by Ethereum.
ABOUT Parsiq
PARSIQ is a full-suite data network for building the backend of all Web3 dApps & protocols. The Tsunami API provides blockchain protocols and their clients (e.g. protocol-oriented dApps) with real-time and historical data querying abilities. 'Data Lake' APIs allow complex data querying & filtering for any project; specifically designed and tailored for our customers' blockchain data needs.
RESOURCES