MetaCene and Troy Guild Partnership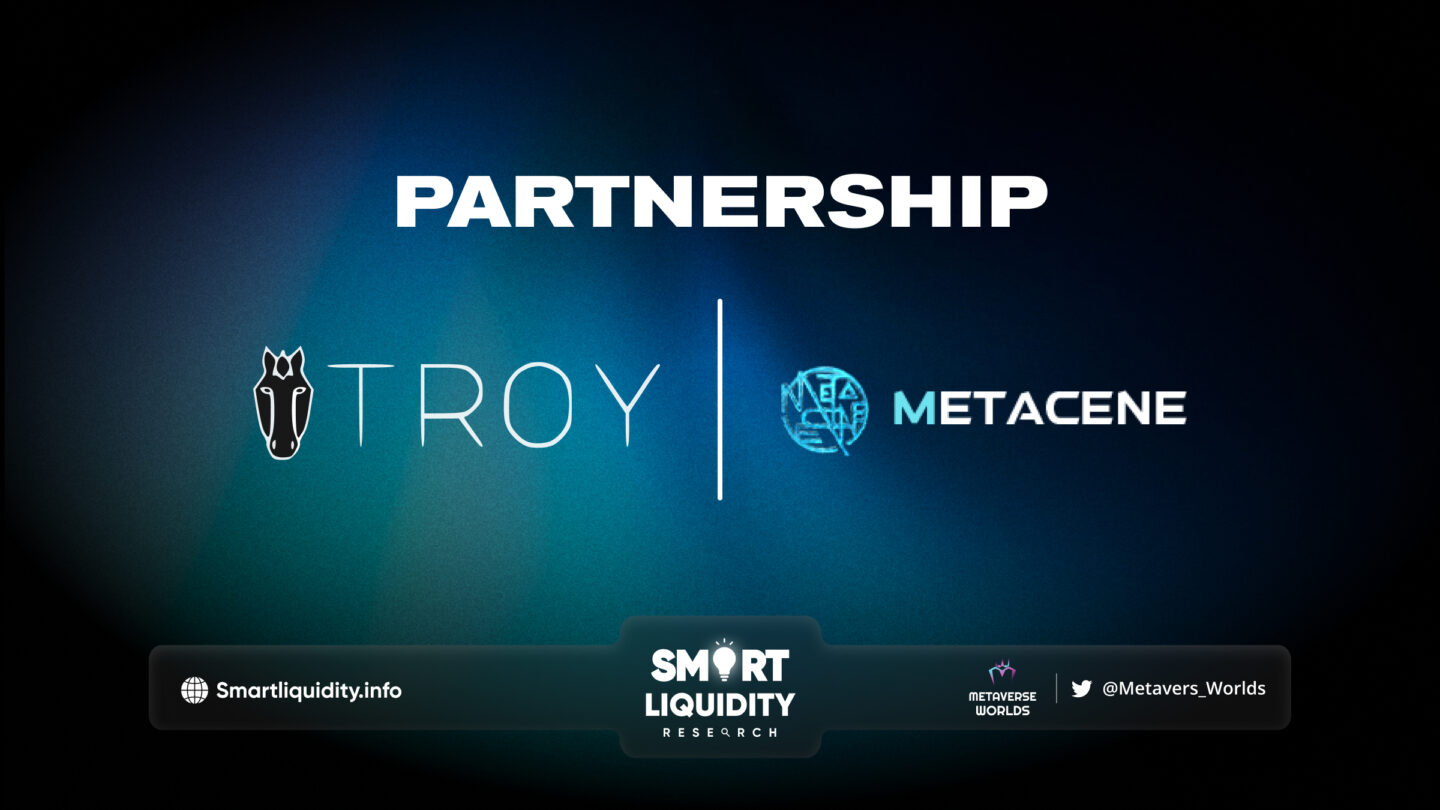 MetaCene, a trailblazer in the Web3 gaming space, is excited to announce its partnership with Troy Guild, Turkey's first and largest Gaming DAO.
This collaboration brings together two innovative driving forces in the industry. Both MetaCene and Troy Guild share a common goal of serving both games and players, albeit through different approaches. MetaCene establishes a player-centric system, prioritizing an immersive gaming experience. While Troy Guild unwaveringly focuses on enhancing the gaming enthusiasm of the masses.
MetaCene serves as a vast world that embodies the spirit of Web3, offering promising tokens, NFTs, and revenue rewards. They eagerly look forward to the vibrant community's active participation in their journey. And recognizing the profound impact that players have and valuing their wisdom and strength. MetaCene provides an expansive stage for the player community to shine upon.
Troy Guild's portfolio has already demonstrated its ability to create and nurture experiences for the future. With free access and a mature ecosystem that helps players profit, Troy Guild can effectively utilize MetaCene's economic system and ecosystem. Extending the benefits through premium in-game assets. Additionally, their generous scholarships and other events further enhance the collaboration. Troy Guild regularly organizes engaging giveaway events, competitions with enticing prizes and provides rewards such as Steam Wallet Codes, game keys, Xbox GamePass, and VP events for avid gamers who enjoy both Web2 and Web3 games. They also host frequent live streams on platforms like Twitch and Discord, where they test games and share valuable tips and tricks to enhance gameplay and increase chances of winning. By actively participating in these events, players can have fun, learn, and potentially win surprise giveaways that occur during the broadcasts, ultimately contributing to the success of MetaCene.
By fostering an inclusive environment where ideas can flourish. This partnership can unlock the full potential of our collective talents and create something truly extraordinary. Together, we have the power to revolutionize the gaming landscape and deliver unforgettable experiences that resonate with players worldwide!
About Troy Guild
Troy Guild is a key driving force in the Web3 game industry, dedicated to introducing Web3 games, NFTs, projects, and opportunities in the GameFi realm to players of all ages, genders, and regions in Turkey. Established in 2022 as the country's first P2E Gaming Guild, Troy Guild has rapidly grown and transformed into Turkey's foremost and largest Gaming DAO within a remarkably short span of time.
About MetaCene
MetaCene is building a next-gen blockchain MMORPG homeland for mass players. It presents a surreal post-apocalyptic society where survivors interact with diverse NFTs to redefine civilizations. MetaCene pioneers player-centric entertainment, governance, and creation through innovative PVE and PVP gameplays, robust technology infrastructures, social guild DAO governance, sustainable economic systems, and in-game editors. MetaCene is founded by gaming experts with 20+ years of industry experience from Shanda Games, Blizzard, Perfect World, and others. It envisages a multi-chain future from Rangers Protocol with real-time confirmation and super-low gas fees. The MetaCene Apostle NFT collection and the Alpha version are coming in 2023 Q2.
SOURCE:
https://medium.com/@MetaCene_Official/metacene-troy-guild-boost-strength-from-the-masses-c4f0861d818