TOKI partners with Noble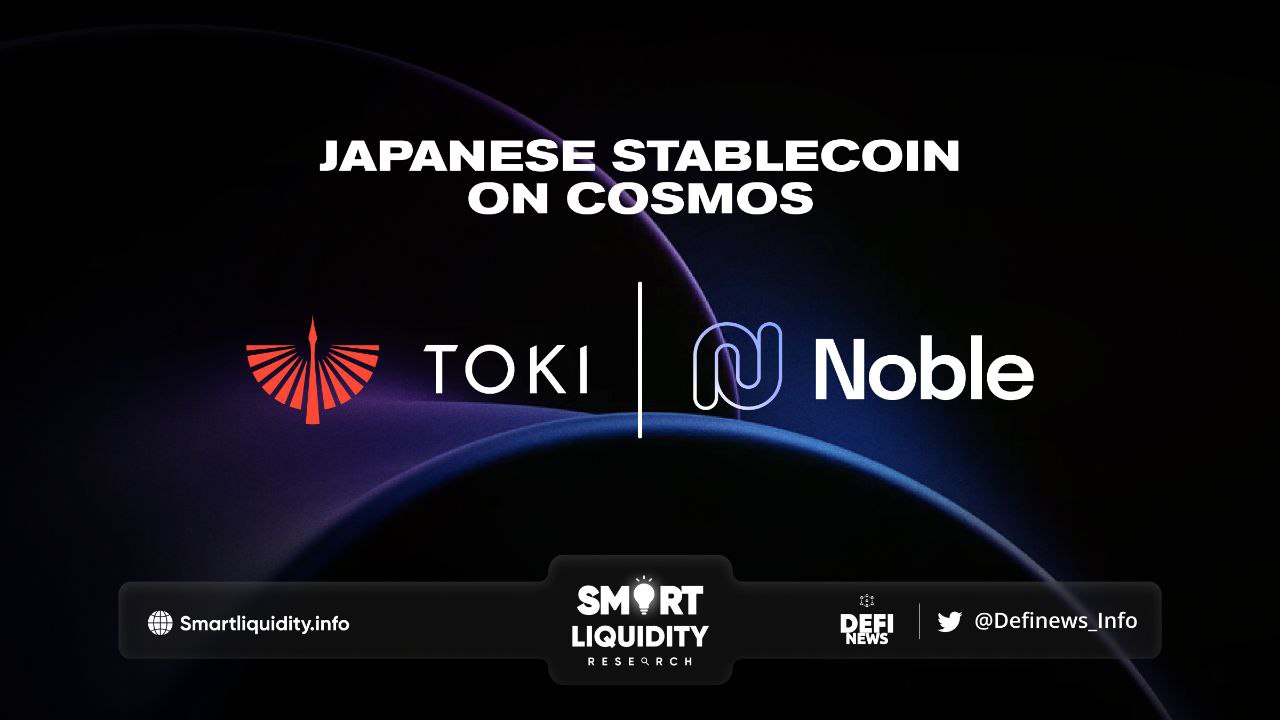 TOKI partners with Noble to bring Japanese Stablecoin to the Cosmos ecosystem. TOKI and Noble have formed an exciting partnership that aims to introduce fully collateralized fiat-backed Japanese stablecoins to the wider interchain ecosystem. 
This partnership will leverage Noble's native asset issuance infrastructure which is purpose-built for institutions looking to issue highly liquid stablecoins, among other types of crypto-assets, in a manner consistent with strict regulatory adherence.
TALKING ABOUT THE PARTNERSHIP
Additionally, the partnership will further expand the ecosystem by giving developers and entrepreneurs direct access to fully collateralized and regulated native Japanese stablecoins, thereby unlocking a host of exciting real-world use cases for cryptocurrencies. \
ENTERING COSMOS ECOSYSTEM
TOKI is an IBC-enabled bridging provider for various blockchains such as Cosmos appchains and EVMs. The core infrastructure is built by Datachain — a blockchain interoperability R&D team that has been working on developing and standardizing core interchain protocols with large institutions and enterprises. Datachain is also a grantee of the Interchain Foundation and previously produced the first implementation of IBC in Solidity (IBC-Solidity).
Furthermore, TOKI has recently teamed up with Progmat — a project spearheaded by Mitsubishi UFJ Financial Group (MUFG), other Japanese megabanks, and JPX — to launch stablecoins on multiple public blockchain ecosystems, including the interchain and Ethereum. This collaboration is in partnership with over 200 companies, including Japan Exchange Group (JPX) and major Japanese banks such as MUFG, SMBC, and Mizuho.
A reliable Japanese stablecoin is the beginning of a larger effort to cement Japan as a leading cryptocurrency hub for tokenized assets on public blockchains. Japanese businesses, including startups and large enterprises, will be able to tap into the vast potential of public blockchain infrastructure to facilitate the mass adoption of digital assets in a way that is both useful and tangible for the average consumer.
Further, the revisions to Japan's Payment Services Act has made it possible for stablecoin innovation to flourish. While stablecoins have found incredible product-market fit globally, the number of businesses licensed to handle them has been limited. This collaboration between Progmat and Japan's largest banks and corporations will advance the mass adoption of permissionless stablecoins that can be freely and safely used by Japanese businesses and consumers alike. These stablecoins will be pegged to a variety of currencies, including JPY, USD, and other fiat currencies, thus referring to them more broadly as "Japanese stablecoins." These crypto assets will be propagated via permissionless public blockchain networks including Noble.
FOLLOW NOBLE
FOLLOW TOKI Finance
RESOURCES