ICHI: YIELD IQ LIVE ON ARBITRUM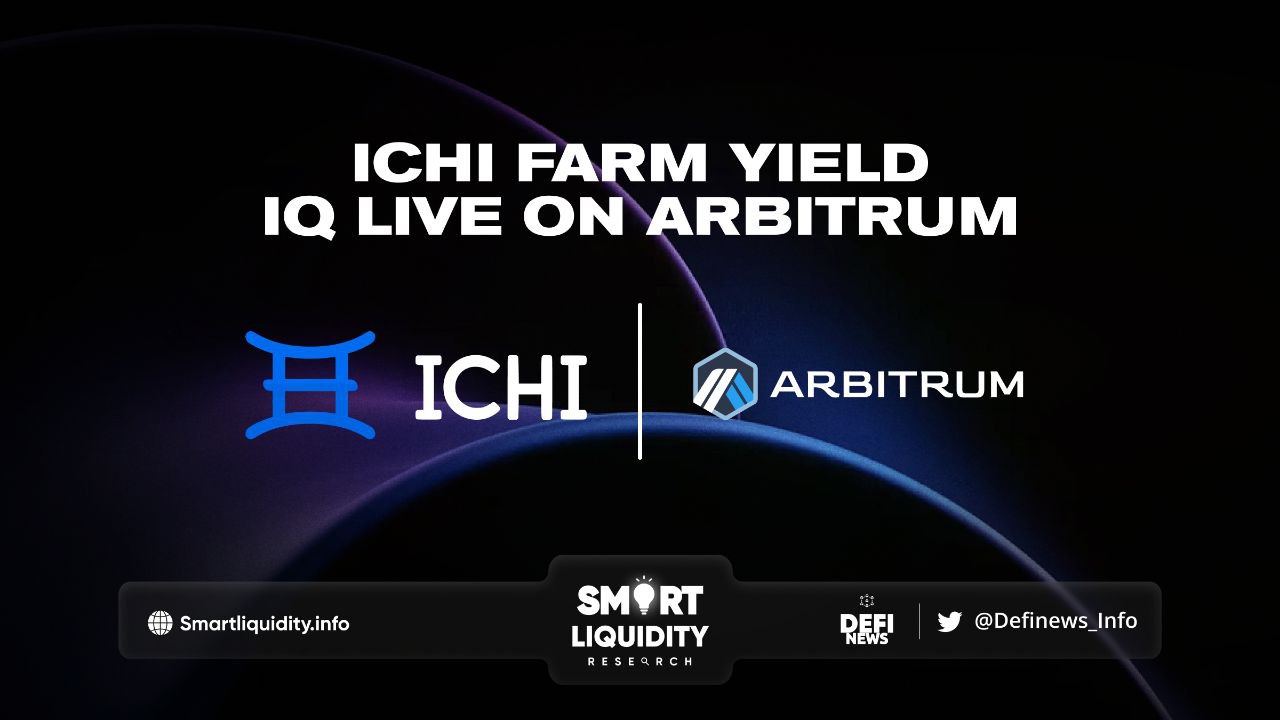 ICHI: YIELD IQ LIVE ON ARBITRUM! This launch presents an incredible opportunity for token holders, DAOs, and other DeFi projects in the Arbitrum ecosystem to unlock new income streams and maximize earnings through Yield IQ's innovative strategy.
Yield IQ's innovative solution for liquidity provision has already gained significant traction in the DeFi space with some projects deciding to put their ARB tokens to work. Traditionally, liquidity providers have faced challenges in generating consistent profits due to capital inefficiencies and a lack of expertise in liquidity provision strategies. Yield IQ addresses these challenges head-on with its fully automated, on-chain liquidity provision strategy.
The Power of Yield IQ
Yield IQ efficiently deploys liquidity to Uniswap V3 concentrated liquidity pools. With a single token deposit, token holders can passively earn returns while the algorithm actively manages their preferred token and generates trading fees from liquidity pools. What sets Yield IQ apart is its remarkable performance. Since its inception, it has achieved a median 30% annualized return on Polygon. Yes, you read that right — thirty percent. This impressive track record speaks volumes about the potential for earnings and the power of the strategy.
Choosing Arbitrum
Yield IQ has chosen Arbitrum as the next chain to tap into the immense potential and advantages offered by this innovative layer 2 scaling solution. Arbitrum provides faster transaction speeds and significantly lower fees than the Ethereum mainnet, making it an ideal platform for Yield IQ to maximize its performance and deliver optimal results for liquidity providers.
By leveraging the scalability and efficiency of Arbitrum, Yield IQ enhances the liquidity provision experience, enabling users to generate substantial returns with improved liquidity, reduced costs, and enhanced trading opportunities. The launch on Arbitrum further strengthens Yield IQ's commitment to empowering users and contributing to the growth and resilience of the broader DeFi ecosystem.
By depositing your tokens into Yield IQ, you become eligible to earn Uniswap V3 trading fees on every token in the pool. Moreover, when you deposit ARB tokens, you contribute to the strength and growth of the entire Arbitrum ecosystem. This means more stable prices, more efficient trades, and a wealth of opportunities for projects to flourish.
Here are some additional advantages:
Improved Liquidity

: Pairing your ARB tokens with your token of choice enhances liquidity for your entire community. This increased liquidity benefits, traders and token holders, fostering a healthier and more vibrant ecosystem.

Additional Earnings for DAOs

: By adding the Yield IQ deposit widget to your website paired with Chainlink Automation, your project becomes eligible for an additional 5% of the trading fees generated by your token's pool. These earnings flow directly into your DAO treasury, strengthening your financial position.

Return Targets

: For users depositing to a vault paired with $ICHI, Yield IQ will target a minimum return % according to the following schedule, backed with 50K $ICHI tokens.

Month 1: 40%

Month 2: 35%

Month 3: 30%

Month 4: 25%

Month 5: 20%

Month 6–12: 15%
This ensures a promising investment opportunity for DAOs seeking stable and reliable returns. Yield IQ is not just a DeFi strategy; it is your gateway to earning substantial returns while actively contributing to the growth and resilience of the broader Arbitrum ecosystem. By participating, you become an integral part of a thriving community, benefiting both your project and the entire network.
ABOUT YIELD IQ
Yield IQ is a fully automated, single-sided concentrated liquidity provision strategy. By making rebalancing decisions based on token composition instead of token price, Yield IQ limits impermanent loss and generates industry-leading results. True to the spirit of DeFi, Yield IQ is governed by a self-executing smart contract, ensuring impartiality and decentralization. This ensures unrestricted, permissionless access and unalterable protocol behavior, serving as a truly decentralized financial tool.
FOLLOW ICHI
RESOURCES