Forward Protocol integrates with Iotex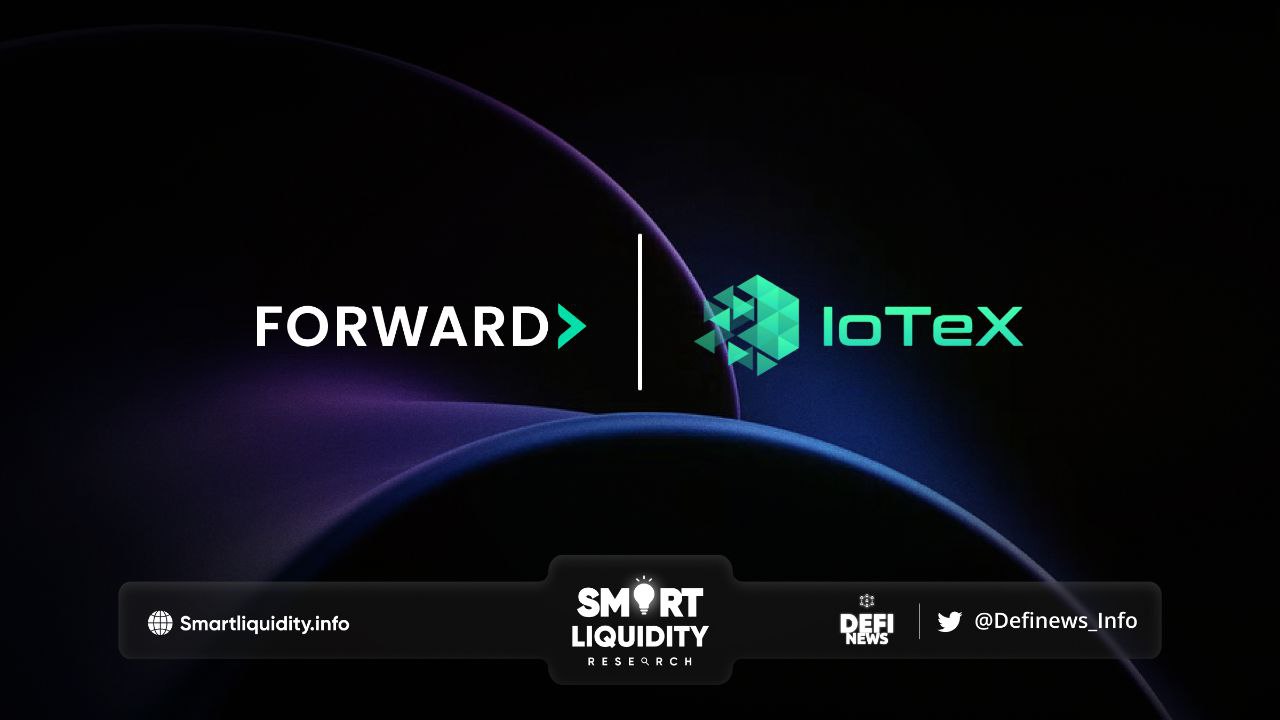 Forward Protocol integrates with Iotex the Web3 infrastructure platform connecting smart devices and real-world data to blockchains.
Forward, the blockchain adoption toolkit that allows users to create and deploy customizable no-code dApp templates using drag-and-drop commands from its front-end interface, takes a huge leap in its mission to connect users to the Web3 space through a strategic chain integration arrangement with IoTeX.
Iotex and Forward Integration
The Forward and IoTeX chain integration agreement provides a bridge for Web3 users to create, customize, and deploy dApps and smart contract templates from Forward's Marketplace (Forward Factory) to IoTeX's platform to unlock the data and interconnected features of the Web3 space without having to build their infrastructure from scratch.
Their partnership with IoTeX aims to connect the Web3 space with real-world data using the no-code, user-friendly interface of Forward Factory. It allows blockchain users at all levels of technicality to create and deploy fully functional smart contract templates on IoTeX's blockchain. Developers native to the IoTeX platform can also create and upload their dApps and smart contract templates to the Forward Marketplace to earn profits for their templates.
"Our latest partner, IoTeX, occupies a pivotal position in delivering the infrastructure to support real-world use cases of Web3. Working together, we have the unique opportunity to open and maintain a straightforward path for the entire blockchain ecosystem to access these Web3 solutions without the traditional barriers of technicality or implementation limitation. We are bullish about the potential of this collaboration and look forward to what it brings for our respective communities."— Mitch Rankin, Forward Co-Founder
IoTeX is the Platform for DePIN Builders. It combines fast, secure blockchain tech with the Internet of Things (IoT) and smart devices.
ABOUT Forward Protocol
Forward uses an easy-to-use WordPress-like model to facilitate a no-code environment that users can use to deploy their dApps, subnets, and blockchains without technical knowledge. Applications and smart contracts from Forward can be deployed on any EVM, Rust, Go, Haskell, and Python-compatible chain in a few clicks.
ABOUT Iotex
IoTeX is a modular Web3 infrastructure platform connecting smart devices and real-world data to blockchains. It empowers developers to integrate Web3 into everyday life through innovations in connected smart vehicles, city mapping, green energy initiatives, super-charged fitness platforms, environmental data tracking, proof-of-presence applications, proof of humanity, and more.
RESOURCES